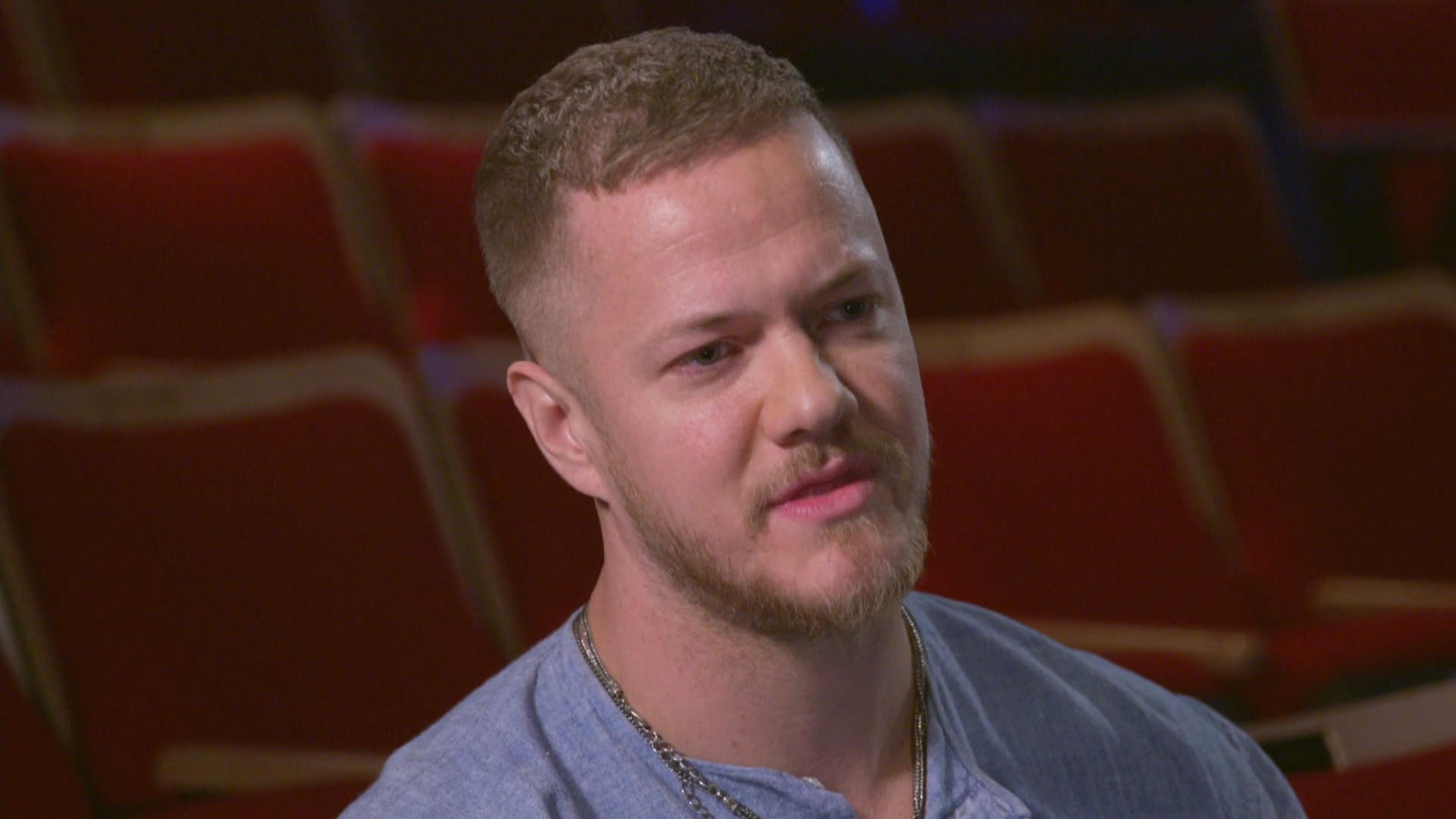 Imagine Dragons frontman opens up about his depression and crisis of faith
One of the biggest rock acts of the decade, Imagine Dragons has just announced they will headline a concert near the Las Vegas Strip to benefit victims of the Oct. 1 mass shooting in the band's hometown. Their song "Believer" illustrates a deep personal struggle with depression by frontman Dan Reynolds.
Imagine Dragons is practically a household name – an admittedly unique name – that almost wasn't, reports CBS News correspondent Lee Cowan.
"I remember about a year into the band, we had a discussion about changing the name of the band, and Mack, our manager's like, 'Guys commit! You don't wanna change it. This name, this name is amazing!'" Wayne Sermon, the band's lead guitarist, recalled.

The name stuck, and so did their sound.
Reynolds surrounds himself with serious musicians. His bandmates all hail from Berklee College of Music in Boston. There, they mostly played jazz before they hit the road with Reynolds, whose idea of a rock band was a bit different.
"I'm so burned out on the whole theme of rock 'n' roll equals drugs. The rest, I can go with, you could complete the equation. So rock 'n' roll equals just sex I guess," Reynolds joked.
Good music and good fans followed, but the bright lights of success had a dark side, too.
"We went pretty hard and it was years on the road, not seeing our families not seeing our friends, and just sort of disconnecting from reality," Sermon said.
For Reynolds, it was a dangerous combination.
"When I'm happy, I'm very happy. When I'm low, I'm so low, and they have had to deal with that for years and years," Reynolds said.
He had suffered from depression most of his life, usually silently. But this time, Reynolds needed time away – they all did – and so at the height of their success Imagine Dragons took a year off. When they all returned to the studio the result was "Evolve" – their third album.
The first single, "Believer," attacks depression head-on.
"It's about finally finding gratitude in my flaws, and my weakness, it has finally given me freedom. It's made me a believer in myself," Reynolds said.
"It's honestly the most cathartic experience you know I've written hundreds and hundreds and hundreds of songs, most of them terrible but it was always my way of expressing myself and now to be able to be doing it in a way that's very honest and raw and vulnerable, and even to share it sometimes with you know, what could be millions of people, I've found comfort in that, rather than fear," he said.

The importance of dealing with his depression was made all the more clear when Soundgarden's Chris Cornell and Linkin Park singer Chester Bennington both committed suicide earlier this year.
"You can still be poetic, but I think it's important to be vulnerable and to be raw," Reynold said.
He feels a responsibility to his fans.

He says part of his depression stemmed from a crisis of faith. Reynolds was born into a large Mormon family and while he's now happily married to his wife and fellow musician, Aja Volkman, the church's doctrine against gay marriage tore him apart.
"LGBTQ youth who are not accepted in their home, or their community, are eight times more likely to commit suicide, three times more likely for risky drug use. There is a glaring problem" Reynolds said.
He took his argument to the Mormon Church's doorstep in Utah, organizing a musical festival aimed at sparking a conversation between the church and the LGBTQ community.
He called it LoveLoud.
"The whole part of LoveLoud was to say, this is inclusive for everyone. We're not attacking an organization, we're not attacking the Mormon Church. We just want to start dialogue about something everyone can agree on, which is that these statistics need to change," he said.

It was a sell-out crowd. The Mormon Church even issued a statement applauding the festival.
Reynolds is a rock star by any measure, but if you look at his Instagram these days it's more about family than fame. Having almost lost his footing once Reynolds isn't slaying dragons anymore, he's imagining just how high dragons can fly.
"I have three daughters, and what I want to leave behind for them, is not, 'Hey, dad wrote these songs.' I need my little girls to know that I stood for my truth. And if I can do that, then I think I'll be OK."
Thanks for reading CBS NEWS.
Create your free account or log in
for more features.