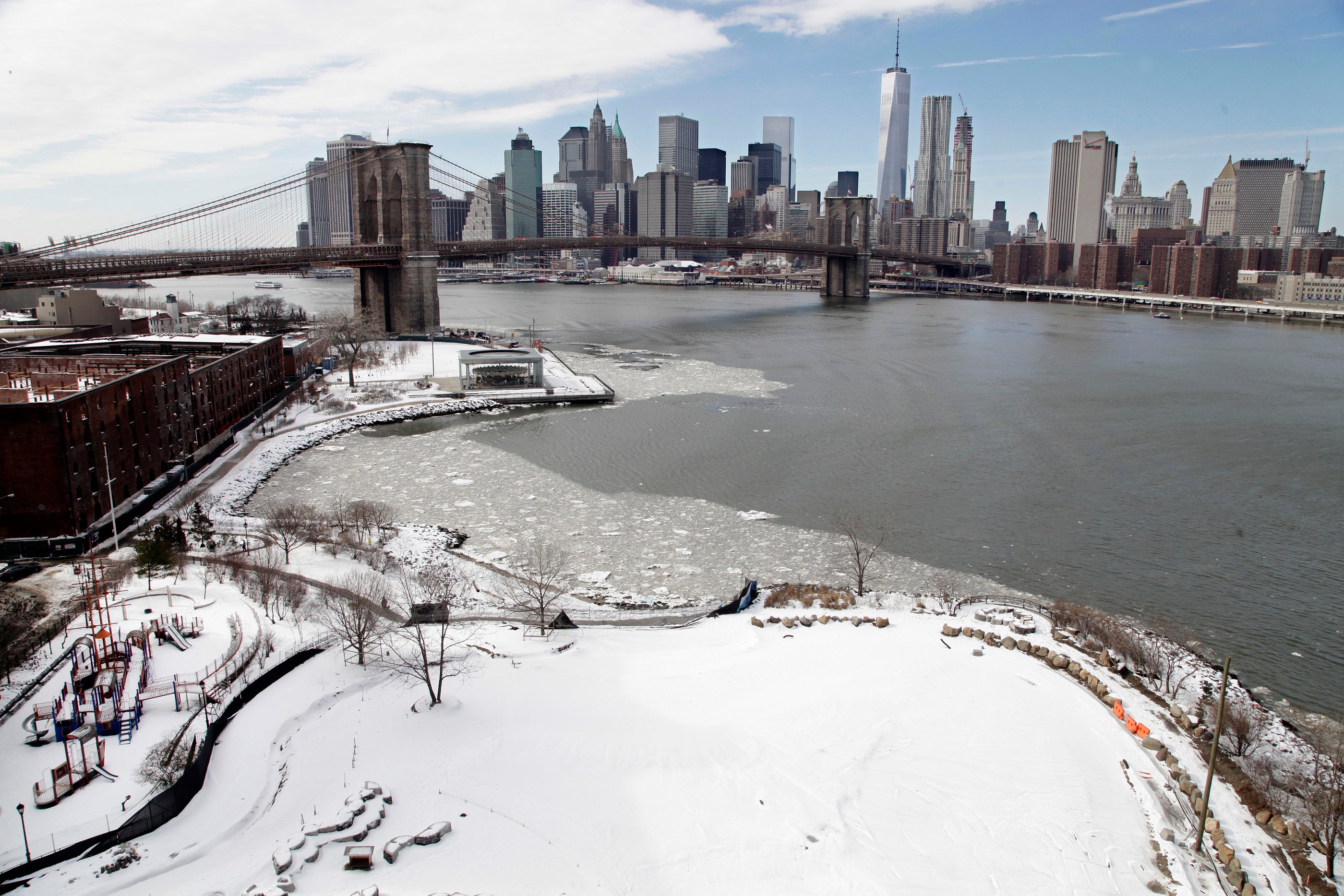 Icy conditions, freezing temps continue to grip much of U.S.
DALLAS - Freezing rain coated parts of Texas with ice on Monday, leading to hundreds of canceled flights and a delay in the "American Sniper" murder trial.
Elsewhere, arctic air and snow in parts of New England and New York made for a cold, dangerous commute. More broadly, temperatures are expected to be 25 to 30 degrees below normal across much of the country, said National Weather Service forecaster Jim Hayes.
Here's what's happening:
___
Slippery South
Up to an inch of ice was possible in parts of North Texas, where more than 1,000 flights in and out of Dallas-Fort Worth International Airport were cancelled Monday morning. The weather also prompted at least a daylong delay in the trial of the former Marine accused of fatally shooting former Navy SEAL Chris Kyle, whose memoir, "American Sniper," was the basis for the Oscar-nominated movie.
It looked like a Monster Truck Derby on Interstate 40 , just outside Amarillo, 25-vehicles -- mostly semis -- banged up and broken after sliding on icy roadways, reports CBS News correspondent Adriana Diaz. Outside Dallas, drivers had to reverse of a highway ramp.And one driver pushed another up a slippery incline.
"Sleet is a little more challenging," said Tony Hartzel from the Texas Department of Transportation. "Because people think that it acts a little bit like snow, but it's a lot slicker. It can look like it's passable but underneath could be black ice."
Winter storm warnings and advisories also have been posted in parts of Oklahoma, Arkansas, Louisiana and Mississippi.
Driving could be hazardous along the South Carolina coast this week.
The National Weather Service in Charleston has issued a freezing rain advisory for seven South Carolina counties from Monday night through early Tuesday afternoon.
The advisory includes Charleston and Beaufort. As a precaution, Charleston County schools announced they will be closed Tuesday.
In Alabama, the weather service says freezing rain, sleet and snow are possible early Tuesday north of a line reaching from from Demopolis in western Alabama to Wedowee in the east.
A thin glaze of ice is possible, and more than 1 inch snow could fall before temperatures rise above freezing. More frozen precipitation is possible Wednesday.
Forecasters say areas including metro Birmingham could receive 2 to 4 inches of snow.
The Tennessee Valley is under a winter storm watch, and a winter storm advisory covers the rest of north Alabama.
Tennesseans are struggling to recover from one of the worst winter storms in memory as schools remain closed in many counties, thousands are still without power and state officials work to make funding available for repairs.
Emergency response officials say chain saw crews with members of the Tennessee National Guard and several state agencies were working Monday to clear downed trees across the Cumberland Plateau. Tennessee Emergency Management Agency officials said Humvee teams are checking on the welfare of residents in the more rural areas.
The storm and frigid temperatures have already killed 22 people across the state, nine of them caused by hypothermia.
___
Chill in the Air
Wind chills are forecast to dive below zero in northern parts of the U.S. starting Monday afternoon. The weather service says the wind chill in Bennington, Vermont, could drop to 17 below zero, while Lake Placid, New York, could see minus 30.
In Michigan, actual temperatures dipped to 10 degrees below zero in Saginaw, Bay City and Midland, breaking the area's record of minus 2.
Meanwhile, the Great Lakes are going the way of Niagara Falls: They're freezing over. Lake Erie is nearly totally frozen, and Lakes Huron and Superior are nearly 80 percent frozen, the New York Daily News reports.
In Colorado, icy roads, school delays and a closed Legislature were some of the effects of a winter storm that brought a welcome dose of moisture after a month of fairly dry weather.
Many schools in the Denver area opened late Monday after as much as a foot of snow fell over the weekend, but schools in Alamosa, Durango, Bayfield and Ignacio were closed. Monday's session of the Colorado Legislature also was canceled, delaying hearings on bills on discrimination against gay people and gun control.
Many state lawmakers return home on weekends and leaders decided to wait until Tuesday to resume business, given the dangerous driving conditions around the state.
While the snow tapered off in eastern Colorado on Monday, heavy snow continued to fall in southwestern Colorado. More than 2 feet of snow was expected to fall in and around Telluride by the end of the day.
That's good news for director Quentin Tarantino, who has been waiting for a good dumping to film outdoor scenes at a ranch there for "The Hateful Eight," which is set during a post-Civil War blizzard. All the new snow has raised the avalanche danger to high in the region.
___
All Aboard
Boston's transit agency is slowly returning to normal after a series of crippling snowstorms and low temperatures. Most subway and trolley branches had service restored Sunday just in time for the Monday morning commute and buses were running on a regular weekday schedule, though riders may see delays. Commuter rail passengers also were told to expect delays and cancellations.
Wind chills will send temperatures diving below zero throughout northern New England and northern New York from Monday afternoon into the night. Winds could cause Bennington, Vermont, to drop to 17 below zero, while Lake Placid, New York, could be a teeth-chattering minus 30.
___
Winter Dangers
A man was killed Sunday when he fell through a snow-covered skylight in Canton, Massachusetts. A man and a woman were found dead in the snow outside their rural western Pennsylvania home Sunday afternoon, but their causes of death weren't immediately clear. And in Texas, a 31-year-old Amarillo man died Sunday when he lost control of his car on icy Interstate 27.
About 60 people had to be evacuated from an apartment complex in Hooksett, New Hampshire, after the roof partially collapsed under the weight of snow. No one was hurt there, or in Portland, Maine, where chunks of ice the size of end tables slid off the roof of a five-story building and crashed through the front and rear windows of an unoccupied car Sunday.
The cold also is affecting water mains, with numerous breaks and leaks reported in suburban Washington, D.C., and a few in the Detroit area.
___
Messy Commutes
Snow made for difficult driving conditions Monday along numerous highways in northern and eastern New Mexico, while Colorado's lawmakers were told to stay at home.
A much-needed winter soaking flooded some Southern California streets and dampened the red carpet at the Academy Awards on Sunday. The rain let up around sunrise on Monday, but more showers were expected.
The Oklahoma Highway Patrol reports slick roads statewide as a winter storm brings snow and sleet to the state.
The patrol said blowing snow was also limiting visibility in central Oklahoma shortly after noon Monday.
Only the far northeastern corner of the state did not report road or visibility issues. The NWS said a winter weather advisory continues until 6 p.m. Monday and up to three inches of snow is possible across the state and up to a half inch of sleet could accumulate in southern Oklahoma.
___
Unexpectedly Untouched
It's the second least-snowy winter on record in Anchorage, Alaska, according to the National Weather Service. That lack of snow has saved the city about $1 million in snow removal and related public services, the Alaska Dispatch News reports.
Thanks for reading CBS NEWS.
Create your free account or log in
for more features.