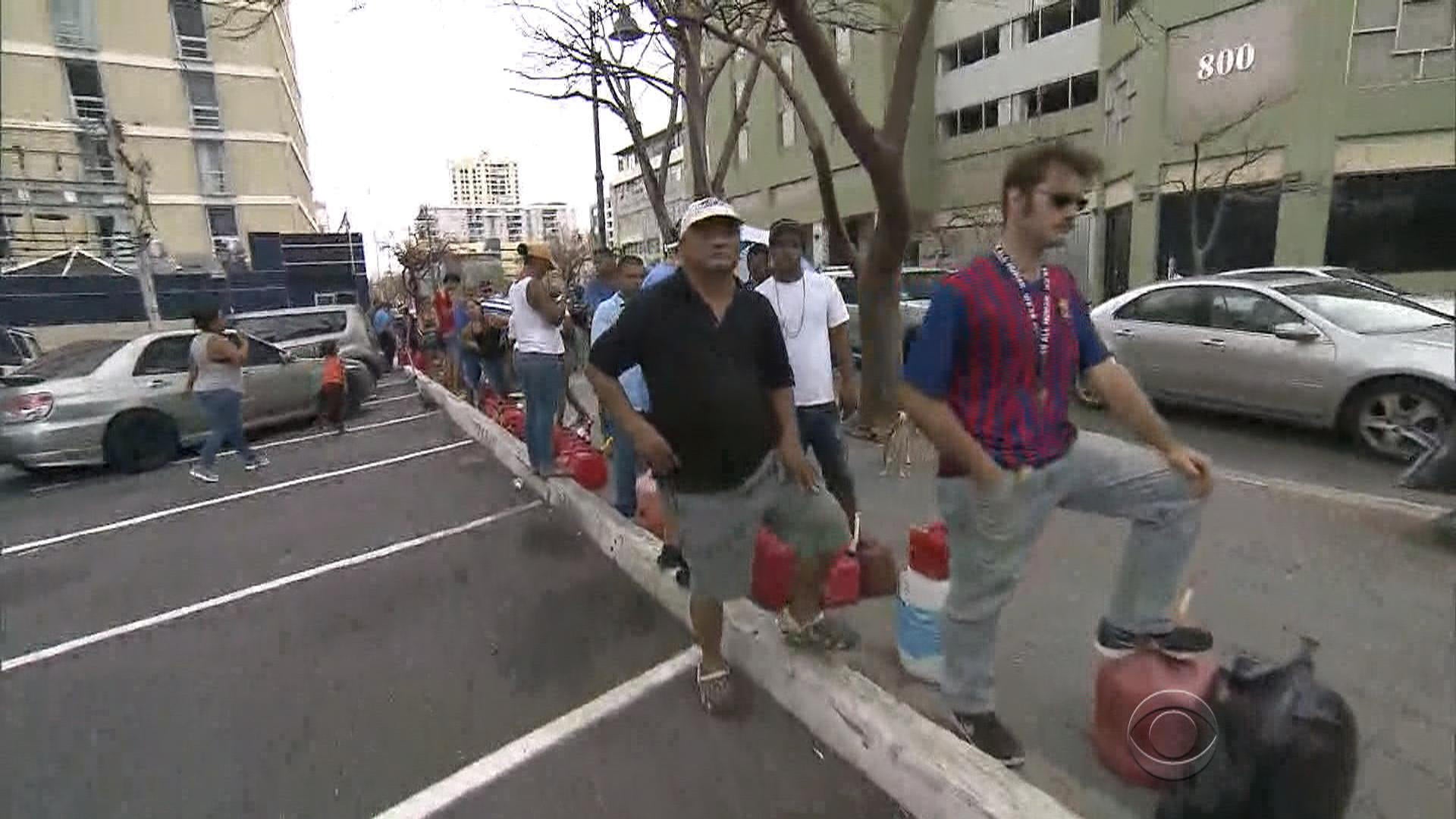 Frustration mounts in Puerto Rico as people in need wait for relief supplies
SAN JUAN, Puerto Rico -- One week after Hurricane Maria invaded Puerto Rico, frustration is growing as relief supplies are arriving on the island, but getting them to the nearly 3.5 million people in desperate need is close to impossible.
Power is still out, and the FCC said Wednesday more than 91 percent of cellphone sites are out of service.
Puerto Rico's governor told CBS News that food, water and medicine were just sitting at the port waiting to be delivered. CBS News went looking for it and found it 3,000 shipping containers just sitting there since Saturday with enough supplies to help half a million Puerto Ricans.
Jose Ayala, vice president for Crowley Shipping Services, told CBS News that "it's sad and it's frustrating."
When asked if there's anything else Ayala could do to move supplies out faster: "There's no way unless the trucking companies start showing up."
"The bus drivers are either caught in their houses, their buses have been destroyed," Gov. Ricardo Rossello said. "We have not reached communication so that they can know that we've released all of the red tapes."
Most of the roads on the island are still blocked or damaged.
Another problem? Fuel shortages. Gasoline has become like liquid gold. Lines to buy fuel for generators stretch for miles.
This is the third day in line for Mary Beth Cardenas.
"We can't get supplies, we can't get food," Cardenas said. "There are places that are open and are selling food but we just can't get to them because we don't have the gas in the car we're using."
There are line-ups for every other essential too -- like cash to buy gas.
Jennifer Rosa was in the line for the ATM where patience is in short supply.
"We are American citizens ... We are not better than anyone, but we are not worse than anyone ... That's what's so hard for us to understand," Rosa said. "Why it's taking so long for Congress to act right now?"
CBS News witnessed FEMA delivering food and water in a town called Salinas, 50 miles south of San Juan. And the USS Kearsarge is now floating a few miles offshore.
There are 20 helicopters and Ospreys ferrying supplies to the island.
The gas station CBS News saw earlier in the day now has Puerto Ricans sitting in their cars waiting for Thursday's shipment.
Thanks for reading CBS NEWS.
Create your free account or log in
for more features.