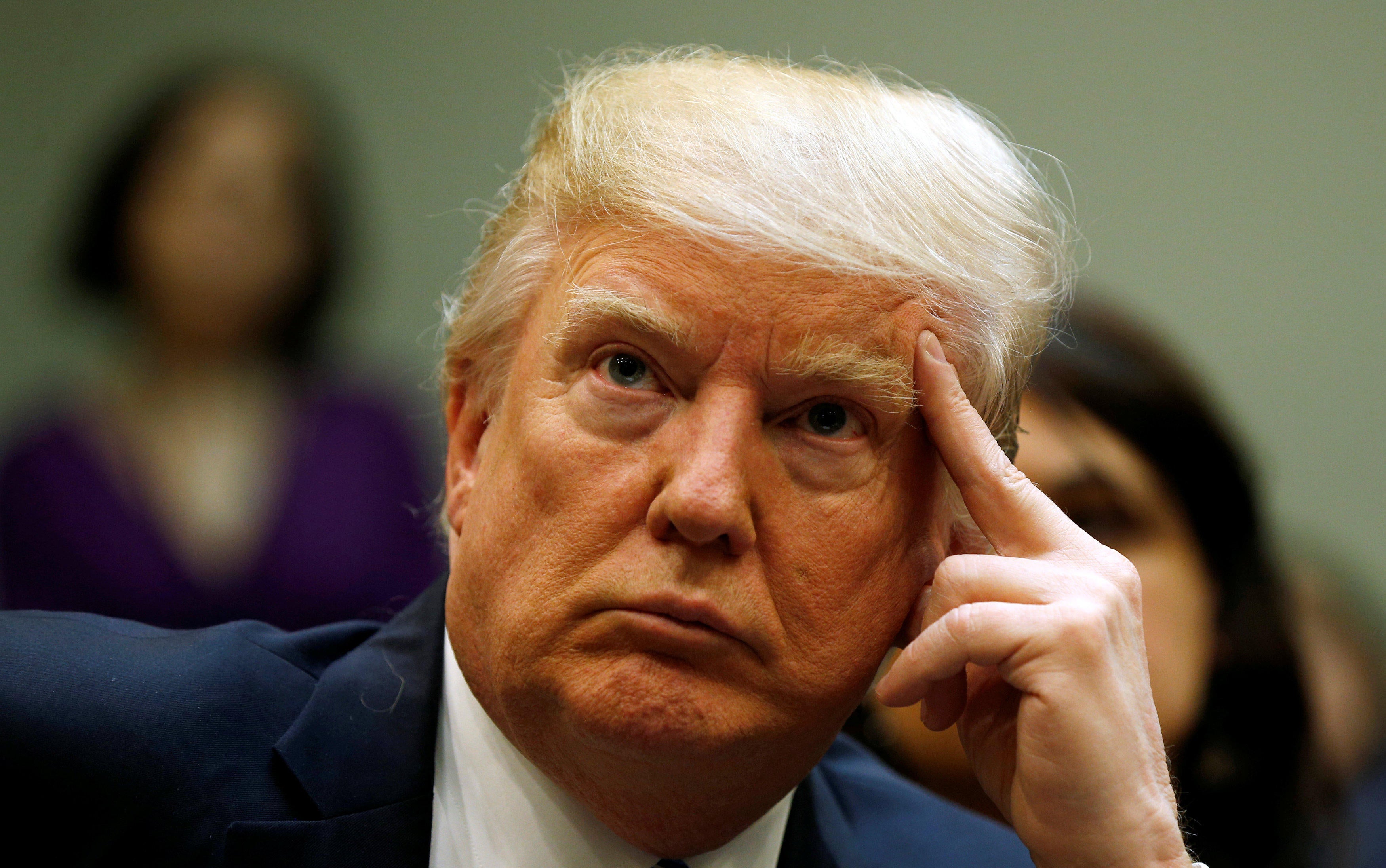 Trump budget rolls out with proposed steep cuts to State, EPA, most other agencies
President Trump rolled out his first budget blueprint Thursday morning that would increase defense spending by 10 percent, funding for Homeland Security programs by 6 percent and dramatically slash funding to both the State Department and Environmental Protection Agency (EPA).
The proposal covers both the current fiscal year as well as fiscal 2018, which begins Oct. 1. It does not have the force of law, and is only used as a guideline for congressional appropriators who have the power of the purse.
To offset Mr. Trump's proposed $54 billion increase in defense spending for 2018 so that it doesn't add to the deficit, he requests that an equal amount of $54 billion in cuts be made to domestic programs. The budget, which has been submitted to Congress, calls for a 28 percent cut to the State Department, USAID and Treasury International Programs and a 31 percent cut to the EPA.
"We are going to do more with less, and make the government lean and accountable to the people," Mr. Trump said in the budget.
It's been dubbed the "skinny budget" because it only contains discretionary spending numbers and does not include proposals for mandatory spending, which covers entitlement programs like Social Security, Medicare and Medicaid. Just one-third of the nation's $4 trillion budget is discretionary spending, while two-thirds is mandatory spending.
The budget's proposed increase to defense spending "exceeds the entire defense budget of most countries and would be one of the largest one-year DOD increases in American history," the budget says. For the overseas contingency operations (OCO) fund, which pays for military operations against the Islamic State in Iraq and Syria (ISIS), it calls for $77 billion outside of the base budget.
The Departments of Homeland Security (DHS) and Veterans Affairs (VA) are the only two other departments besides Defense to receive proposed spending boosts in the budget. DHS would receive a 7 percent increase in 2018 and the VA would receive a 6 percent boost over current levels. The blueprint also includes a 2017 supplemental request of $1.4 billion to fund the initial developments for Mr. Trump's plan for a wall along the U.S.-Mexico border. For the 2018 part of the blueprint, Mr. Trump requests $2.6 billion for the wall. The wall is estimated to cost over $21 billion.
Mr. Trump's "America First" budget aims to "shrink the role of government" and eliminate waste and duplicative programs, said Office of Management and Budget Mick Mulvaney on Wednesday.
EPA would face the steepest cut of a 31 percent reduction from current levels. The budget proposes the discontinuation of federal funding for the Clean Power Plan, climate change research and international climate change programs. Altogether, it calls for the elimination of more than 50 programs within the agency.
The State Department faces the next largest cut of a 28 percent reduction, including a 35 percent cut to Treasury International Programs. While it would apply about $2 billion to embassy construction, it aims to dramatically reduce U.S. foreign aid and it calls for reducing funding to the United Nations and its affiliated agencies as well as U.N. climate change programs.
This morning, Secretary of State Rex Tillerson attempted to defend the budget cuts, arguing that his department is coming off of "an historically high level" of resources. He said that Mr. Trump's request is reflective of a few expectations.
"One is that as time goes by, there will be fewer military conflicts that the U.S. will be directly engaged in; and second, that as we become more effective in our aid programs, that we will also be attracting resources from other countries, allies, and other sources as well to contribute in our development aid and our disaster assistance," he said.
The blueprint calls for an 18 percent cut to the Department of Health and Human Services, which includes a nearly $6 billion cut to the National Institutes of Health (NIH).
It also calls for a 13 percent cut to the Department of Education, which includes an elimination of the "21st Century Community Learning Centers Programs," which it said supports before and after-school programs as well as summer programs.
For the Transportation Department, the proposal calls for a 13 percent spending cut, which includes a restructuring and reduction in federal subsidies to Amtrak. The blueprint says the administration wants to terminate federal support for Amtrak's long-distance train services and allow Amtrak to focus on services within states or along the Northeast Corridor. The budget would eliminate funding for the nearly 40-year-old program that provides eligible communities like rural communities with access to commercial air service.
NASA would receive a less than 1 percent cut under the budget. It also generally calls for the elimination of a number of major programs, including the Corporation for Public Broadcasting, which helps fund stations like PBS and NPR. And it calls for the elimination of the National Endowment for the Arts and National Endowment for Humanities.
The White House plans to roll out a more comprehensive budget in May, Mulvaney reiterated, which would include spending projections for the wall and other priorities for a 10-year window. He added that the fuller budget will assume the passage of the GOP proposal to repeal and replace Obamacare, known as the American Health Care Act (AHCA), but the budget released Thursday does not include such a projection.
Republicans are already applauding the proposal.
"I welcome the president's blueprint for next year's budget, which turns the page from the last eight years," Speaker Paul Ryan, R-Wisconsin, said in a statement. "We are determined to work with the administration to shrink the size of government, grow our economy, secure our borders, and ensure our troops have the tools necessary to complete their missions."
But they likely won't be able to get it through Congress. Senate Majority Leader Mitch McConnell, R-Kentucky, said late last month, for example, that deep cuts to the State Department would not pass the upper chamber.
The cuts, meanwhile, will not fly with Democrats.
House Minority Leader Nancy Pelosi, D-California, warned in a statement Thursday that the cuts will weaken the nation.
"President Trump is not making anyone more secure with a budget that hollows out our economy and endangers working families," she said. "Throwing billions at defense while ransacking America's investments in jobs, education, clean energy and lifesaving medical research will leave our nation weakened."
In order to accommodate Mr. Trump's defense spending increase, Congress would first have to pass another budget deal that would lift the spending caps put in place by a 2011 law. That could be difficult to get through both chambers.
Thanks for reading CBS NEWS.
Create your free account or log in
for more features.