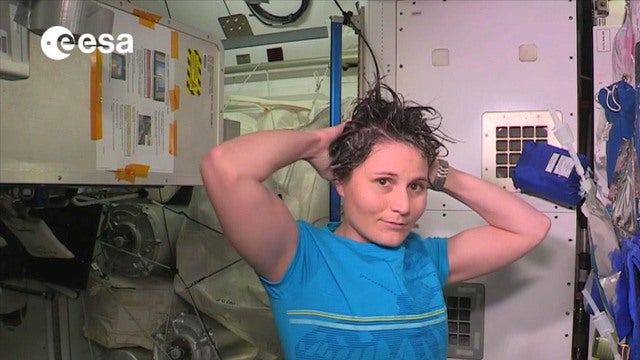 How to take a shower in space
For Italian astronaut Samantha Cristoforetti, washing up and brushing her teeth comes with a twist: It's all done in anti-gravity.
Recording from the International Space Station, Cristoforetti gave a video tour of her bathroom and a tutorial on showering in space.
Her ersatz bathroom, which she calls "hygiene corner," comes fully equipped with toothbrushes, toothpaste and towels -- "They don't look much different than hygiene products in your bathroom, probably," she said. But it is without some standard elements of washrooms on the ground.
The biggest difference is the lack of running water -- and the lack of gravity. Water behaves differently without gravity, Cristoforetti explained. "It kind of tends to stick to your skin because of surface tension," she said, demonstrating to eerie effect.
In the video, Cristoforetti mixes small portions of water and soap on her arm for an interstellar sponge bath. The water is squeezed from small pouches, and the astronauts use no-rinse soap and shampoo.
Not a drop of water is wasted. After Cristoforetti "showers," the built-in Environmental Control and Life Support System recuperates water as it evaporates off her towels and skin. The water vapor is condensed on internal air conditioning units, purified and re-purposed.
While some home amenities are the same in space, some things will always be different -- brushing teeth, for example. There's no sink to rinse in.
"Some astronauts just swallow it -- it's quick and easy," Cristoforetti said. She doesn't like to do that, so she said she spits into a towel.
"It's not the most elegant thing, but you have to do what you have to do," she said.
On Saturday, Cristoforetti set the record for longest time in space on a single mission by a woman. By the time she departs the space station Thursday she will have spent nearly 200 days in orbit. Lack of sink notwithstanding, she has enjoyed some creature comforts, such as an authentic space-ready espresso machine that was delivered to the ISS in April.
Thanks for reading CBS NEWS.
Create your free account or log in
for more features.