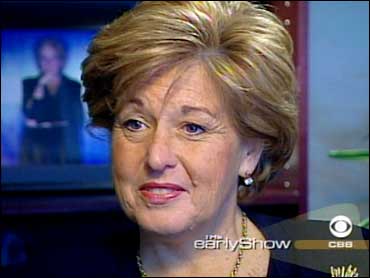 How She Became 'The Bun Lady'
Cordia Harrington grew up wearing hand-me-down clothes and watching her parents struggling to pay bills. A trip to a McDonald's was a big night out for her family. She wanted better for her own kids. But in the end, it was her desire to spend more time with them that was her biggest motivator.
Harrington's nickname is "The Bun Lady."
"It's growing on me," she says of her nickname with laughter to Early Show correspondent Melinda Murphy. "I didn't name myself that. I can promise you that."
Harrington owns the Tennessee Bun Company and claims to make more buns per hour than anybody else on the planet.
"We make over 1,000 buns a minute," she says, "It's over 60,000 buns an hour. It's a lot of buns."
But Harrington wasn't always all about buns. In fact, she started out in real estate.
"When I started the real estate business, I did use all my own money, $587," she chuckles. "I bought my plywood. I bartered for my office space, leased my desk and it grew from there."
It was a $587 investment that would eventually lead to millions. Of course, Harrington's path to fortune was anything but direct. She took her real estate company one step further and launched a construction business, too. But running booming businesses and being a mom is tough.
Says Harrington, "My second son was two weeks early. I had him at five in the morning and took him in a basket with me at 9:00 a.m. that same morning to a real estate closing."
The juggling act grew all the more difficult with the arrival of a third son. Then she got divorced.
Suddenly, Harrington was a single parent, and wanted to spend more time with her kids. She thought buying a McDonald's franchise would give her more free time.
But the transition was often painful. She had to keep one business running while traveling to start a new one.
"I would have a college girl at that time spend the night at my house, so that, when the boys woke up, she would be there," Harrington recalls. "I would drive, leave at three in the morning, and I would watch the sun rise. And every morning I did that. I would cry, and I'd think, 'Ooohh, is this worth it? This is so hard.'"
The reward was mostly financial. That first McDonalds in Effingham, Ill., soon grew into three. But finding time for her kids was harder than ever.
"I took them to meetings or took them to work with me, and, you know, Mommy would try to make it fun that we'd all clean the lobby and the McDonald's restroom," Harrington says. 'OK, let's all get a towel, and let's see who can clean the most tables!' or, 'Let's put the most meals.' You know, the toys in the Happy Meal sacks."
Eventually, Harrington landed on the McDonald's bun committee, a group that oversees the supply of hamburger buns. It was love at first bite: "I'd go over there for a half-day meeting, come back, and that's all I could talk about for weeks. Sesame seeds in Guatemala, prices of flour in Russia. I mean, all of a sudden, McDonald's became global to me."
So, when McDonald's decided to open another bakery, Harrington begged for the chance to run it.
"I started calling and sending pictures," she says. "Finally, four years and about 32 interviews later, I convinced them they couldn't live without me."
But the good news meant another difficult series of changes.
"As I built the bakery, I still had three restaurants, 250 employees, three kids, I was single and driving back and forth. I put over 100,000 miles on my car in a year. I don't want to make it sound like this was all real easy. I did a lot of crying and yet in my mind, I knew I could do it. I just had to figure out how."
Part of figuring it out meant selling the franchises to concentrate on running the plant. And just as she did with her construction business, Harrington found a better way to do things.
Now, the Tennessee Bun Company calls itself the fastest-automated bakery in the world.
And McDonald's is no longer her only client.
"We serve 40 states for Pepperidge Farm," Harrington says. "We also serve the East Coast for Chili's. We have Ruby Tuesday as a customer. We have KFC. So we work for and bake, really, buns. That's our focus: buns."
Harrington has come a long way from hand-me-down clothes. The Tennessee Bun Company expects gross sales in excess of $50 million this year, which enables her family to enjoy life to the fullest, even if they're as busy as ever.
In fact, Harrington is planning to work even harder. She's now branched out into English muffins and launched a shipping company to move her products across the country. And she just bought a cold storage company. But she says her ultimate goal is to take her company international.
Thanks for reading CBS NEWS.
Create your free account or log in
for more features.