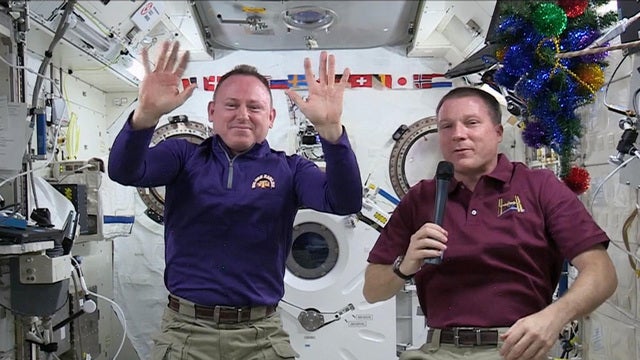 How NASA astronauts aboard ISS celebrate Christmas in space
NASA recently captured satellite images showing how bright the holiday lights are in cities across the country. It is a familiar sight for Captain Barry Wilmore who has been aboard the International Space Station (ISS) since late September and flight engineer Cololel Terry Virts, who joined in late November.
"I wish I could describe it with words," Col. Virts said Tuesday on "CBS This Morning." "The first time I looked out of the window on the space shuttle a couple years ago, I just couldn't believe it. It literally took my breath away. I saw colors I've never seen before and every time you take pictures it's a brand new experience."
Both Capt. Wilmore and Col. Virts will spend Christmas aboard the ISS, but NASA has a way to ensure the two fathers stay in touch with their family.
"They afford us the opportunity to do video links once a week," Capt. Barry "Butch" Wilmore said Tuesday on "CBS This Morning." "It's fantastic to see them, and my daughters are seven and 10, so actually see them change and lose teeth and whatnot from here, it's very unique and it's a very good thing that NASA does."
Celebrating Christmas isn't something the two astronauts are willing to forego either. Capt. Wilmore sported elf shoes and floating behind Col. Terry Virts was an upside-down Christmas tree.
"We've got some stockings. Butch got each crew member a stocking out in the U.S. lab, we have some Santa hats and some other gear..." Col. Virts said. "We've got some turkey and mashed potatoes in the kitchen. So we got some traditional Christmas stuff here."
Preparing for the holiday is of course, not their main mission. The entire crew aboard the ISS crew is tasked with several hundred experiments in biology, biotechnology, physical science and Earth science. They're also training for missions outside the space station.
"Butch and I are going to go out and prepare the station for future American crewed vehicles," Col Virts said. "In February we're doing these space walks and these vehicles will be flying in the next few years, we hope."
Helping them along the way is their trusted 3D printer. No longer do astronauts aboard the ISS have to wait for small tools and parts to be shipped via cargo spacecraft. Last week Capt Wilmore made headlines when he 3D printed a wrench from a design emailed to him from Earth, a feat he said could "change everything."
Thanks for reading CBS NEWS.
Create your free account or log in
for more features.