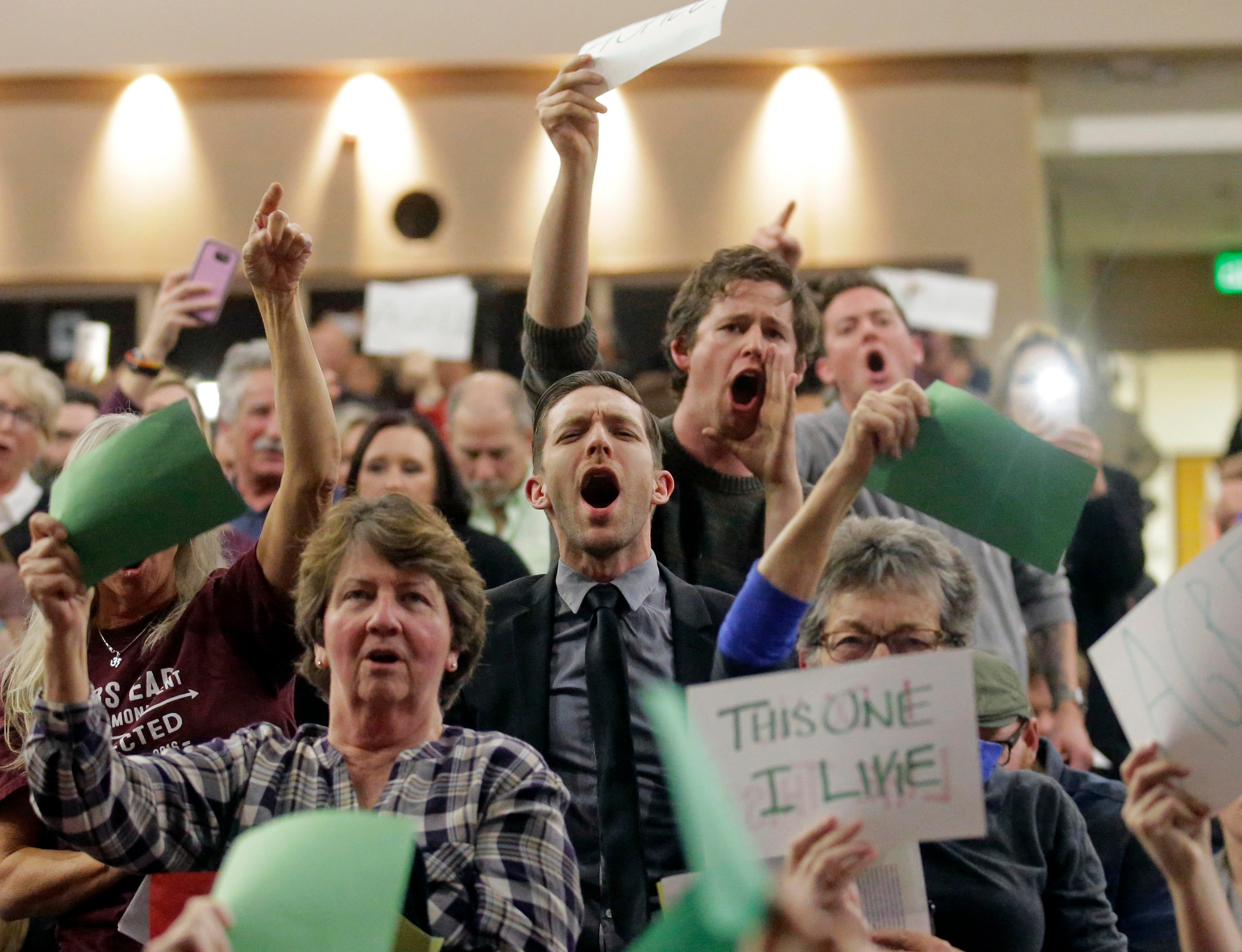 House Oversight chair Jason Chaffetz slams town hall protesters
House Oversight Committee Chairman Jason Chaffetz had some harsh words for the protesters that packed the Republican's Utah town hall Thursday.
Discussing the raucous gathering with constituents where he faced a chorus of boos and steady grilling, Chaffetz told the Deseret News that the protest crowd included people brought in from outside his district specifically to be disruptive.
"Absolutely. I know there were," Chaffetz told the Salt Lake City-based paper. He added that the meeting, held at a high school auditorium, was "more of a paid attempt to bully and intimidate" rather than a true showcase of how voters in his Utah district felt.
The newspaper didn't say how he supported his assertions.
On Thursday, demonstrators packed the town hall and shouted "Do your job! Do your job!" at Chaffetz. Others chanted "Vote him out" and carried signs reading "America is better than this."
The congressman, who was confronted by questions on everything from environmental concerns to whether he would investigate President Trump's tax returns, said he believed it was "important that people have an opportunity to voice their concerns."
But, he told the Deseret News, "I think they should be somewhat embarrassed by how a lot of people handled themselves."
"We're better than that," he continued. "That's not what the average Utahn is like."
Though he said he understood their frustrations, Chaffetz added: "It was hard to hear through all the shouting and yelling."
The protest encountered by the Utah Republican, who represents the state's 3rd District, was just one of several town halls across the country swarmed by angry constituents over issues with the new Trump administration and Congress, including GOP-backed policy proposals like repealing the Affordable Care Act. They include gatherings in California's 4th District, in Colorado's 6th District and in Grand Rapids, Michigan -- all Republican-held seats.
Chaffetz, who led investigations by the House on Hillary Clinton during the presidential campaign season, pushed back against some of the protesters' requests to keep Mr. Trump in check.
"People are asking me to use the power of Congress to do a full-on fishing expedition to investigate him personally on things that are not required by law," Chaffetz said. "I think my doing that would be an abuse of power."
Thanks for reading CBS NEWS.
Create your free account or log in
for more features.