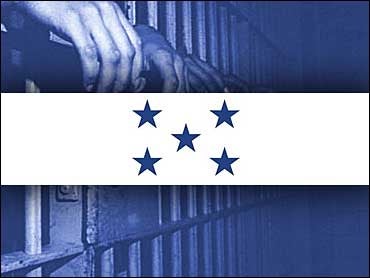 Honduran Prison Riot Leaves 86 Dead
Rival gang members fought and set fire to a prison Saturday in northern Honduras, sparking a riot that ended with 86 prisoners dead, dozens of others injured and an unknown number on the loose, authorities said.
The uprising began with a fist fight between gang members and escalated when some set mattresses and furniture ablaze in their cells at the 1,600-inmate El Porvenir prison outside of La Ceiba, a port city 220 miles north of Tegucigalpa, the capital.
Prison spokesman Leonel Sauceda said flames engulfed one of the prison's three wood-and-corrugated metal buildings. Of the 86 people who died, some were burned to death, others suffered smoke inhalation and the rest were killed by inmates wielding weapons.
Jose Canahuati, director of the state-run hospital that was receiving the dead and wounded, said his staff counted 86 bodies. Television images showed hospital employees covering rows of bodies with plastic bags.
"There are a lot of young people with bullet and knife wounds, and also with severe burns," Canahuati said as police stood guard outside the hospital. "The operating room is full. The hospital doesn't have room for so many patients, but we are taking care of the sick in the hallways and anywhere else we can."
El Porvenir is a prison farm located close to the Caribbean coast where suspects facing drugs, weapons, rape and assault charges are held while they await trial. Inmates grow beans and other grains, and there is little security. Weapons and drugs are common, and gang members often control cell blocks.
The riot began after dozens of members of the Mara Salvatrucha street gang jumped inmates loyal to another gang, La 18, in the prison courtyard. After a series of fights, both sides began using homemade knives and pistols to defend themselves, Sauceda said.
"Several inmates of the La 18 started the riot with the intention of escaping ... and that started the massacre," he said.
Mara Salvatrucha and La 18 are the largest and most-violent of the 450 Honduran gangs that authorities believe have 100,000 members.
Jose Coca Villanueva, an El Porvenir inmate, said a major "territorial battle" sparked the riot.
"It was horrible, and all we could hear was the sound of screams of pain and terror. No one knew what was going on," Villanueva said. "Everybody was fighting against everybody."
It took fire fighters, police officers and prison guards more than three hours to control the flames and restore order, and prison authorities were in the process of counting the inmates Saturday to determine how many had escaped, Sauceda said.
Soldiers and police patrolled nearby streets and searched neighboring fields looking for escaped inmates.
The prison's directors were suspended while a special commission investigates the case.
President Ricardo Maduro said officials would also analyze the rest of the country's prisons and determine what changes needed to be made. He urged court officials to help move people through the justice system faster so that fewer would be waiting for a trial.
Honduras' 26 prisons were built to house 5,500 inmates but are crammed with 13,000 prisoners, according to government statistics.
Although prison riots are common in Latin America — where jails are overcrowded and loosely controlled — Saturday's violence is among the worst in recent history.
At least 111 inmates died in 1992 when 120 riot troopers stormed a cell block to quell a bloody uprising at Sao Paulo's notorious Carandiru prison complex, Latin America's largest. Unofficial accounts by human rights groups and survivors have placed the death toll at nearly 300.
Saturday's death toll far surpasses one of the more well-known prison riots in Attica, New York, which killed 43 people, including 11 state employees and 32 inmates, in 1971. All but four were shot to death when state police retook the prison, 30 miles east of Buffalo, after a four-day standoff.

Thanks for reading CBS NEWS.
Create your free account or log in
for more features.