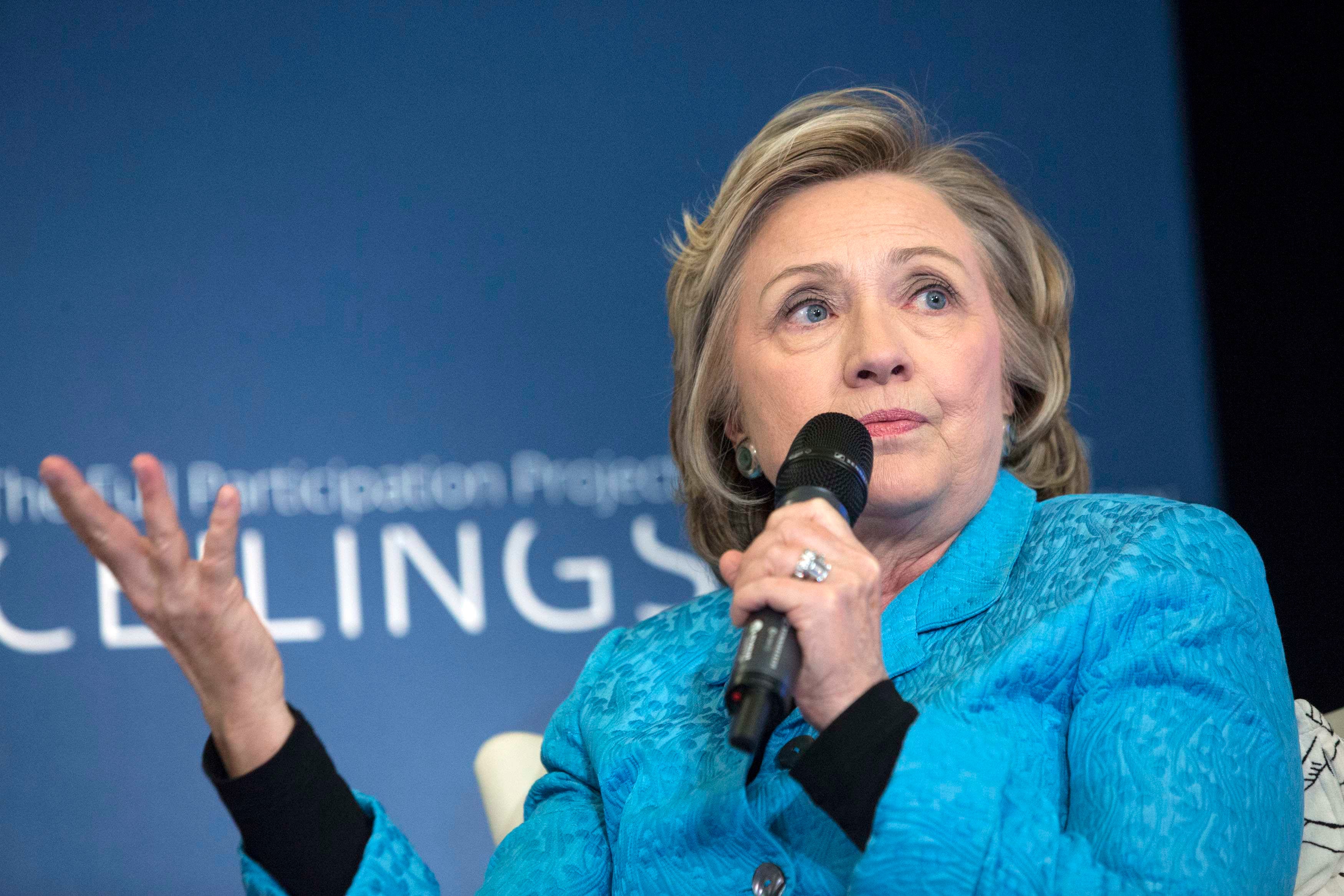 Hillary Clinton's income a 2016 campaign issue?
As Hillary Clinton sets off on the book tour for her memoir, "Hard Choices," one aspect of her autobiography has sparked interest: the wealth that she and former President Bill Clinton were able to amass after leaving the White House.
The former secretary of state reportedly received a multi-million dollar advance for the book. Her speeches can net $200,000 a pop. And that's on top of the more than $100 million that Bill Clinton has reportedly earned in the last decade and a half when the couple emerged from the White House with no home in their name and a mountain of legal fees.
"We came out of the White House not only dead broke, but in debt," Clinton told ABC News' Diane Sawyer in an interview that aired Monday. "We had no money when we got there, and we struggled to, you know, piece together the resources for mortgages, for houses, for Chelsea's education. You know, it was not easy."
Republicans had a field day with the quote. The America Rising PAC sent a fundraising email to supporters calling the two houses "mansions" and noted the Clintons rented a $100,000 per week summer home in the Hamptons. (The couple's two permanent residences, in Chappaqua, N.Y., and Washington, D.C., are worth about $7 million and $5 million, respectively, according to estimates based on Zillow and DC tax records).
"While American families are struggling to put food on the table, Hillary thinks her situation was bad," the PAC said in the fundraising email. The Republican National Committee quickly crafted a photo for Twitter of the Clintons looking off into the distance with words splashed across the top like, "$100 million in speaking fees" and "real struggle."
"@HillaryClinton's out-of-touch idea of 'dead broke' is some mansions & $200,000 for a few hours work," the tweet read.
It is true the Clintons did not amass their wealth overnight. Bill Clinton spent most of his adult life before leaving the White House in 2001 as an elected official and Hillary Clinton worked as a lawyer and law professor for a few years before becoming first lady of Arkansas, and then first lady of the United States.
"They didn't have much in the way of savings or financial security," former Clinton press secretary Dee Dee Myers told CBS News. In fact, the Clintons faced over $5 million in legal fees following 8 years of investigations and scandals. And as they prepared to leave the White House, the couple purchased their Chappaqua home with the help of Virginia Gov. Terry McAuliffe, who was the former president's top fundraiser.
After the White House, it was Hillary Clinton's turn to go into public service as a senator from New York - but not before she received a reported $8 million advance for her 2003 autobiography "Living History," a near record at the time. Meantime, over the next decade-plus, Bill Clinton proceeded to pull in more than $125 million in speaking fees before taxes, according to USA Today. His net worth last year was estimated at $55 million, making him the 10th richest former president.
When she ran for president in 2008, as a senator, Hillary Clinton had to answer questions about how her husband made his money and who he was speaking to. In 2016, if she runs, she stands to answer the same questions about herself.
"The biggest speakers you can get are ex-presidents and former secretaries of state," said presidential historian Douglas Brinkley. "She's one of the top five speakers for hire in America."
Brinkley said that Clinton will likely face a close examination of the groups she has spoken to, which mostly consist of trade associations, nonprofits and financial groups.
Despite the Republican outcry - The National Review's Jim Geraghty writes that Clinton, "continues to speak as if the term 'rich' doesn't apply to her" - Democratic strategist Tad Devine predicts it's a charge that won't necessarily stick on the campaign trail.
"It will be snarky in the Republican sphere but the problem is to carry a message like that you've got to have [a candidate] who legitimately lived in those circumstances as your standard ...the likelihood that they're going to put someone up there who can carry an attack like that, in light of recent history its not very likely."
Indeed, the last several Republican nominees, former Massachusetts Gov. Mitt Romney, Arizona Sen. John McCain and former President George W. Bush have all been independently wealthy, and in Romney's case, he had trouble connecting with non-wealthy Americans, something that only got worse with comments like his infamous 47 percent remark.
"The wealth issue with Romney was really more a proof point or a demonstration that he was not in touch with people. I think for Hillary the policies that she will promote and pursue are completely different from the ones that Romney was going to pursue," Devine said.
Political scientist Norm Ornstein said, however, it could be potential Democratic presidential candidates that could make a bigger issue of her wealth, such as former Montana Gov. Brian Schweitzer, who has alleged that Clinton is far too cozy with Wall Street.
Vermont Sen. Bernie Sanders, an independent who is considering a presidential bid, has made a similar charge. There are other prominent Democrats who can take a more populist tone, though, including Vice President Joe Biden and Massachusetts Sen. Elizabeth Warren. Devine said there is an "an enormous amount of room in the Democratic Party for a debate about income inequality issues."
Still, Ornstein said it's "a stretch" to see Clinton's newfound wealth coming into play during a campaign.
"She has done nothing in her policy positions or behavior that would raise real questions about whether somehow she is tilting towards these big companies," he said.
Myers admitted, though, that Clinton will have to get back in the habit of talking about domestic politics after years in the foreign policy sphere.
"Connecting with the middle class is a challenge. She just hasn't done that in a while," Myers said. But, she added: "Is it a huge obstacle? I don't think so, no."
Thanks for reading CBS NEWS.
Create your free account or log in
for more features.