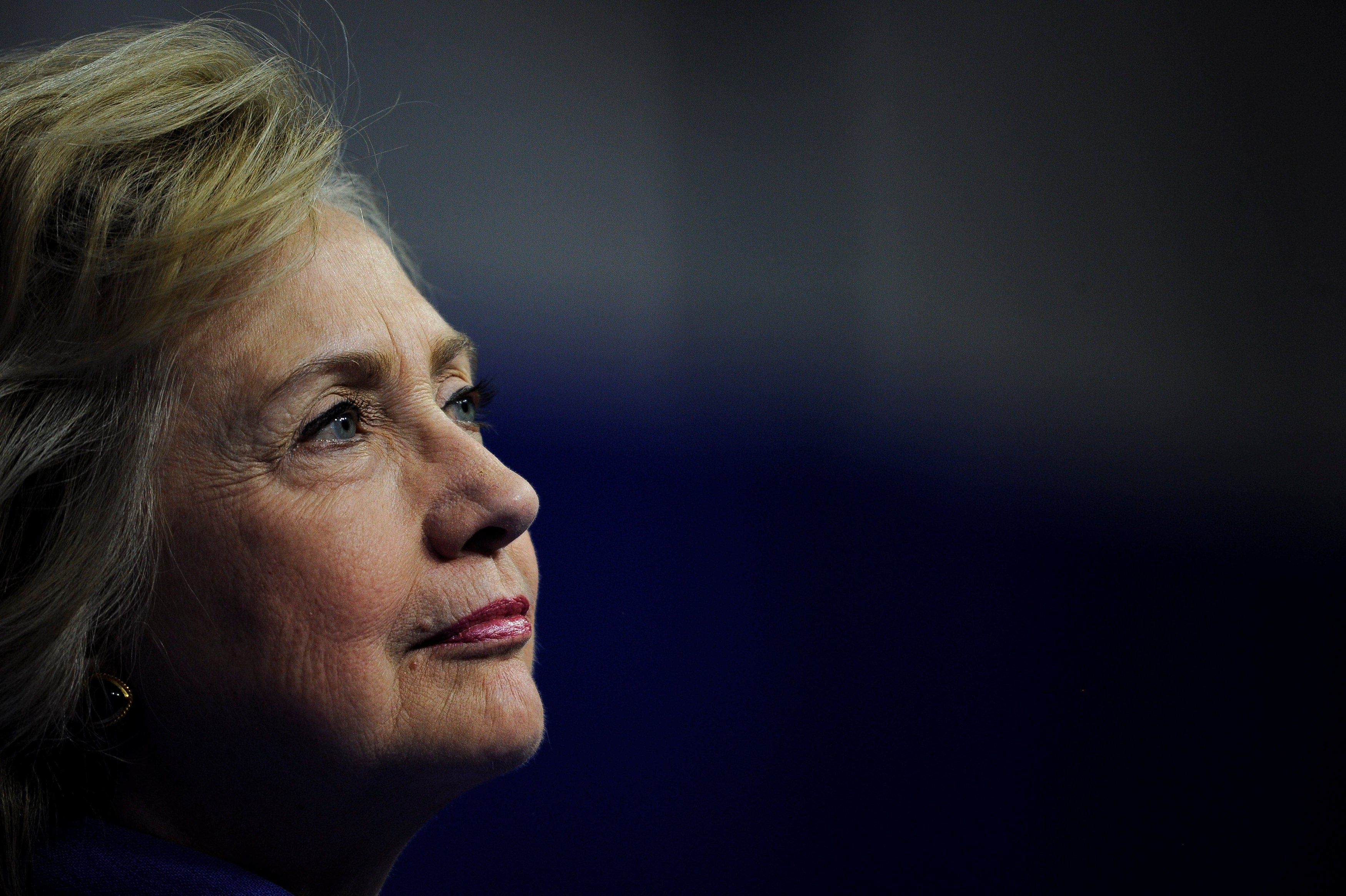 Hillary Clinton meets with top law enforcement officials in New York
Democratic presidential nominee Hillary Clinton met with eight law enforcement leaders in New York Thursday afternoon, reaffirming her support for police officers just days after rival Donald Trump cast her as a candidate "against the police."
"I want to support them, our police officers with the resources they need to do their jobs, to do them effectively, to learn from their efforts and to apply those lessons across our nation," Clinton told the gathering at John Jay College. "I believe supporting our police officers and improving policing go hand in hand."
The group included chiefs of police at several major metropolitan forces, including outgoing New York Police Department commissioner Bill Bratton and his successor James O'Neill. Clinton also sat down with Los Angeles Police Department Chief Charles Beck and Dallas County Sheriff Lupe Valdez, among others.
Clinton discussed the challenges of policing in America today, addressing the recent spate of violence against officers in cities around the United States.
"I think it's obvious that recent events from Dallas and Baton Rouge to Milwaukee and across the country underscore how difficult and important the work is ahead of us to repair the bonds of trust and respect between our police officers and our community," she said. "We have to be clear eyed about the challenges we face. We can't ignore them. And certainly we must not inflame them."
Clinton highlighted the urgency in needing "to work together to bridge our divides -- not stoke even more divisiveness."
"I know because of my own personal experience going back number of years how many officers every single day inspire confidence and make a difference -- a difference in an individual's life, a difference in neighborhood's life, a difference in the city's life," she said. "Everyone is safer when there is respect for the law and when everyone one is respected by the law. So we have a lot of work to do together and we don't have a minute to lose."
The gathering with police officials comes just as her opponent Donald Trump has accused Clinton of betraying law enforcement at a rally earlier this week.
"Just like Hillary Clinton is against the miners, she is against the police, believe me. You know it and I know it, and guess what? She knows it," Trump said in West Bend, Wisconsin, casting himself as the "law and order" candidate. "The war on our police must end and it must end now.
And after protests against police in Milwaukee grew heated in the last week, Trump, speaking about 40 minutes north of the embattled city, addressed the riots.
"The violence, riots and destruction that have taken place in Milwaukee is an assault on the right on all citizens to live in security and to to live in peace," Trump said. "Law and order must be restored...It must be restored for the sake of all, but most especially for those living in the affected community."
In contrast to Trump's messaging, some of the officials Clinton is expected to meet with -- like NYPD commissioner Bratton -- have expressed their distaste for some of the GOP candidate's policies.
Earlier this month, Bratton told "CBS This Morning" that Trump actually "scares" him because of the tone and "lack of depth" of his campaign.
"Mr. Trump scares me, scares the hell of out me, being quite frank with you. And I just don't get it in terms of the support for him," Bratton said. "The lack of depth on issues... the 'shoot from the hip' -- I've just watched his whole campaign and I just shake my head."
CBS News' Hannah Fraser-Chanpong contributed to this report.
Thanks for reading CBS NEWS.
Create your free account or log in
for more features.