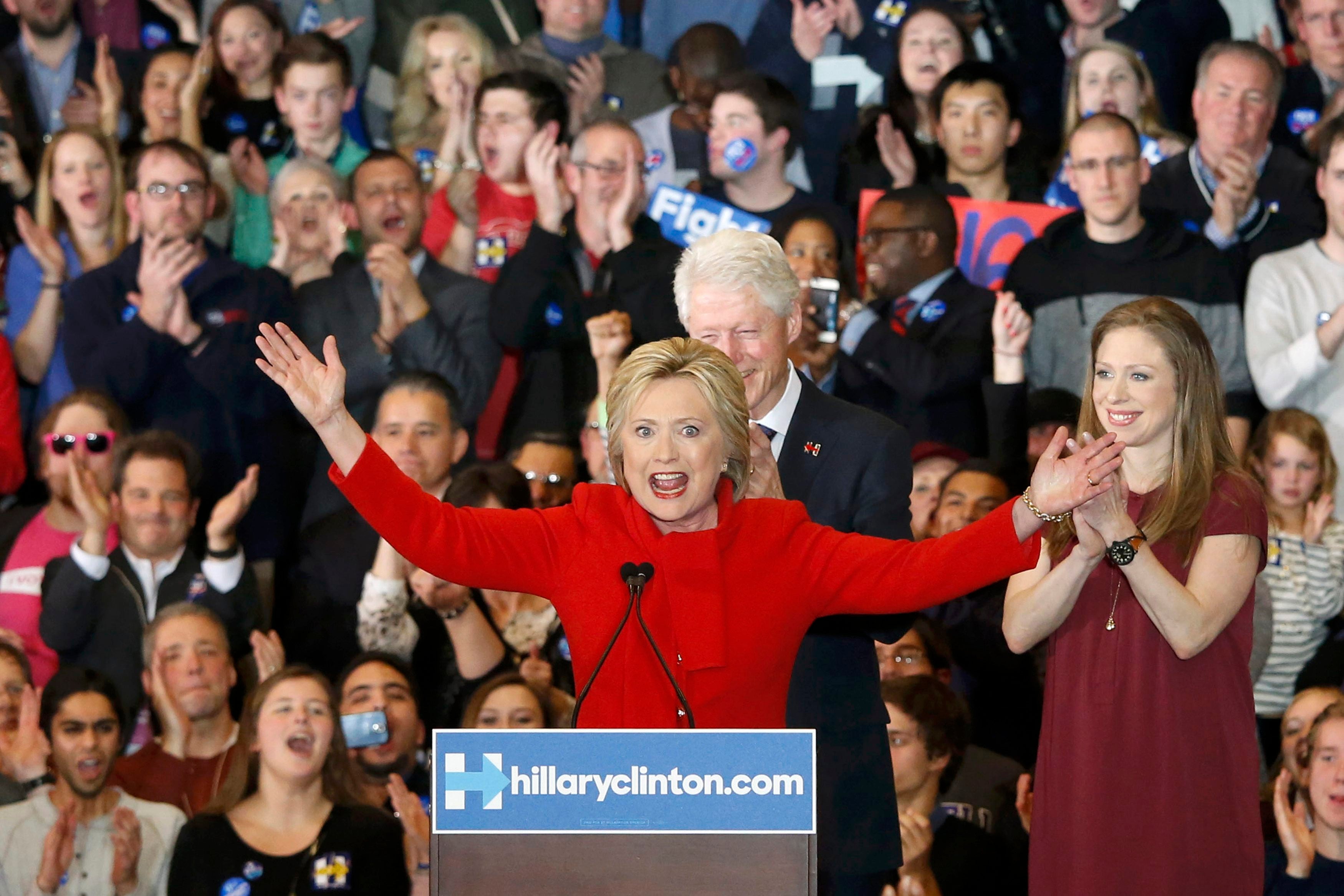 Can Hillary Clinton overcome her generation gap among women?
Young women are feeling "the Bern."
That was certainly the case last week in the Iowa caucuses, where Bernie Sanders won the votes of 84 percent of women under 30, beating Hillary Clinton in this age group by 70 percentage points. Clinton could take some comfort in having won women overall, 53 percent, compared to Sanders' 42 percent.
The generation gap was painfully clear for Clinton: the older the woman in Iowa, the more likely she was to support Clinton. The question is whether that same scenario will play out in New Hampshire, too. Clinton is struggling to stave off a complete blowout by Sanders, who's leading by double digits in most New Hampshire polls.
Clinton's high-profile older women backers are blaming the phenomenon on a failure to understand what she has overcome in order to run for president. Former Secretary of State Madeleine Albright, for example, recently admonished younger women for thinking that fight for equal rights is over, warning, "There's a special place in hell for women who don't help each other!"
Some Clinton supporters in New Hampshire -- both older and younger -- agreed with Albright.
"I think you see it in her ads, and I think it's hard because younger women don't appreciate how hard it is to get to that point where she is now to run, and have the possibility of being the first female president," said Barbara Destefano, a middle-aged Clinton backer from Portsmouth, New Hampshire.
For Destefano, who supported Clinton in 2008 as well and has been canvassing for her weekly since last summer, Clinton's sex isn't the main reason to support her.
"It's that she's really qualified and when you watch any of the debates. It's obvious," she told CBS News. "I saw her at a town hall she did in Portsmouth a few weeks ago. She can answer questions off the cuff about any country, she's traveled to them all, she's prepared to walk in and sit at the desk and handle things the first day."
One 20-year-old woman who attends Princeton and had come out to canvass for Clinton in New Hampshire on a recent weekend said that as the feminist movement has matured, young women have come to regard Clinton as part of the status quo.
"They know we haven't had a woman president but I also know they don't see gender as that boundary. Because they've seen other female politicians," she told CBS News. "They don't necessarily see this as an exciting boundary to break even though it's a boundary that hasn't been broken yet."
For the Sanders campaign, young women are like any other supporters.
"I think the young women who are supporting Bernie are doing so because he's painting a picture of the future that they want to live in," senior adviser Tad Devine said on MSNBC Monday when asked to respond to Steinem's comments.
And as another young woman told CBS News, deciding not to support Hillary Clinton can be its own kind of identity politics: freeing oneself from expectations.
Meg Ryan, a 20-year-old woman who supported Martin O'Malley until he dropped out, said her mother had even worked for Clinton for awhile. She described her mother and grandmother as having been "ready for Hillary" since 2000.
"But also my mom was in the military, so there was a lot of, 'women can do whatever.' It's not even a big deal," she told CBS News. "I couldn't vote in 2008 and then, for this cycle, I tried to make a big point of not just going along with what my family said or what was expected of me." She said O'Malley's underdog status appealed to her.
As a student at Mount Holyoke college, Ryan said, "We all expected when we came into school, we'd all be for Hillary, and it's come around, and everybody is for Bernie. Nobody really talks about Hillary very much because I think there might be a component of 'you're expected to support Hillary.'"
"We're really sensitive to the, 'I'm a woman so I should vote for women' card," she added. "Because older women, you can expect it, are definitely are for Hillary."
Clinton has not sought to explain away the generation gap in her support. When asked about Sanders' huge victory among young women at a CNN town hall last week, she called it "amazing." When moderator Anderson Cooper pressed her on why they supported him, she said, "I don't really know."
"Here's what I want young people to know. They don't have to be for me, I'm going to be for them. It doesn't really matter. If they are not supporting me, I will be their president. I will do everything I can to give them the opportunities they deserve," she said.
In an interview with CBS News, feminist icon and Clinton supporter Gloria Steinem argued that young women should vote for Clinton because she, more than anyone running, understands there are many fronts on the battle for gender equality, all of them important.
Clinton "is the only one who makes women of the world part of foreign policy because she understands that violence against females globally is the single biggest indicator of whether a country is violent internally or will use military violence," Steinem said. "She understands that women's issues are not in a silo. That, for instance, equal pay for women would be the best economic stimulus this country could possibly have. The other candidates tend to look at women's issues as if they're separate. She understands they are not separate."
Asked about the hypothesis that younger women simply don't understand how hard it's been for Clinton to have achieved what she has, Steinem was philosophical.
"That's okay," she said. "Gratitude never radicalized anybody."
Thanks for reading CBS NEWS.
Create your free account or log in
for more features.