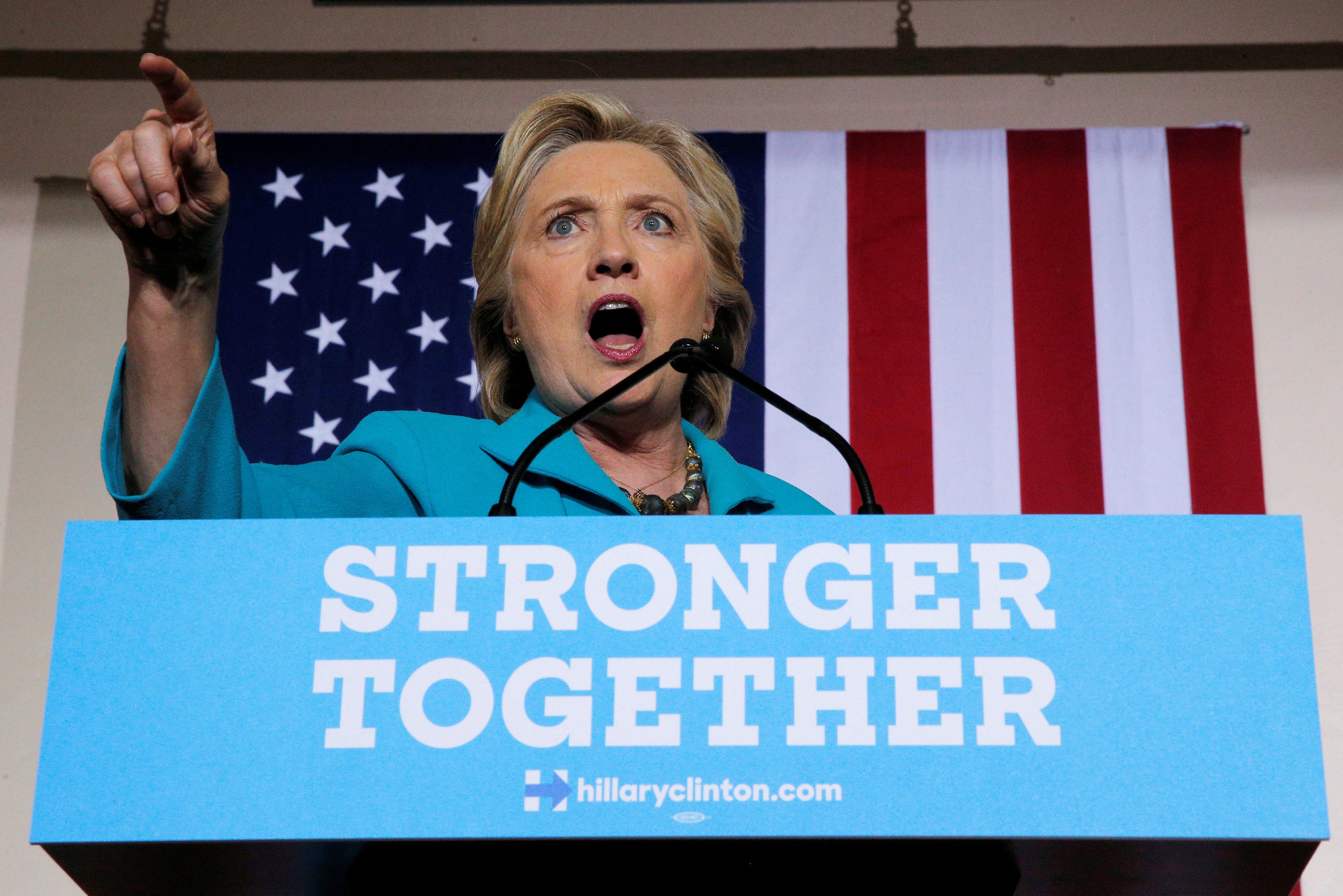 Hillary Clinton blasts "deeply troubling" Comey letter to Congress on new emails
Hillary Clinton was out Saturday with a blistering denunciation of FBI Director James Comey following a letter he wrote to congressional leaders revealing the existence of new emails that could be relevant to the agency's investigation into Clinton's private email use.
"Some of you may have heard about a letter [from] the FBI director," Clinton said at a rally in Daytona Beach, Florida, before the crowd loudly cut her off with roaring boos. "If you're like me, you probably have a few questions about it. It is pretty strange -- it's pretty strange to put something like that out with such little information right before an election."
"In fact," she continued, "it's not just strange. It's unprecedented, and it's deeply troubling because voters deserve to get full and complete facts. We've called on Director Comey to explain everything right away and put it all out on the table."
Comey sent the letter to various House and Senate leaders Friday, one day after he was briefed on more emails surfacing that could be pertinent to the FBI probe into Clinton's private email server. The memo was a brief statement stating that the agency was now assessing "whether or not this material may be significant" and if they contained classified information. The emails, CBS News confirmed, were found on the electronic devices of top Clinton aide Huma Abedin and her separated husband, former Congressman Anthony Weiner, who was being investigated by the FBI separately for his sexting practices.
On Saturday, CBS News' Paula Reid reported that Attorney General Loretta Lynch had also disagreed with Comey's decision to alert Congress over the emails, citing the Justice Department's long-standing practice not to comment on ongoing investigations, especially during a politically charged election year.
In a conference call with reporters Saturday afternoon, Clinton campaign manager Robby Mook and campaign chair John Podesta continued to slam Comey for the decision.
Podesta characterized Comey's letter as "long on innuendo and short on facts," adding that the campaign stood by Abedin. "There's no evidence of wrongdoing, no charge of wrongdoing, no indication that this was even about Hillary," he said.
Clinton, in Florida, also blasted her opponent, Republican nominee Donald Trump, for "making up lies" about the email developments.
"He is doing his best to confuse, mislead and discourage the American people," Clinton told rally-goers. "I think it is time for Donald Trump to stop fear-mongering, to stop disgracing himself, to stop attacking our democracy. We can't let him get away with this."
Trump, at his own rally in Colorado, had accused the Justice Department and the attorney general of being in cahoots with the Clinton campaign.
"There are those, and I happen to be one of them, who think Hillary offered Loretta Lynch a reappointment as attorney general. I happen to be one of them," Trump told a crowd in Golden, Colorado. He also pushed an unsubstantiated theory on what the emails contained, saying the FBI "found what may be some of the 33,000 missing and deleted emails" from Clinton's private server.
Clinton spent just a few minutes addressing the email controversy before returning to a more uplifting get-out-the-vote message.
"Like any campaign, there have been up and downs and ups and down, but I have got to tell you, I feel so motivated, so excited," she said in Florida, her first rally of the day following a stop at the historically black college Bethune-Cookman University. "I am going to stay focused on one thing: you and your families. What I worry about is the problems that keep you up at night, and I am going to stay focused on that because, you know, on Nov. 9, that is what is going to matter."
Thanks for reading CBS NEWS.
Create your free account or log in
for more features.