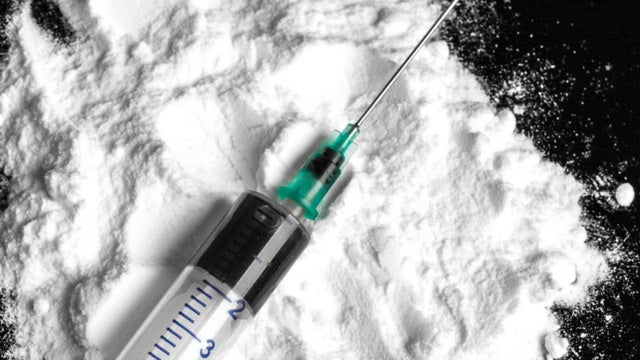 Heroin use in U.S. reaches "alarming" 20-year high
Heroin use has reached the highest level in 20 years in the United States, according to a new global drug report that calls the trend "alarming."
The UN Office on Drugs and Crime released its World Drug Report 2016 today. The annual report examines the health impact of opiates, cocaine, cannabis, amphetamine and other substance abuse around the world.
The report said heroin is the deadliest drug worldwide, and said its increasing use in the U.S. is of particular concern.
There were about one million heroin users in the U.S. as of 2014, almost three times the number in 2003. Deaths related to heroin use have increased five-fold since 2000.
Executive director of the UN Drugs and Crime Office, Yury Fedotov, highlighted the "alarming" rise in heroin use in areas including the U.S., posting on Twitter: "2016 reveals heroin hike in some regions; a drug that kills more people than any other."
Heroin use and related overdose deaths have also increased sharply over the last two years in some countries in Western and Central Europe.
In other remarks, UN Deputy Secretary General Jan Eliasson said drug trafficking and organized criminal networks undermine laws, fuel violence and feed corruption.
What's fueling the trend?
"There have been a lot theories about why heroin use is going up. The biggest theory is that the crackdown on prescription drugs, like Vicodin and OxyContin, were being overprescribed and as prescribers slowed down the prescriptions of these drugs, heroin use went up," addiction expert Scott Krakower, an assistant unit chief of psychiatry at Zucker Hillside Hospital, in New Hyde Park, New York, told CBS News.
Unlike OxyContin and other opioid painkillers, heroin is an illegal drug, not available by prescription, and the surge in demand likely drove an increase in supply coming in from other countries.
But Krakower stresses, it's not other countries that are to blame for drugs in the U.S., it's economics. "I do know that Mexico and other countries have taken provisions themselves, been on their own missions to stop this."
The UN report indicated that there was a sharp decline globally in opium production in 2015, but that won't likely lead to major shortages in the global heroin market for some time due to high opium production levels in previous years.
"The build-up or depletion of previous years' opium inventories may be used to offset annual changes in production and maintain the supply of heroin to user markets. It may take a period of sustained decline in opium production for the repercussions to be felt in the heroin market," according to the report.
In February of this year, President Obama asked Congress for $1.1 billion in new funding to address the epidemic of prescription opioid and heroin abuse in this country.
"More Americans now die every year from drug overdoses than they do in motor vehicle crashes," a White House statement noted the time.
In another sign of how serious the problem has become, the National Institutes of Health reported Wednesday that abuse of prescription opioid painkillers in the U.S. has doubled in 10 years.
Nearly 10 million Americans, or 4.1 percent of the adult population, used prescription opioid painkillers for nonmedical reasons in 2012-2013, the NIH said, up from 1.8 percent a decade before.
The UN report also highlighted the problem of heroin abuse in prisons, and recommended exploring alternative measures to conviction or incarceration.
"Heroin is a dangerous, powerful opioid," Krakower said. "It leads to pretty quick highs. It can easily suppress breathing. Eventually you can die from it."
He said many addiction centers at home in the U.S. need to shift their approach to drug abuse treatment and offer therapy for mental health conditions as well as addiction.
"There is a biological predisposition to addiction and depression," he said. "The country itself has not adopted a very good model for handling substance abuse and needs to developing more integrated programs to target both substance abuse and mental health issues."
Thanks for reading CBS NEWS.
Create your free account or log in
for more features.