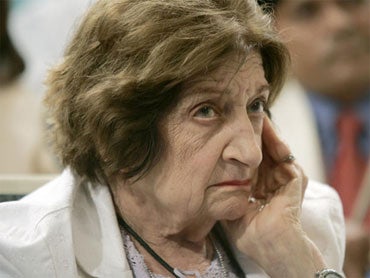 Helen Thomas Comes Under Fire for Remarks on Jews, Israel
Updated at 11:28 a.m. ET

After making controversial remarks about Israel, longtime White House correspondent Helen Thomas has been dropped by her speaking agency and is coming under fire from her colleagues, former White House officials and others.

In a May 27 exchange with Rabbi David Nesenoff, which was captured on video and posted on the website www.rabbilive.com, Thomas said Israelis should "get the hell out of Palestine" and "go home" to Germany and Poland.

Diane Nine, president of the speaking agency Nine Speakers, said in a statement it would drop Thomas, who has earned the nickname "Dean of the White House Press Corps," as she has covered the White House since 1960.

"Ms. Thomas has had an esteemed career as a journalist, and she has been a trailblazer for women, helping others in her profession, and beyond," Nine said. "However, in light of recent events, Nine Speakers is no longer able to represent Ms. Thomas, nor can we condone her comments on the Middle East."

Journalist Craig Crawford, who co-authored a book with Thomas, also announced he will no longer be working with Thomas on any book projects.

Former Bush Press Secretary Ari Fleischer said Friday that Hearst news service, for which Thomas serves as a columnist, should fire her, the Huffington Post reported.

"She should lose her job over this," Fleischer said. "As someone who is Jewish, and as someone who worked with her and used to like her, I find this appalling."

Additionally, former Clinton White House counsel Lanny Davis released a statement on Sunday calling Thomas an "anti-Semitic bigot."

On Friday, Thomas issued an apology for her comments on her website.

"I deeply regret my comments I made last week regarding the Israelis and the Palestinians," Thomas said. "They do not reflect my heart-felt belief that peace will come to the Middle East only when all parties recognize the need for mutual respect and tolerance. May that day come soon."

Anti-Defamation League national director Abraham H. Foxman said in a statement that Thomas' apology did not go far enough.

"Her suggestion that Israelis should go back to Poland and Germany is bigoted and shows a profound ignorance of history," he said. "We believe Thomas needs to make a more forceful and sincere apology for the pain her remarks have caused."

In addition, in light of her comments, Walt Whitman High School in Bethesda, Maryland has canceled Thomas' appearance as commencement speaker, the Associated Press reports. Principal Alan Goodwin reportedly wrote in the e-mail to students and parents that the school would find a new speaker for the June 14 graduation ceremony.

"Graduation celebrations are not the venue for divisiveness," he wrote.

The 89-year-old correspondent, who according to her website began her career in 1943, has for years been upfront about her views on issues such as the Middle East conflict. She became more outspoken after transitioning from hard reporting to serving as a columnist in 2000.

Her recent comments, however, are putting new scrutiny on her views and her role in the White House press corps, where she has been highly revered. President Obama even surprised Thomas with cupcakes last year on her birthday, which is the same day as the president's.

Time columnist Joe Klein writes that Thomas should be stripped of her privileged front row seat in the White House press room.

Update: White House Press Secretary Robert Gibbs said today that Thomas' comments were "offensive and reprehensible."

"She should and has apologized," he said. "Obviously, those remarks do not reflect the opinion, I assume, of most of the people in here and certainly not of the administration."
Thanks for reading CBS NEWS.
Create your free account or log in
for more features.