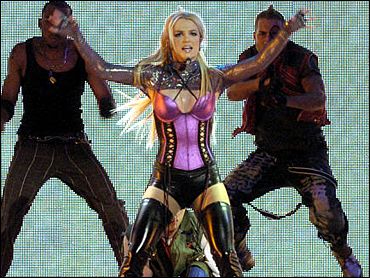 Has Britney Gone Over The Edge?
Britney Spears may have worldwide fame and millions of dollars in her bank account, but she still is only 22 years old.
The new issue of People magazine explores whether her 55-hour marriage to childhood friend Jason Alexander indicates that the pop star has gone over the edge or if it merely represents the spur-of-the-moment actions of two young people.
Peter Castro, assistant managing editor of People, tells The Early Show co-anchor Rene Syler, "I don't think she's over the edge quite yet, but she'd better be careful, because her behavior lately is just so irrational. She's turning a lot of people off. It's hurting her credibility and certainly not helping her record sales."
Spears is going on a 25-city North American Tour, but sales for her latest album, "In The Zone," released in November, have left much to be desired.
Castro recounts a few other incidents, like kissing Madonna and posing in Esquire Magazine without panties, that shows Spears is trying to prove that she doesn't have to answer to anybody. He notes, " She's in a weird transition because her fan base, which used to be 8-year-old, 10-year-old girls, are growing up. She's sort of in this limbo state and doesn't know where to turn."
He notes Spears biggest challenge is to become a credible artist. He says, "A lot of people survive scandal. Madonna has survived scandal, time and time again, but puts out a good product. This album will be a good barometer."
As for the night of the infamous wedding, Castro retells the events when Spears and Jason Alexander, who grew up together outside of Kentwood, La., were watching "The Texas Chainsaw Massacre" in the suite of their hotel and they said, 'Let's do something crazy.'
"They go out," Castro continues. "She's in torn jeans, wearing a baseball cap, midriff bared. He's in sandals. And according to our source, the limo driver was right on the scene, and contrary to a lot of reports, they weren't drinking. They were very sober. Lance Bass of 'NSYNC, who saw her after the wedding said she was of sound mind. They knew what they were doing. Why they did it, I don't know."
It's not a publicity stunt, Castro notes. He says Spears and Alexander went to the Little White Chapel, and find out they have to get a marriage license. "They get a marriage license and they go back, which means there is an hour and a half span where they could have said, 'We're about to do something we'll regret,'" Castro notes.
Castro says, "I think it's just two 20-year-olds having too much time and too much money on their hands - a dangerous combination."
When they got back to the hotel and told their parents, Spears' mom was not very happy with the news.
Castro says, "Her mother, Lynne, hit the roof when she found out about this because she always fancied herself a soul mate of Britney, someone who watched over her and she was left out of the loop on one of the most important days of her daughter's life, ostensibly. So our source tells us there was a pow-wow right after that with Britney's handlers, her brother, Jason was there. There were long faces at the table. The mission was get this annulment over with ASAP."
As for Jason Alexander, he is getting his 15 minutes of fame. Castro notes, "He has an agent and publicist right now, and there are rumors he has a tape of the wedding that he wants to sell for seven figures. That hasn't been confirmed yet. But I guarantee you, if that is true, Britney will want to outbid and get that in her hands."

Thanks for reading CBS NEWS.
Create your free account or log in
for more features.