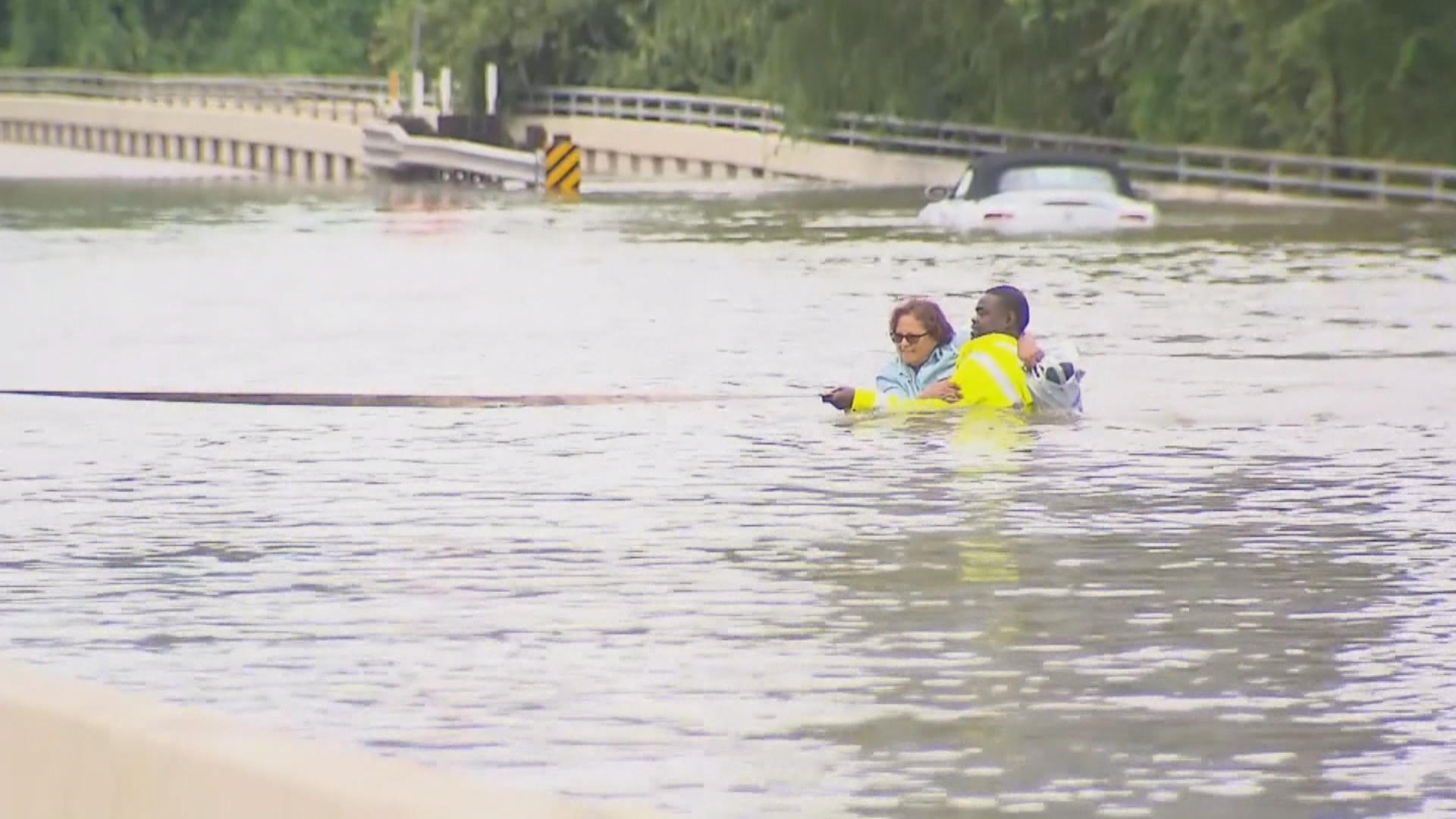 Ordinary citizens in Houston step up with dramatic flooding rescues underway
Dramatic rescues are happening throughout the Houston area. Radar shows no immediate end in sight to the rain from Tropical Storm Harvey, which made landfall as a Category 4 hurricane over the weekend. While thousands of people have been brought to safety by emergency crews since the storm came ashore, ordinary citizens are also stepping up to help.
Search and rescue teams are working around the clock to bring stranded victims to safety, reports CBS News correspondent David Begnaud. More than 50,000 calls have been made to 911, overwhelming first responders. The Coast Guard has only been able to respond to a fraction of requests.
On Sunday, state and local officials pleaded for help.

"I asked for volunteers to come forward with boats and high-water vehicles," Harris County Judge Ed Emmett said. "There are a lot of people who just did it on their own."
Emmett told "CBS This Morning" on Monday that volunteers are "absolutely critical."
"Not only those who can come out and help with the rescue. We're setting up so many shelters. People can go volunteer in those shelters to serve food, to provide supplies," Emmett said, adding, "This is something that neighbor to neighbor, we just have to pitch in and help each other."
Even with state and federal assistance, Emmett said getting to people in need is a challenge.
"I don't think anybody could have enough resources to deal with this," Emmett said. "The state sent in assets, they were very helpful, very cooperative, but the roads are all impassable."
Jeff Chase and a friend helped a family of four evacuate their flooded home on Sunday afternoon.
"If everyone did this, we'd have a lot less to worry about," Chase said.

The family had been calling 911 since 6 a.m.
"Putting yourself in harm's way to help others is awesome," rescued woman Christine Bann said.
Chase is just one of many people lending a hand. When a big-rig drifted into danger, good Samaritans grabbed some rope to pull the driver to safety.
"The spirit of Texas, it's what it's all about," said Houston resident Drameko Green, who helped out with the rescue.
For those forced out of their homes, getting to dry land is only half the battle. Begnaud reports he saw many young children under 5 years old walking with their parents, surrounded by water.
CBS News met Denise Lucille as she waded through waist-high water with her 6-month-old son after their apartment flooded. They were headed to her in-laws' house.
Sue Madison has four feet of water in her home. She was looking for a place to sleep.

Begnaud, who's from south Louisiana, recalled how, during Hurricane Katrina, people calling themselves "the Cajun Navy" hooked up their boats and headed to New Orleans to help. This time, they've headed here to Houston.
On Sunday, more than 20 boats with the civilian "navy" were reportedly helping people evacuate from Harvey. Some said they planned to stay on as long as they're needed.
Emmett still encouraged people to stay home and off the roads "if at all possible" due to the dangerous flood waters and debris.
"Manhole covers come off, and you could fall in. You don't know what the terrain is under your footing, and so there are injuries that are going to happen. But right now, my concern is these first responders have been doing this now for two days without rest. People are really beginning to get worn out, and whenever you get that tired, it makes it even easier to injure yourself," Emmett said.
Thanks for reading CBS NEWS.
Create your free account or log in
for more features.