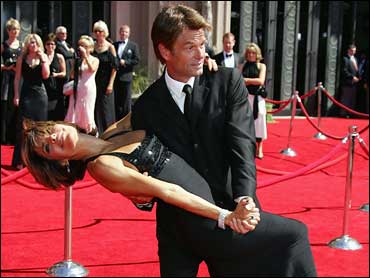 Harry Hamlin, Lisa Rinna Hit "Chicago"
Two hours before they hit the stage in "Chicago," Harry Hamlin and Lisa Rinna are literally stepping on each other's toes.
"Ouch!" Rinna screams after her husband accidentally stomps her bare right big toe while maneuvering about his tiny dressing room.
"There was no toe there when I went to step down," Hamlin says innocently.
"You all right?" he asks finally.
"Barely," she says, massaging her aching toe.
"You've got nine other ones," he jokes.
"I'm going to keep my shoes on from now on," she replies, swinging her gold sandals up on a sofa and away from any rogue attacks. "Keep your distance."
That may be difficult.
Hamlin, 55, and Rinna, 44, will be underfoot for a while as the latest additions to the Ambassador Theater's revolving door of celebs appearing in the John Kander and Fred Ebb musical.
Hamlin, perhaps best known for playing a lawyer in the 1980s on TV's "L.A. Law," returns to his legal roots as shyster Billy Flynn. His wife, a "Melrose Place" veteran, turns up the heat as murderous Roxie Hart.
"It's like diving off a huge building with nothing below," Rinna says. Hamlin knows the feeling: "There's just something about being Broadway — there's nothing like it."
Hamlin and Rinna, married since 1997, are perhaps the most unlikely couple to enter "Chicago" and tackle its fearsome Bob Fosse-inspired choreography.
Rinna, a former co-host of "Soap Talk," has never done a musical before and is making her professional theatrical debut. And while Hamlin has appeared before on Broadway in "Summer and Smoke" in 1996 and "Awake and Sing!" in 1984, he hasn't sung for 33 years, since a summer stock performance of "Oklahoma!"
"I don't sing," he says. "I don't even sing in the shower because I don't want anyone outside in the garden to hear me."
They have an advantage in another way: As tabloid targets themselves, the couple know all too well the 1920s jailhouse story of deceit, manipulation and celebrity.
"We see it. You could put Paris Hilton in as Roxie Hart today and it would all work just fine," says Rinna. "Think about it. The only thing that's different is Paris didn't murder anyone."
The couple's trip to New York complete with their two daughters, Delilah, 8, and Amelia, 5, and a nanny has been so whirlwind that they've only had one time to take stock. It was on their opening night, a brief moment together under the stage. "We found ourselves there for a couple of minutes waiting to go on. We just looked at each other and went, 'Wow. We're opening on Broadway,' " says Hamlin.
"And then I said, 'OK, think back to 15 years ago. Would we ever have thought we'd be sitting under this little alcove under the stage, starring on Broadway?' It was a cool moment, hard to describe," Rinna says.
"It was fairly indescribable," Hamlin agrees.
To get to that point, each part of the husband-and-wife team took different paths from Los Angeles. To put it another way: One worked hard, the other didn't have to.
Rinna, a huge fan of "Chicago" when the revival opened in 1996, auditioned for the role of Velma nine years ago, but was turned down.
"I couldn't cut it," she says.
But after proving she could shimmy with the best of them during the second season of "Dancing With the Stars," Rinna took vocal lessons and tried again, flying to New York for an audition on her own dime.
"When you have four days to learn how to dance live in front of all those people, you learn how to pick up choreography like that," she says, snapping her fingers.
After Rinna performed a monologue, three songs and danced for a half-hour, she got the job. To smooth the transition, she joined the national tour of "Chicago," spending a week in Portland, Ore., and two weeks in Dallas.
Her husband, on the other hand, didn't need to do any of that. "He didn't have to audition. They didn't even ask him if he could sing," she says, still somewhat peeved.
"You'd think that they might ask that one question," he says, laughing. "That might just be a detail that they'd like to cover."
"I worked harder getting this job than almost anything I've ever done in my life. And he just gets, like, 'C'mon in,' " she says.
Hamlin, who competed on the third season of "Dancing With the Stars," turns to his wife and smiles sweetly. "They figured that you'd be so good that it wouldn't matter what I would do," he says.
On this late afternoon, Rinna and Hamlin radiate a golden couple aura, her sore foot notwithstanding. Hamlin has apparently not aged much since People magazine named him "Sexiest Man Alive" in 1987. Trim and fit, his chin is chiseled and his black hair is slicked back.
Rinna wears a dark shirt dress, revealing long muscular legs and an apparent lack of hips. Her hair is a carefully choreographed, highlighted shag and her lips are more than full. The upper one is almost otherworldly.
Yet good looks alone can't help you on Broadway. While Rinna has thrown herself into perfecting cartwheels and acrobatics, Hamlin decided to put his own spin on his role.
While watching baton-twirlers at the Rose Parade in January, he came up with an idea: Some of those skills might enliven his song "Razzle Dazzle" — and take some of the onus off his weak voice.
So he left a message at the marching band office of the University of Southern California. They didn't call back. "They thought I was a stalker," he says.
When he tried again, they hooked him up with a United States Twirling Association teacher, who visited the couple's home and coached him one-on-one.
"For hours and days and weeks, I'd go to bed and all I would hear downstairs was 'Clunk! Clunk! Clunk!'" Rinna says.
"By the time I got here, I could spin this thing around and toss it up into the air and catch it the whole nine yards," says Hamlin.
But there was a snag.
"The problem is that when we went in to do a dress rehearsal and with the spotlight on and all the bright lights on you throw the thing up in the air and it's gone. It completely disappears."
He estimates he's got only a 30 percent chance of catching his baton. And so, for now, any tosses into the air are off. But he won't rule it out for later.
"It's too bad, because it was really cool," he says.
Fans will have to settle for other kinds of fireworks, like the sight of the couple performing "We Both Reached for the Gun" when Rinna ends up perched on Hamlin's knee.
That begs a final question. With such cramped quarters, live-theater stress and with both working together virtually every day, how is their relationship faring?
"We're good about giving each other our space," she says. "I think you have to have a balance, obviously. If you're together too much you drive each other crazy. We're just like anyone else."
"We're great," Hamlin says. "As long as I stay off her toes."
Thanks for reading CBS NEWS.
Create your free account or log in
for more features.