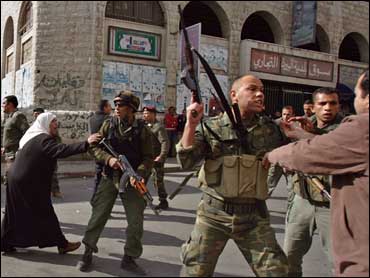 Hamas, Fatah Tensions On Rise
The ruling Hamas accused a key ally of President Mahmoud Abbas on Friday of trying to assassinate the prime minister, inflaming tensions between rival Palestinian factions to their highest point in a decade as fighting spread to the West Bank.
The heated accusations came after several days of bloodshed and the collapse of talks between Hamas and Abbas' Fatah Party on setting up a joint government. Abbas, who has tried for months to persuade Hamas to moderate its hard-line positions in hopes of ending an international aid boycott, was to deliver a speech Saturday saying he would call early elections if the deadlock continues — a measure Hamas vehemently rejects.
The Palestinian prime minister, Ismail Haniyeh of Hamas, was surrounded by an unprecedented phalanx of bodyguards as he addressed a wildly cheering throng of 70,000 loyalists on Friday, a show of strength as the Islamic militants marked the 19th anniversary of their founding.
A day earlier, shots were fired on Haniyeh's entourage, capping hours of heavy battles on the Gaza-Egypt border between Hamas gunmen and the Fatah-allied Presidential Guard.
Twenty seven people were wounded, and a bodyguard was killed, reports CBS News correspondent Sheila MacVicar.
Hamas said the shooting on the convoy was an attempt to assassinate Haniyeh and blamed Gaza strongman Mohammed Dahlan, an Abbas ally.
Addressing the Gaza City rally, Haniyeh said Hamas politicians would not be swayed by threats of violence. "We joined this movement to become martyrs, not ministers," he said.
Multiple rings of bodyguards huddled around Haniyeh. Hamas militiamen also took up position on nearby rooftops, and Haniyeh's armored car was brought in just below the stage where he spoke to allow a quick exit.
At a separate press conference, Hamas spokesman Ismail Radwan said Dahlan organized "a cowardly assassination attempt," and that those behind the shooting "will not escape punishment."
Such high-profile accusations against Dahlan, as well as a veiled appeal in a Gaza City mosque Friday for his assassination, were unprecedented. For his part, Haniyeh said there were suspects but he did not name Dahlan.
Dahlan, who was in the West Bank, rejected the allegations as "false and baseless," calling them an attempt by Hamas leaders "to mask their sweeping failure to manage Palestinian political and social life."
But he called on Fatah supporters to avoid any confrontations with Hamas.
In Washington, without referring to the assassination allegation, State Department spokesman Sean McCormack said differences among Palestinians "should be resolved within the context of the Palestinian political system."
"What you are seeing," he added, "is a rise in tensions that really emanates and is the direct result of the inability of Hamas to effectively govern in the Palestinian areas."
In Damascus, Syria, Hamas' exiled supreme leader, Khaled Mashaal, called for restraint. "Our battle is against the (Israeli) occupation, and we will not be dragged into a civil war," Mashaal said in a radio interview.
Still, the Hamas Cabinet said it would boycott Abbas' speech, which he was to deliver at his West Bank headquarters.
"We will not ... agree to any referendum, or any early elections, because this is a clear coup against the will of the Palestinian people," Khalil al-Hayeh, head of the Hamas faction in parliament, told the Gaza City rally.
And, alluding to the recent round of violence, he delivered Hamas' harshest personal attack yet on Abbas, asking, "What kind of war are you declaring, Mahmoud Abbas, against God and against Hamas?"
At the funeral for Haniyeh's bodyguard, al-Hayeh appeared to call for Dahlan's assassination.
Invoking a coup attempt against Islam's founder, the prophet Mohammed, al-Hayeh exhorted the crowd of mourners to "get us the plotters of the coup."
Most of Friday's fighting took place in the West Bank town of Ramallah, where Fatah-allied police battled Hamas demonstrators. Thirty-two people were wounded by stones and bullets.
The clashes began when Hamas supporters tried to march from a mosque toward the center of town. Fatah-allied police, equipped with riot gear and wearing masks to avoid being identified, beat marchers with clubs and fired rifles in the air as people emerged from the mosque. The marchers fought back, hurling stones and bottles at police, who fired into the crowd.
In Gaza City, masked Hamas gunmen waged battle with Fatah-allied police near a security post a block from Dahlan's home. The four-minute battle in the middle of the city sent civilians scurrying for cover.
The latest round of Hamas-Fatah fighting erupted Monday with a drive-by shooting that killed the three small children of a Fatah security official and continued Wednesday with the gangland-style execution of a Hamas judge.
On Thursday, Haniyeh rushed home from a trip abroad to try to quell the violence. Israel barred him from returning to Gaza, insisting he first leave behind in Egypt the estimated $35 million he collected during a tour of Muslim countries, saying it would go to fund terror activities. Angry Hamas militants stormed the terminal and traded fire with security forces stationed there, who are loyal to Abbas.
After Haniyeh left the money in Egypt and crossed into Gaza, unidentified men opened fire at him, killing one of his bodyguards and wounding his son and 26 others.
In other news from the Middle East:
British Prime Minister Tony Blair set off Friday for Turkey, beginning a round of Mideast diplomacy. He has said he will press Palestinian President Mahmoud Abbas on the prospects for a Palestinian government of national unity. "In a peace process, if you wait for a 'right time,' it will almost certainly never come along," Blair's official spokesman said.
Sen. John Kerry, on a Mideast tour taking him to Damascus for talks with President Bashar Assad, said Friday that the Bush administration's rejection of dialogue with Syria and Iran to try to calm Iraq is a mistake. "Dialogue is an important thing. It's very hard to move the ball if you don't know firsthand what people's needs are, what their own perceptions are," Kerry said in Cairo. The White House said Thursday that trips to Syria by U.S. lawmakers were "inappropriate."
As in the United States, the movie "Borat" is also a hit in Israel, reports Berger. Israelis, unlike Americans, can actually understand what he's saying. Few realize that comedian Sacha Baron Cohen is speaking Hebrew. Cohen is a somewhat observant Jew, his mother was born in Israel and his grandmother still lives in Haifa. He spent a year in the Holy Land working on a kibbutz. The irony is that Cohen plays a Hebrew-speaking anti-Semite.
Thanks for reading CBS NEWS.
Create your free account or log in
for more features.