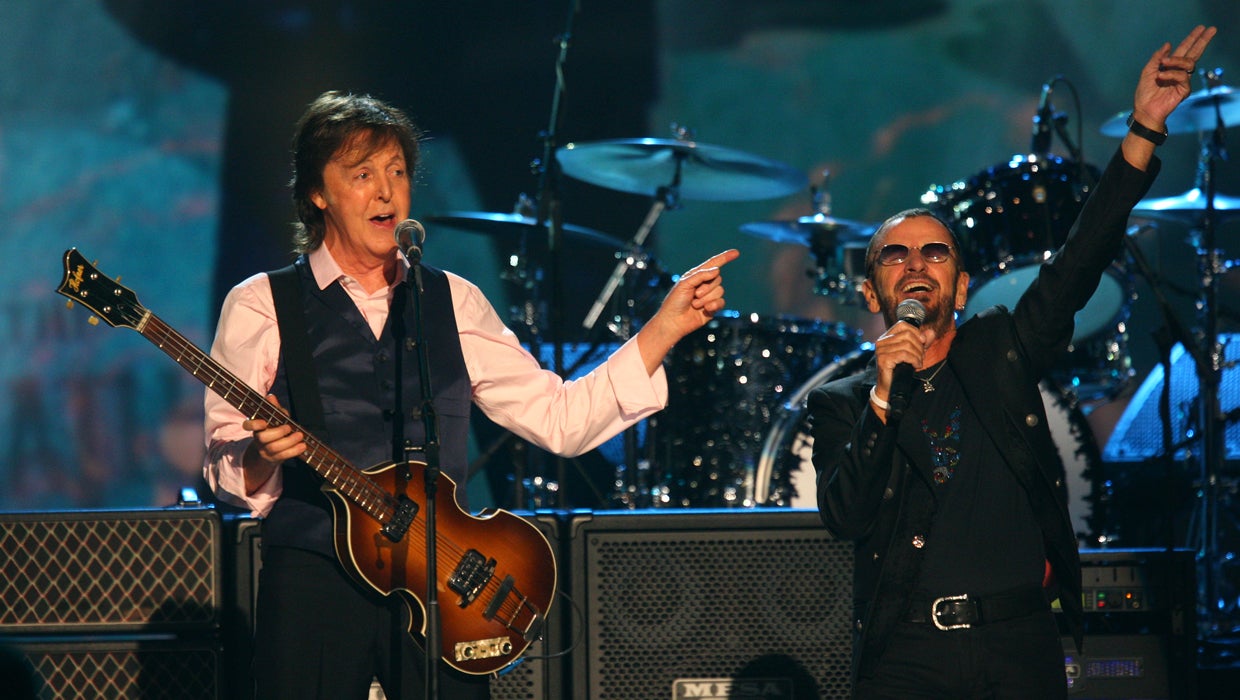 Grammys salute Beatles with star-studded tribute
A star-studded lineup of musical talent gathered in Los Angeles on Monday to celebrate The Beatles ahead of the 50th anniversary of the Fab Four's U.S. television debut.
Many of today's top artists took part to honor the group's legacy, with Paul McCartney and Ringo Starr in attendance and late members John Lennon and George Harrison always in mind, at The Recording Academy's taping of "The Night That Changed America: A Grammy Salute to The Beatles."
John Legend and Alicia Keys sang "Let It Be." Katy Perry performed "Yesterday," while her boyfriend, John Mayer, teamed with Keith Urban on "Don't Let Me Down." And Brad Paisley and Pharrell Williams put their spin on "Here Comes the Sun."
"We are honoring the most important band of all time, and trying to do justice to their song while two of them sit there," Paisley said in an interview before his performance. "We know, going in, we're not going to sing like them, and we're going to try to do our own thing with it. But ... there's reasons why people get blasted when they cover Beatles songs in any situation. But here we are, we're all doing that tonight. So, I guess it's an even playing field in that sense."
It was until McCartney and Starr took the stage, leading an arm-in-arm singalong of hits "Hey, Jude," "Sgt. Pepper" and "Yellow Submarine" that prompted movie stars and Grammy Award-winning musicians alike to sing along like giddy kids.
The telecast will air Feb. 9 at 8 p.m. ET on CBS, 50 years after The Fab Four made their first appearance in front of an American TV audience on "The Ed Sullivan Show." A live, interactive multimedia event commemorating the milestone, CBS News 50 Years Later...The Beatles at The Ed Sullivan Theater: Presented by Motown The Musical, will also take place Feb. 9, from 6-8 p.m. ET and will be live-streamed on CBSNews.com and CBSNewYork.com/50YearsLater.
Their Ed Sullivan debut was a historic moment, with more than 73 million Americans tuning in, and it changed pop culture in profound ways. Even so, McCartney told the crowd he was hesitant to agree to commemorate it.
"What can I say about this evening, it's just amazing," he said. "At first when I was asked to do the show, I was wondering if it was the right thing to do. Was it seemly to tribute yourself? But I saw a couple of American guys who said to me, 'You don't understand the impact of that appearance on the show on America.' I didn't realize that."
Grammy producer Ken Ehrlich said the tribute event was more than a decade in the making and was produced at the Los Angeles Convention Center with archival footage from the band's "Ed Sullivan" era as well as their later psychedelic and hirsute hipster periods.
Maroon 5 kicked off the show by re-creating the opening moments of the Feb. 9, 1964, appearance with "All My Loving," then "Ticket to Ride." Keys and Legend faced each other as they sat at matching black baby grand pianos. Mayer and Urban traded guitar licks, as did Gary Clarke Jr. and Joe Walsh on "As My Guitar Gently Weeps." Annie Lennox and Dave Stewart of The Eurythmics reunited to play "The Fool on the Hill."
Dave Grohl and Jeff Lynne hammered deep cut "Hey, Bulldog," and Harrison's son Dhani joined Lynne and Joe Walsh on his father's classic song "Something." Stevie Wonder performed "We Can Work It Out" twice, asking for a retake after a slow start on his first attempt.
"Fire me, sue me," he joked with the crowd.
Ringo Starr took the stage next and marveled at Wonder's appearance: "I've got to tell you, what a thrill following Stevie Wonder."
The drummer performed three songs alone, including "Yellow Submarine" at the request of Grohl's young daughter. McCartney took the stage next for five songs of his own before Starr returned for a finale. It was the first time the two had performed together since 2010 (save for their reunion performance at the Grammy Awards on Sunday night).
"We were in a band. It's called The Beatles," Starr said near the end of the show. "And if we play, John and George are always with us. It's always John, Paul, George and Ringo."
Thanks for reading CBS NEWS.
Create your free account or log in
for more features.