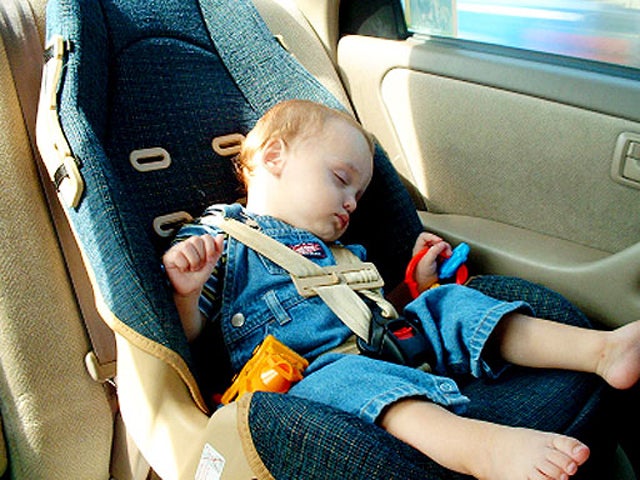 Gov't study: Devices that alert parents they left a child in car deemed unreliable
(CBS News) Devices meant to alert parents or caregivers that a child has accidentally been left behind in a hot car are inconsistent and unreliable, new government research finds.
Heat stroke, or hyperthermia, is the leading cause of non-crash vehicular deaths in children under the age of 14, according to the National Highway Traffic Safety Administration (NHTSA). Since 1998, 527 kids have died from heat stroke after being left in a hot vehicle, an average of 38 each year. A recent study from San Francisco State University's department of geosciences found 33 kids died of hyperthermia in 2011, down from 49 deaths the previous year.

"With summer temperatures hitting record highs around the country, child heatstroke is clearly an issue of national concern," U.S. Transportation Secretary Ray LaHood said in a press release.
For the new study, researchers wanted to see if the devices were an effective, preventative measure to reduce these tragedies.
For the report, NHTSA teamed up with The Children's Hospital of Philadelphia to review 18 products that purport to alert parents or caregivers that a child has been left behind in a vehicle. Products included the ChildMinder Smart Pad System, Toddler Wristband Safe "N" Secure Alarm System, SafeBabi, Halo Baby Seat Safety System, Baby Bee Safe, Forget-Me-Not Car Seat System, among others. A complete list of products can be found in the report.
The researchers conducted tests on these products using child-sized dolls or tested other scenarios by shifting weight in the device, as a child may do, or spilling liquid on it. They also looked at misuse scenarios such as if a parent or caregiver incorrectly installed a device. Human children also were included in several of the experiments on activating the device.
The researchers found several limitations in these products after conducting tests, including inconsistencies in arming sensitivity, variations in warning signal distance, potential interference from other electronic devices, children inadvertently disarming the device by slumping over or sleeping out of position, and limitations in the products' susceptibility to misuse or other common scenarios, such as an apple juice spill.
The researchers said many of these products require a lot of set-up work by caregivers and parents, potentially giving them a false sense of security. What's more, since the devices are restraint-based, they wouldn't address the 20 to 40 percent of kids who are killed in hot cars when they enter a vehicle without adult permission.
"Everything we know about child heatstroke in motor vehicles is that this can happen to anyone from any walk of life - and the majority of these cases are accidental tragedies that can strike even the most loving and conscientious parents," NHTSA administrator David L. Strickland in a written statement. "While many of these products are well intended, we cannot recommend parents and caregivers rely on technology to prevent these events from occurring." he concluded.
According to the injury prevention child advocacy group, Safe Kids Worldwide, leaving a child in even a 72 degree car can be fatal, because temperatures can rise more than 20 degrees in less than 10 minutes, the time it takes to run an errand.
"Advanced technologies may one day help prevent child heatstroke deaths in cars, and we urge child seat manufacturers and automakers to continue the research and development of these technologies," Safe Kids Worldwide said in a statement to HealthPop. "However, until a fail-proof technological solution is available, the immediate emphasis must remain on education and awareness campaigns to help ensure that parents and caregivers receive clear, consistent recommendations to prevent these needless deaths. An unreliable tool could prompt parents to let down their guard, and that could cost the lives of precious children."
The NHTSA urges ask themselves, "Where's baby? Look before you lock" as part of its national campaign to address the issue and to:

Never leave a child unattended in a vehicle - even if the windows are partially open or the engine is running and the air conditioning is on
Make a habit of looking in the vehicle - front and back - before locking the door and leaving
Ask the childcare provider to call if the child does not show up for care as expected
Place a cell phone, purse or briefcase in the back seat as a reminder to ensure no child is accidentally left in the vehicle. Writing a note or using a stuffed animal placed in the driver's view are also tips for parents to indicate a child is in the car seat
Teach children a vehicle is not a play area and store keys out of a child's reach
Thanks for reading CBS NEWS.
Create your free account or log in
for more features.