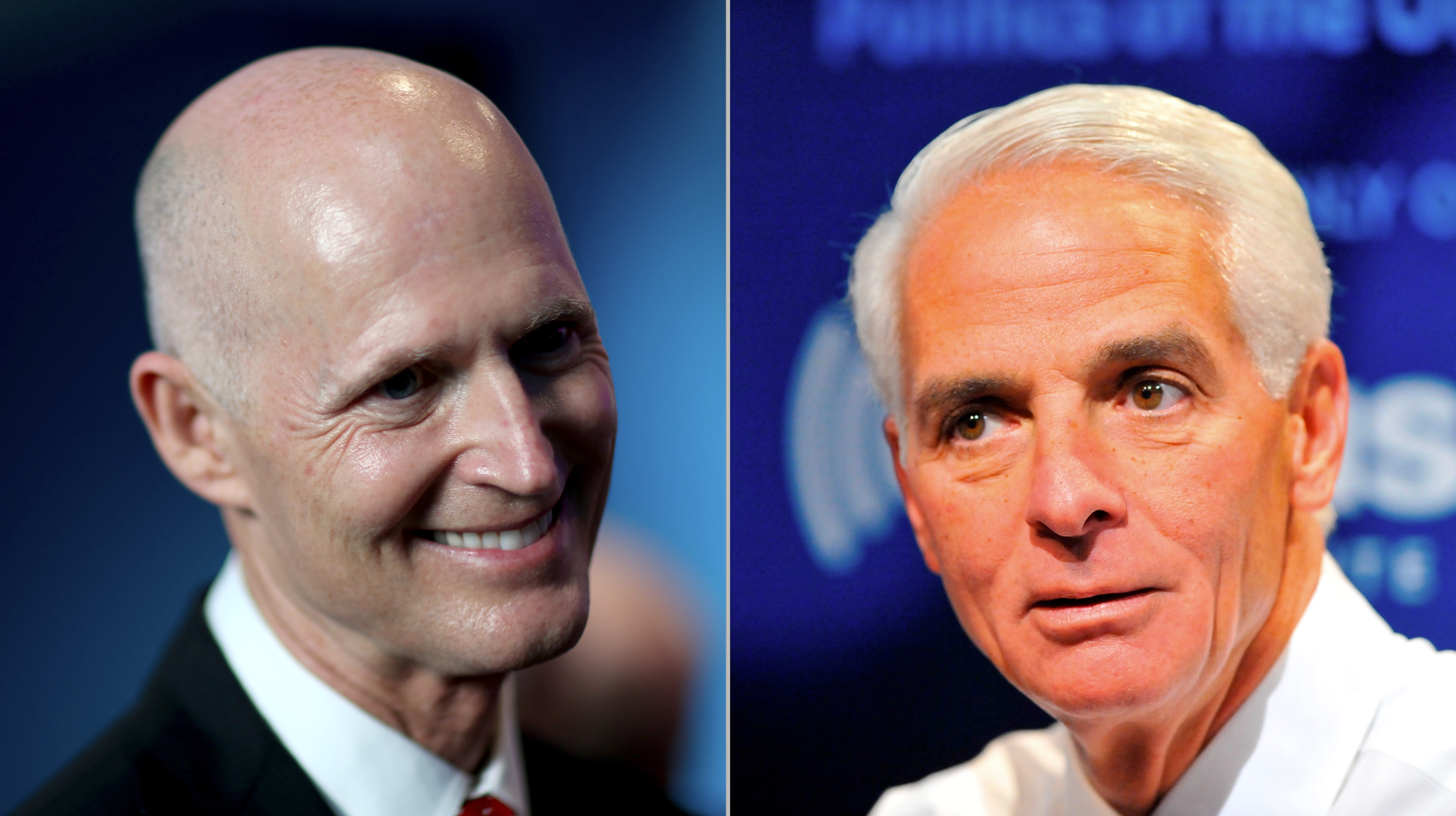 Battleground tracker: How many governor's races have tightened?
Thirty-six states will choose governors on November 4, and an unusual number of these races are very close. In 9 states, the poll lead is within the margin of error.
Two of the highest-profile gubernatorial elections are in the perennially competitive states of Florida and Wisconsin, where Republican governors are bidding for re-election. These races, along with tight contests in Michigan and Maine, frame a larger picture of how Republicans fare running in--and governing in--Democratic-leaning states. And we see a mix of competitive races across both red and blue states; as governors' contests once again hinge more on local and state issues, and hew less to the patterns of rigid partisanship that now mark so many federal contests.
In Florida, incumbent Republican Rick Scott is running only a point ahead of Democratic challenger Charlie Crist in this latest CBS News/New York Times/YouGov Battleground Tracker. Crist was elected governor of Florida in 2006 as a Republican, but lost in the 2010 Republican senate primary and became a Democrat in 2012. When Crist ran for governor in 2006 against Jim Davis, Crist won whites by 22 percent and split the Hispanic vote.
This year, we expect almost the reverse pattern, with Crist losing whites by 18 percent, but making up most or all of the difference among Hispanics and non-whites. In 2006, there was a medium-sized gender gap with 7 percent fewer women voting for the Republican Crist than men. We are finding a larger gender gap (almost 10 percent), but now women favor the Democratic Crist by more than men. The outcome of the race is likely to depend on Democrats' ability to turn out their base. Democrats are less enthusiastic about the midterm elections, so this will be a difficult task for the Crist campaign. However, Crist seems to be succeeding among absentee voters.
When interviewing was conducted last week, 22 percent of all likely voters reported having voting absentee and these voters favored Crist over Scott by 48 percent to 43 percent. In-person early voting opened after the close of our survey.
Incumbent Scott Walker was elected in 2010 by a 52-46 margin and survived a recall in 2012 by a slightly larger 53-46 margin. 2014 appears to be much closer, with Walker leading Democratic challenger Mary Burke by less than 1 percent in the final wave of the Battleground Tracker. Of late, Wisconsin has been a bluish state in presidential elections. It voted twice for Barack Obama (by 14 percent in 2008 and by 6 percent in 2012). However, in 2010 it elected Republicans governor, U.S. senator, and a majority of the state assembly. Democrats hold an edge in party ID, so Walker's chances depend upon higher turnout by Republicans and winning a majority of independents. So far, he seems to be doing reasonably well on both. Republicans are about 6 percent more likely to vote than Democrats and independent voters are voting for Walker over Burke 46-42. However, 13 percent of independents say they are undecided--more than enough to make up for Burke's one point deficit in the poll, should they swing her way.
RED STATES
Republicans hold small leads in both Kansas and Georgia. Incumbent Republican Sam Brownback leads challenger Paul Davis by 2 percent in the Kansas governor's race. Jason Carter (grandson of the former President) trails Nathan Deal by 4 percent in Georgia, both candidates are polling below below the 50 percent threshold required to avoid a runoff. (Libertarian Andrew Hunt is at 2 percent and could, potentially, draw enough votes to force a runoff.)
In both Kansas and Georgia, there are also tight Senate races, so Democrats will hope that helps boost turnout in these usually deep-red states.
BLUE STATES
There are also tight races in some deep blue states: Connecticut, Illinois, Massachusetts, Michigan, and Rhode Island. In Connecticut, Democratic incumbent Dannel Malloy faces the same Republican challenger, Thomas Foley, that he defeated four years ago by a razor-thin 0.5 percent margin. This time, the race is equally close (Malloy leads by less than 1 percent in our latest survey) and uncertain (the difference is well within the 4.3 percent margin of error).
In Michigan, incumbent Republican Rick Snyder is facing a much stronger challenge in 2014 from former U.S. Representative Mark Schauer. Snyder trails Schauer by 1 percent in this latest wave of the Battleground Tracker (with a margin of error of 3.5 percent). Both races are essentially tossups.
Massachusetts, Oregon and Rhode Island also have close races, though we are showing Democratic leads of about 4 percent in all three. In Massachusetts, Democratic Attorney General Martha Coakley leads Republican Charlie Baker by 45-41 percent (She trails in other polls, suggesting this race too is best called a tossup.) In nearby Rhode Island, Democrat Gina Raimondo leads Republican Allan Fung 40-35 percent. And in Oregon, Democrat John Kitzhaber leads Dennis Richardson by only 48-42 percent. There's not a lot of suspense in either New York or California, where two well-known Democratic incumbents are coasting to victories. In California, former Governor and sometime Presidential candidate Jerry Brown leads Neal Kashkari 55-37 percent. In New York, Andrew Cuomo, mentioned by some as a future Democratic presidential candidate, leads Rob Astorino 56-31 percent. In Maine, by contrast, incumbent Republican Paul LePage is in a very tight three-way race against Democrat Mike Michaud and Independent Eliot Cutler. Michaud leads LePage in the latest wave of the Battleground Tracker by 37-35 with Cutler at 31.
Full data and methods available here.
Anthony Salvanto is CBS News elections director.
Doug Rivers is chief innovations officer at YouGov, professor of political science at Stanford University and a CBS News consultant.
Correction: An earlier version of this post incorrectly described the 2006 Florida race as between Charlie Crist and Daryl Jones.
Thanks for reading CBS NEWS.
Create your free account or log in
for more features.