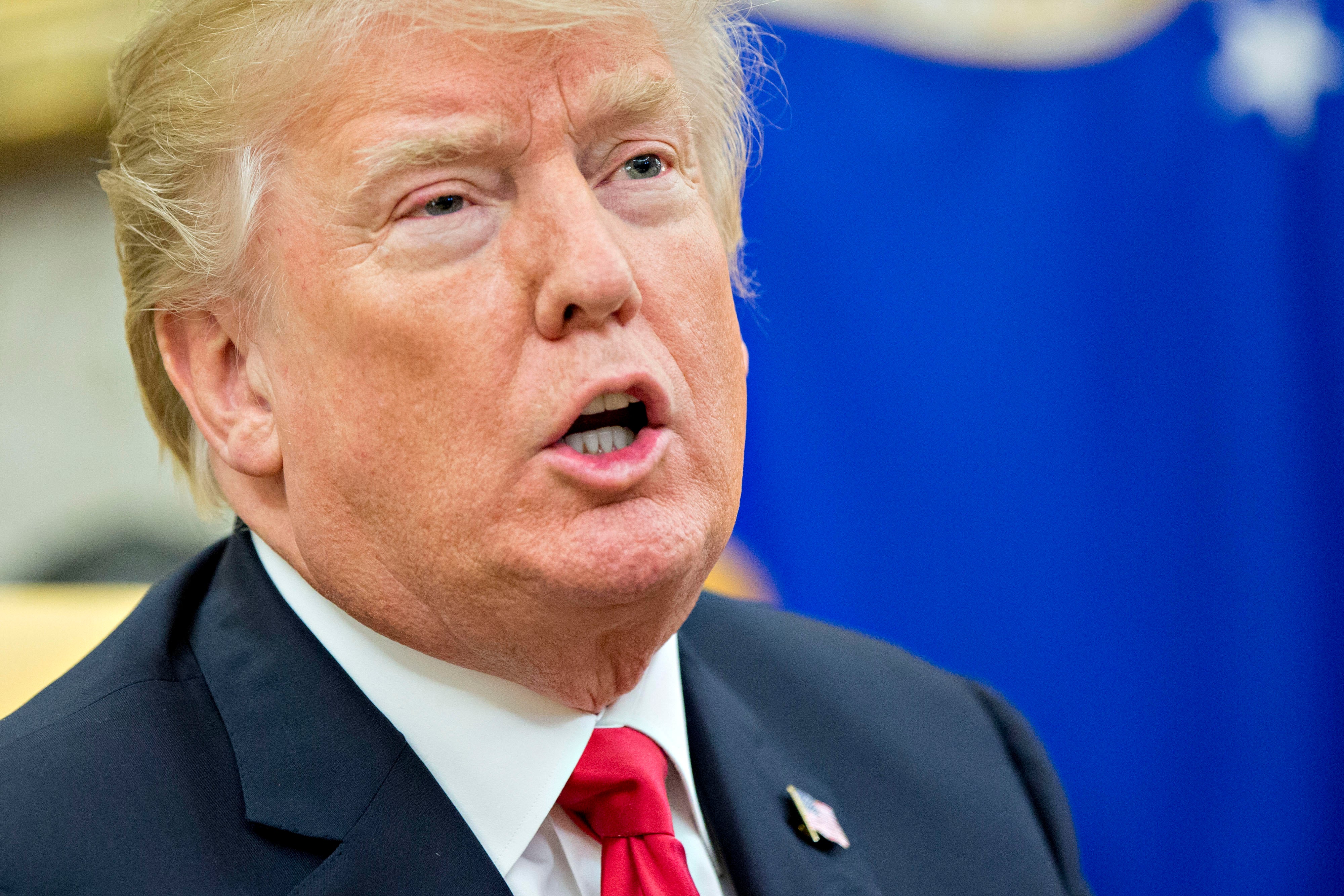 GOP lawmakers warn Trump against firing Mueller
The president took to Twitter Sunday morning to criticize the special counsel's investigation into Russian meddling in the 2016 U.S. presidential election and potential Trump campaign collusion.
"Why does the Mueller team have 13 hardened Democrats, some big Crooked Hillary supporters, and Zero Republicans?" Mr. Trump tweeted at 8:35 a.m. ET. "Another Dem recently added...does anyone think this is fair? And yet, there is NO COLLUSION!"
Mueller is a Republican, and was named director of the FBI by Republican President George W. Bush. Mueller's investigation is overseen by Rod Rosenstein, the deputy attorney general Mr. Trump nominated himself.
The president has long believed that Mueller's Russia investigation is a partisan effort from Democrats to tarnish his presidency. He's called the probe both a "witch hunt" and a "hoax." Fueling Mr. Trump's aggravation now is the special counsel's latest inquiry: a subpoena to the Trump Organization.
"The Mueller probe should never have been started in that there was no collusion and there was no crime," Mr. Trump said Saturday night on Twitter. "It was based on fraudulent activities and a Fake Dossier paid for by Crooked Hillary and the DNC, and improperly used in FISA COURT for surveillance of my campaign. WITCH HUNT!"
The tweets have put lawmakers on edge, particularly members of Mr. Trump's own party, for fear that he may fire Mueller. Mr. Trump's personal lawyer John Dowd called for Rosenstein to "bring an end" to the Russia investigation Saturday, adding to the tension.
Rep. Trey Gowdy, R-South Carolina, who sits on the House Intelligence Committee, appeared on "Fox News Sunday" to address Mr. Trump personally.
"My advice to the president is the same thing I just told his lawyer: give Bob Mueller the time, the independence and the resources to do the very job. Keep in mind, Chris, he didn't volunteer for this," Gowdy said addressing host Chris Wallace. "Give him the time, the resources, the independence to do his job, and when you are innocent, if the allegation is collusion with the Russians and there is no evidence of that, and you're innocent of that, act like it."
House Speaker Paul Ryan, R-Wisconsin, issued a statement regarding Mr. Trump and his harsh words for Mueller to the New York Times.
"As the speaker has always said, Mr. Mueller and his team should be able to do their job," a spokeswoman for Ryan told the Times.
His Senate counterpart, Majority Leader Mitch McConnell, R-Kentucky, has yet to comment on the ordeal.
Sen. Angus King, I-Maine, said on CBS News' "Face the Nation" Sunday that it would be a "huge mistake" and "a true constitutional crisis" for the president to fire Mueller, whom he described as being "as straight an arrow as there is in America."
"He's just doing his job," King said. "And for the administration to keep trying to undercut what they're trying to do -- the president keeps saying there's no story here, they didn't do anything wrong. If they didn't do anything wrong, why are they going to such extreme lengths to undermine this investigation, which is being carried out in a very responsible way?"
Sen. James Lankford, R-Oklahoma, said on ABC's "This Week" that he doesn't see Mueller's firing as a likely move.
"I don't see the president firing him," he said. "I think the White House has said 10 times, maybe more, that they're not going to fire Robert Mueller, [that] they want him to be able to finish the investigation."
Sen. Lindsey Graham, R-South Carolina, said the firing "would be the beginning of the end of his presidency" on CNN's "State of the Union" Sunday.
On that same broadcast, Sen. Jeff Flake, R-Arizona, also pushed back against the president.
"I mean, talking to my colleagues all along it was, you know, once he goes after Mueller, then we'll take action," Flake said.
Sen. Rand Paul, R-Kentucky, said he wouldn't "advocate" for the firing but expressed concern on the scope of Mueller's investigation.
"I've said all along I don't like special prosecutors," Paul said on CNN. "I think they have too much power and too much power to go far afield of the question."
Thanks for reading CBS NEWS.
Create your free account or log in
for more features.