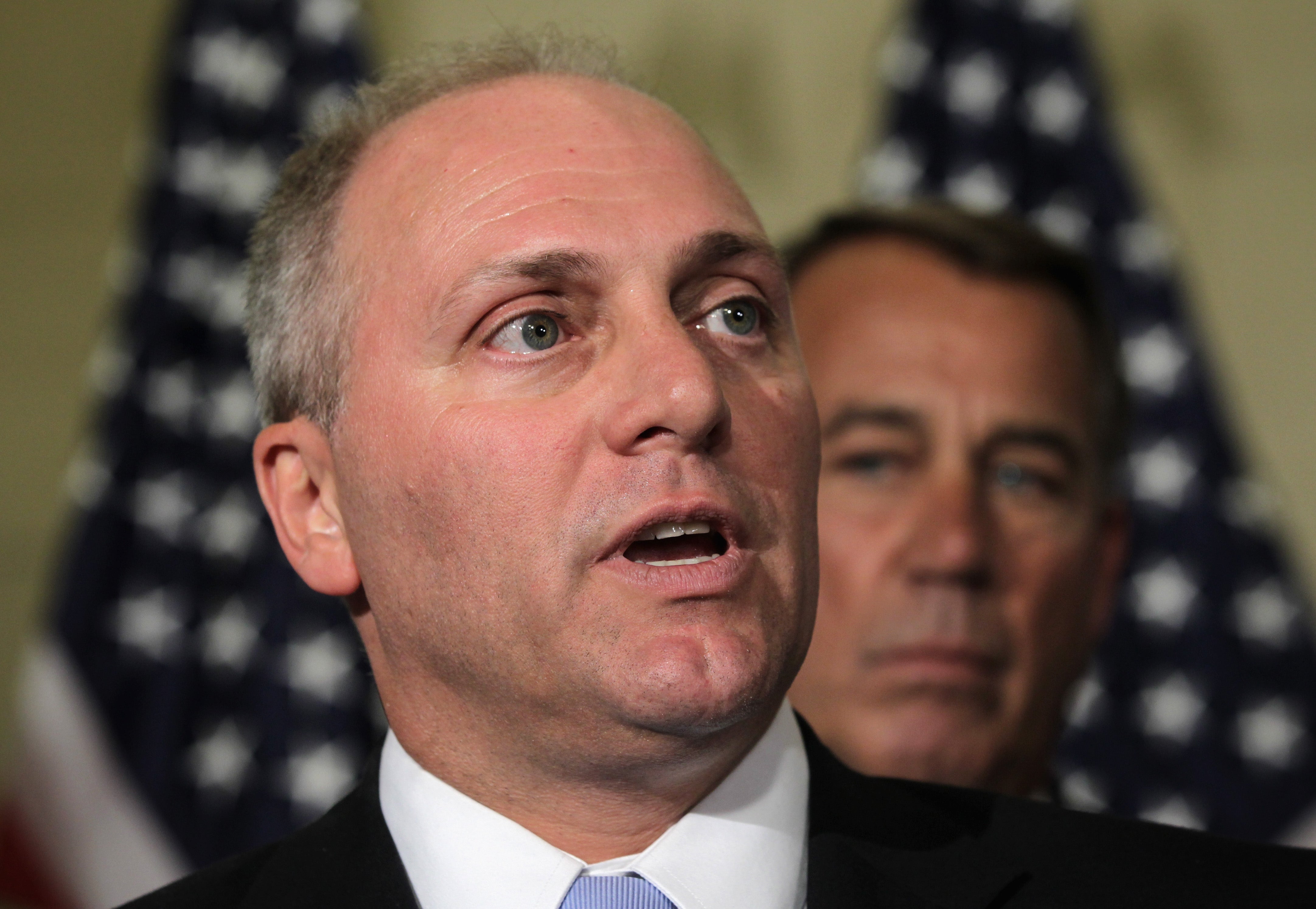 GOP continues defending Steve Scalise amid white supremacist flap
Republicans continued circling the wagons on Sunday around embattled House Majority Whip Steve Scalise, R-Louisiana, who came under fire this week after it was reported that he spoke at a white supremacist gathering in 2002.
Several incoming Republican congressmen offered words of support for Scalise, following the lead of other House leaders like Speaker John Boehner, R-Ohio, who have previously defended the Louisiana Republican.
In 2002, Scalise, then a state legislator, gave a speech about taxes in September 2002 before the European-American Unity and Rights Organization (EURO), an organization founded by former Ku Klux Klan leader David Duke.
After the speech was reported this week, Scalise apologized, saying he was not aware of EURO's platform when he spoke, and he certainly wouldn't endorse the activities of such a "hate group."
Republicans, thus far, seem inclined to give the latest member of their leadership team the benefit of the doubt.
"As far as I'm concerned, with Representative Scalise, he has been absolutely wonderful to work with. He's been very helpful for me and he has had the support of his colleagues," said Representative-elect Mia Love, R-Utah, the first black woman elected to Congress as a Republican, in an interview with ABC News on Sunday.
Love said she believes Scalise should remain in leadership, and she commended the "humility" he showed by apologizing for the incident.
Other incoming congressmen offered similar words of support. Rep.-elect Lee Zeldin, R-New York, blamed the controversy on the media "just trying to get a head start tearing down the Republican Party."
"It's unfortunate that so many news reports don't even mention the fact that this was a dozen years ago," Zeldin told "Fox News Sunday."
Rep.-elect Martha McSally, R-Arizona, added on the same broadcast that she doesn't worry the incident will hurt the GOP's image, and she labeled the controversy a "distraction" from the real business of government.
And Rep.-elect Barbara Comstock, R-Virginia, told CNN the narrative surrounding the incident "hasn't been accurate."
"When you look at his colleagues -- Democrat and Republican alike, from Louisiana, black and white -- people who've worked with him [say] that he's a man of...good heart and good character," she said. "That has been my experience with him."
Sen. John Barrasso, R-Wyoming, a member of the Senate GOP leadership team, said Scalise's appearance before EURO was a "grave mistake," but he pointed to a defense of Scalise offered by a black colleague as evidence of the congressman's good character.
"I think that Cedric Richmond makes the point," Barrasso told NBC News. "He's a congressman in the next district right over from Mr. Scalise. He's a Democrat, African-American. He said Steve doesn't have a racist bone in his body, and I'm going to stick with that."
Scalise's most provocative defender came in the form of onetime House Speaker Newt Gingrich, who brushed aside concerns that Scalise is a racist and turned the question of guilt-by-association onto President Obama by invoking Reverend Jeremiah Wright.
"The president, who for years went to a church whose pastor said stunningly hateful things about America -- the president explained he didn't believe any of them, okay? And we all gave him a pass," Gingrich argued. "He gave a great speech in Philadelphia, as a candidate. We said, 'Okay, we got it.' Now, he went to that church a long time and listened to Reverend Wright a long time."
Gingrich said plenty of people can attest to Scalise's lack of prejudice, and he argued nobody will care about this latest flap if Scalise can use the legislative process to improve peoples' lives.
"Scalise is a deeply committed Catholic who condemns hate organizations and, to the best of our knowledge, made a speech on taxes 12 years ago," Gingrich said. "Now, for a 12-year-old speech to be blown up into a national story, I think, is, frankly, one more example of a one-sided view of reality...If Steve Scalise is the whip, if he helps pass criminal justice reform...if we see action on real things that affect real lives, nobody's going to say, 'But didn't he, 12 years ago, stupidly schedule a group?'"
A Democratic senator agreed that actions will speak louder than words, pushing Republicans to move swiftly on issues of concern among minority communities.
"When always this kind of thing happens people disown it, they say it was wrong. What do they do about it? What are the actions? I will give you a few," Sen. Amy Klobuchar, D-Minnesota, told NBC News. "Move along on Loretta Lynch fast. She's a U.S. attorney -- the nominee for attorney general. She's been vetted before. Get it done in a month. The Justice Department runs the civil rights enforcement in the country. Get the voting rights bill done. There's Republicans in the House on it last year...leading it. Get that done. That's action, not just words. And get immigration reform done. To me, that is what do you when you have a problem like this: you say you disown it, you say you want to move on civil rights, then do it."
Thanks for reading CBS NEWS.
Create your free account or log in
for more features.