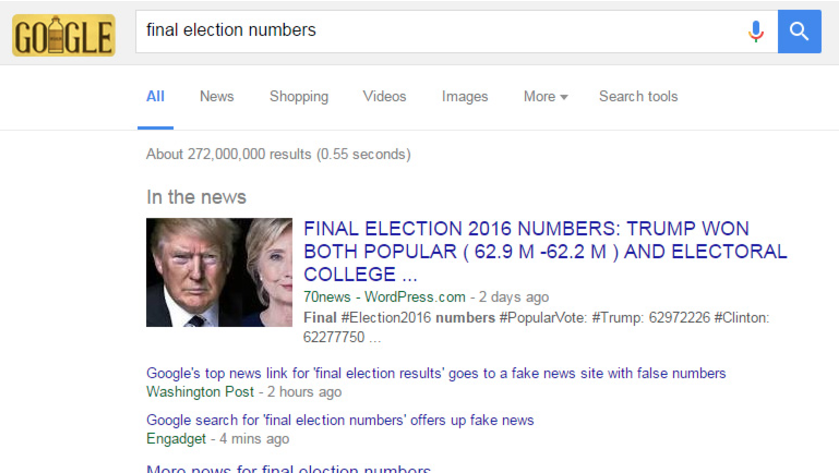 Google's top search result for "final election numbers" leads to fake news site
Though Americans already knew Donald Trump was our new president-elect early Wednesday morning, many were still turning to Google days later to crunch the final numbers.
Since it appeared Hillary Clinton was on pace to win the popular vote, and the count was still coming in, political junkies kept Googling for the latest tally.
But when internet users searched for "final election numbers," "final election results," "who won the popular vote" and similar phrases, they were directed to a link to a fake news blog called "70news," which falsely claimed that Trump had won both the popular vote and the Electoral College.
If users clicked on the "70news" link, they would be redirected to a WordPress blog page that said Trump won the popular vote by 700,000 votes.
According to the latest CBS News figures, Clinton is actually leading by more than 670,700 votes. She has 47.8 percent of the popular vote (61,048,628 votes) to Trump's 47.2 percent (60,377,905)
It didn't take long for users to call out the fake pro-Trump site.
The blog was flooded with comments, prompting the creator to reveal his or her sources regarding the popular vote. In response, the editor added, "Anyone asking where I got the figures, it was from Twitter posts."
Google acknowledged the error in surfacing the fake news on Monday, and explained that a site's ranking in search results is determined by computer algorithms "using hundreds of factors" to calculate a page's relevance in a given query.
"The goal of Search is to provide the most relevant and useful results for our users. In this case we clearly didn't get it right, but we are continually working to improve our algorithms," a Google spokesperson told CBS News.
The search engine's mixup comes just days after social media giant Facebook came under fire for spreading fake news stories surrounding the election.
But Facebook CEO Mark Zuckerberg said the idea that fake news on the site contributed to Trump's victory was "crazy."
"I do think there is a certain profound lack of empathy in asserting that the only reason someone could have voted the way they did is they saw some fake news," Zuckerberg said, according to USA Today. "If you believe that, then I don't think you have internalized the message the Trump supporters are trying to send in this election."
Thanks for reading CBS NEWS.
Create your free account or log in
for more features.