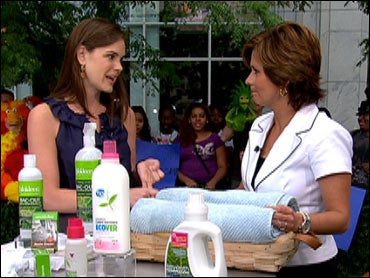 "Going Green" When Cleaning Clothes
There are a lot of ways to help the environment.
Eco-friendly laundry products and techniques can help you "go green" -- as well as give assists to your health and pocketbook!
On The Early Show Thursday, Plenty magazine Associate Editor Jessica Tzerman shared pointers:
First things first: Wash full loads. Most machines consume about 40 gallons of water per wash cycle, so it's important to make sure to use a full load and adjust for its size to save water and energy.
Laundry Detergents:
Plenty tested the latest green laundry products in its labs. Today's green cleaners are tough on dirt, but not the planet.
Choose Disclosure: Manufacturers aren't required by law to list the ingredients of detergents on the packaging, so be wary of those that don't.
Choose fragrance-free: Petro-chemicals, including phthalates, and other synthetics are used in many conventional laundry detergents, often to create "natural" scents. Those chemicals are also suspected hormone-disrupters that can irritate your eyes, nose and skin. Once they get into water, they can disrupt aquatic life and eventually make their way into our drinking water.
Choose concentrated: Detergents that are two- or three-times concentrated will reduce the amount of packaging, the frequency at which you buy the product, the fossil fuels used in shipping the packages, and ultimately, 400 million gallons of water wasted each in diluting detergents.
Choose cold: Detergents that wash well in cold water will save you on your utility bills and greenhouse gas emissions from power plants that heat your water. Rinsing on the cold setting reduces your machine's energy use by up to 90 percent, saving your five-to-ten times what you'd used for a hot water rinse.
Ecos by Earth Friendly Products Free & Clear: A Plenty favorite: It's a nice, garden-fresh, mild detergent that's tough on stains. It washes a full load with just one ounce and has a built-in soy-based fabric softener and cellulose-based optical brightener. ($6 for 50oz)
Seventh Generation Free and Clear Natural Laundry Detergent: This is one of the best companies out there at disclosing all its ingredients. The Free and Clear has a bit of a glue-y smell, but otherwise works great, especially on food-based items such as ketchup, berries, grass and wine. ($9 for 50oz)
Arm & Hammer Essentials: Great for sensitive skin and leaves clothes feeling soft, plus it works well on stains. It has a great price point, too at $3.99 for 50oz.
Dropps Dissolving Liquid Pacs: Mess-free, dissolves in cold water and is six times concentrated. Nice, fresh smell. They're available at Target, Wal-Mart and online ($6 for 20 pouches)
Stain removers:
Conventional bleaches are harmful to your health and the environment, and can be too harsh for clothes, while conventional stain removers are frequently often made with petroleum-based ingredients. Plenty tested these brands and loved these green alternatives:
NaturallyClean Stain Eraser: These biodegradable wipes are enzyme cleaning products that remove stains by digesting the organic compounds of the stain. They're great for on-the-go stain removal and work best on organic stains such as coffee, food or wine. ($2.69 for 5 wipes)
Ecover Stain Remover Stick: Use this stick on stains before washing. It's made with plant-based ingredients, biodegrades, and is effective against stains. ($3 for one 6.8 oz stick)
Bio-Kleen Bac-Out Stain & Odor Remover: This stain remover comes in a spray bottle and snap-and-pour top. Eliminates food, beverage and organic stains such as coffee, berry, mustards, tomato, etc. It's made with natural cultures and botanical extracts, and contains no alcohol or perfume cover-ups. Apply it to stains before washing. ($9 for 32oz spray bottle or $6 for 16oz snap and pour top)
Fabric Softeners
Ecover Fabric Softener: Plenty loves this product, which is made from plant- and mineral-based materials. Just drop it into the last rinse cycle. ($5 for 32oz)
Seventh Generation Free and Clear Natural Fabric Softener: This option is a canola-based softener that makes laundry soft and reduces static. ($5 for 40oz)
Dryer:
Finish off your eco-laundry session by drying your threads in the sunshine. Hanging lines or drying racks are cheap to buy, save you money on electricity, and reduce your home's energy load. You'll save up to $100 on your bills, reduce carbon emissions and get that sun fresh feeling on your clothes. Dry natural and synthetic fabrics separately: It will eliminate static cling and the need for toxic dryer sheets.
Thanks for reading CBS NEWS.
Create your free account or log in
for more features.