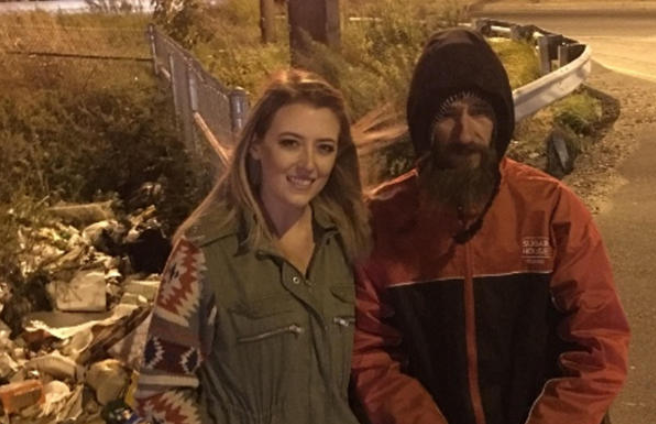 Officials search home, seize BMW of couple who raised $400K for homeless man
FLORENCE, N.J. — Authorities said Thursday they've opened a criminal investigation and executed a search warrant at the home of a New Jersey couple who raised $400,000 online for a homeless good Samaritan who now claims they mismanaged the cash. Burlington County Prosecutor Scott Coffina said in a Facebook post he was confirming the investigation because of the "enormous public interest" in the case, though no charges have been filed.
Authorities executed the warrant on Mark D'Amico and Katelyn McClure's home in Florence, New Jersey, about 30 miles northeast of Philadelphia, and were seen loading a BMW onto a flatbed truck, according to CBS Philadelphia.
The couple's attorney, Ernest Badway, has not returned phone calls seeking a response. He has earlier declined to comment.
It's the latest news in a case that captured international headlines and at first seemed to illustrate the kindness of strangers but has since morphed into a dispute over how and who spent the cash donated online from 14,000 people.
The couple are being sued by Johnny Bobbitt, who got McClure gas late one night in 2017 when she was stranded in Philadelphia. She set up a GoFundMe page for him, but the relationship soured.
Bobbitt's lawyer says he's been told all the money is gone. It's unclear what happened to it, but McClure and D'Amico have denied any wrongdoing.
In court on Wednesday, Superior Court Judge Paula Dow ordered the couple to give sworn testimony as well as turn over documents as part of the case. Bobbitt, whose attorney says he is entering a drug addiction program, will also be deposed on Monday.
Neither the couple nor Bobbitt was in court Wednesday.
Badway, the couple's attorney, indicated in court this week that his clients intend to claim their right not to testify, but Dow said she needed to hear from them in person.
Chris Fallon, Bobbitt's attorney, also didn't immediately respond Thursday to a request for comment.
The story initially led to appearances for Bobbitt and McClure on shows like Good Morning America" as well as an interview by the BBC.
But a dispute over the money has since arose.
D'Amico has said Bobbitt spent $25,000 in less than two weeks last year on drugs as well as paying for overdue legal bills and sending money family.
The couple also bought Bobbitt a camper with some of the cash and parked it on land McClure's family owns in New Jersey. But Bobbitt became homeless again after D'Amico told him in June that he had to leave the property.
During a recent appearance on NBC's "Megyn Kelly Today" show, D'Amico told Kelly there was well over $150,000 left of the donations. In court Wednesday, Badway said Bobbitt has gotten $200,000, but Bobbitt's lawyer said he had received about $75,000, including the camper as well as a 1999 Ford Ranger.
Thanks for reading CBS NEWS.
Create your free account or log in
for more features.