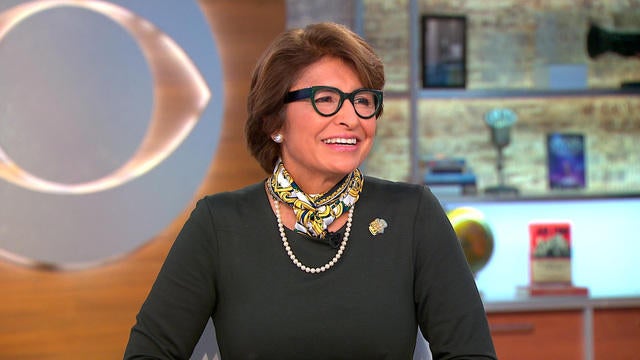 What Girl Scouts CEO Sylvia Acevedo learned from selling cookies
Girl Scouts CEO Sylvia Acevedo says the best sales technique she ever learned was from her Girl Scouts troop leader. "You never heave the site of a sale before you hear 'no' three times," Acevedo told "CBS This Morning" on Thursday.
But what she learned from the Girl Scouts cookie program would take her much further than a simple boost in sales. Acevedo would go on to become one of the first Hispanic students to earn a graduate engineering degree from Stanford, then a NASA scientist and, of course, the CEO of one of America's best-known organizations. The Girl Scouts counts among its alumnae the tennis stars Venus and Serena Williams and former Secretary of State Madeleine Albright.
"What I love is that it really taught me about persistence, resilience, and determination," she said. "I was raised in near poverty, living paycheck to paycheck and … the Girl Scout cookie program taught me how to create opportunity. And when you're raised in near poverty you don't even know how to create opportunity."
Acevedo's new book, "Path to the Stars: My Journey from Girl Scout to Rocket Scientist," spells out the importance of science, math, and technology – now a key aspect of the Girl Scouts mission.
"At Girl Scouts we're always looking to be even more relevant to girls," she said. "But let me tell you, there's a mobile device in each one of their hands and we want girls not just to be users of technology but creators, inventors, designers. The world is being remade around data and we want girls to be part of that."
The organization now offers badges for coding, programming and even cybersecurity. Acevedo showed the "CBS This Morning" co-hosts her bracelet, a symbol of the Girl Scouts' dedication to teaching girls about math and science.
"I'm wearing this bracelet because this is how we teach 5- and 6-year-old adorable Daisies how to code. This is my initials, S and A, in code, in binary. The blue is zeros and the yellow is 1s," Acevedo explained.
"I always say to parents, do you want to give your daughter an edge in life? Have her join Girls Scouts."
Thanks for reading CBS NEWS.
Create your free account or log in
for more features.