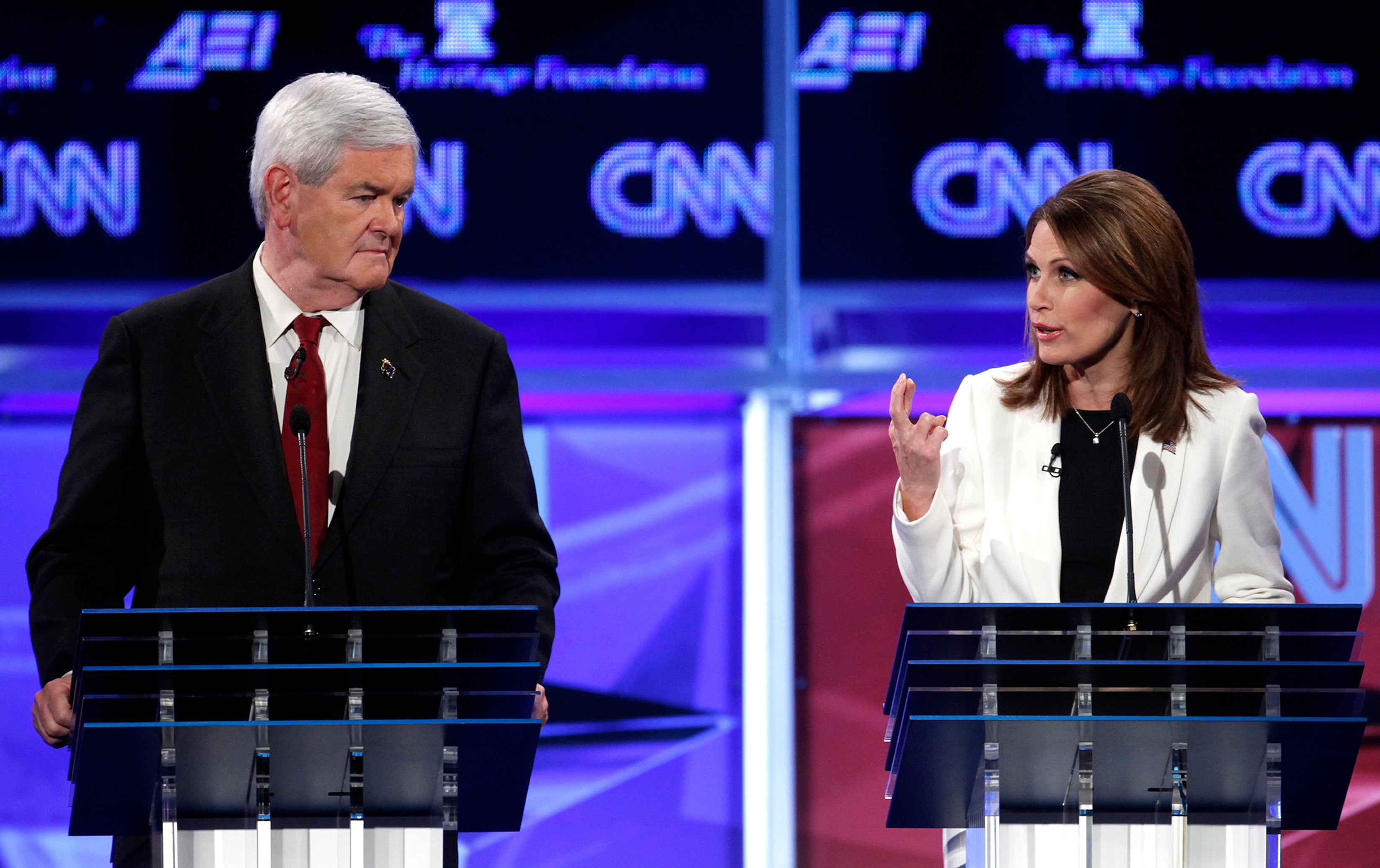 Gingrich, Bachmann: Move embassy to Jerusalem
Republican presidential frontrunner Newt Gingrich said Wednesday that as president he would move the U.S. embassy in Israel from Tel Aviv to Jerusalem, a proposal designed to appeal to American Jewish voters. It also escalated the jockeying among the GOP candidates to be viewed as the most pro-Israel choice.
Rival candidate Michele Bachmann, a House member from Minnesota, said on Wednesday that she too would insist on moving the embassy. Bachman and Gingrich were among six GOP candidates who spoke at the Republican Jewish Coalition's candidates' forum in Washington, D.C.
Jerusalem is the declared capital of Israel, but that fact is not internationally recognized because of the long-standing territorial disputes with the Palestinians.
Like other Republican candidates at the forum, Gingrich blasted the Obama administration's policy on Israel. The administration, he said, takes the position "it's always Israel's fault no matter how bad the other side is," and that "has to stop."
Gingrich also told the crowd that he would appoint former United Nations Representative John Bolton as his secretary of State.
Of moving the embassy, Bachmann said, "I already have secured a donor who said they will personally pay for the ambassador's home to be moved from Tel Aviv to Jerusalem."
She told the audience, "Like you, my commitment is unequivocal and unchanging. We stand with Israel."
Referring to the leader of Iran, Israel's mortal enemy, Bachmann said, "Millions of Jews lost their lives. Today, a madman is speaking and once again it seems as if the world isn't really listening."
In an interview, Alan Solow, a longtime Obama supporter and the former chair of the Conference of Presidents of Major American Jewish Organizations, defended the president's record on Israel and pointed to statements from Israeli officials saying the relationship between the United States and Israel is as strong as or even stronger than it's ever been.
He also accused the Republican presidential candidates of using catchphrases instead of proposing solutions to the problems in the Middle East. "They present no vision of their own," Solow said.
Thanks for reading CBS NEWS.
Create your free account or log in
for more features.