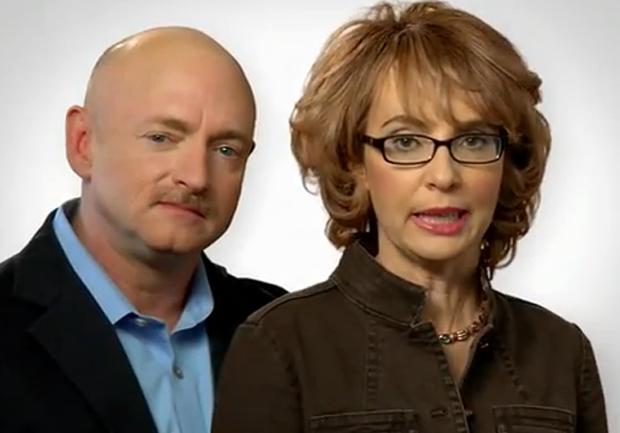 Giffords, Kelly own guns while pushing gun control
TUCSON, Ariz. Former Rep. Gabrielle Giffords and her husband, Mark Kelly, keep pushing for stricter gun laws as they continue to own weapons for recreational purposes, including the same type of gun used in the January 2011 shooting rampage that left Giffords wounded.
However, the couple's 9 mm Glock holds fewer bullets than the one used the Tucson shooting spree. Limiting the size of ammunition magazines is one of the goals of a new political action committee formed by Giffords and Kelly.
The couple was interviewed in Tucson by CNN for a segment that aired Tuesday evening.
Kelly was shown shooting pots and water bottles off large rocks in a desert area with Giffords watching from a porch.
For target practice, Kelly said he uses a 9 mm Glock with a magazine that can hold 17 rounds. That's the same kind of handgun that Jared Lee Loughner used when he opened fire outside a Tucson supermarket during a meet-and-greet event organized by Giffords. The shooting injured Giffords and 12 others and left six people dead.
"In that case, it had a magazine that held 33 rounds," Kelly said. "He shot 33 rounds. Every round hit somebody, we think."
Kelly, a former astronaut who wasn't present at the Tucson shooting, said Loughner walked directly toward Giffords and shot her once in the head before directing fire at the crowd around her. He said Loughner released all 33 bullets in 15 seconds.
Kelly and Giffords have formed a political action committee in hopes of preventing gun violence and changing laws to require compulsory background checks for gun buyers. The PAC also will work to limit the size of ammo magazines and to ban the sale of assault weapons to civilians.
The couple believes they have credibility in the gun control debate because they are longtime gun owners who support Second Amendment rights.
Giffords resigned from Congress last year and still is recovering from her injuries.
Asked by CNN about the shooting, Giffords said she is not resentful about what happened.
"No. Move ahead. Move ahead," she said, adding that she wants to be "stronger, better, tougher."
Loughner, 24, was sentenced in November to seven consecutive life sentences, plus 140 years, after he pleaded guilty to 19 federal charges in the Tucson shooting.
Thanks for reading CBS NEWS.
Create your free account or log in
for more features.