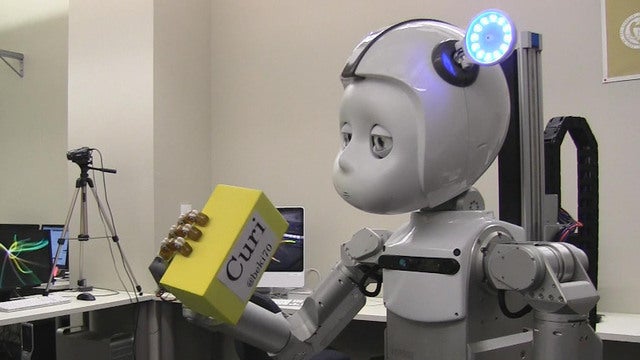 Georgia Tech lab turning computers into companions
In Disney's animated movie "Big Hero 6," teenage genius Hiro finds a friend in robot Baymax. But researchers at Georgia Institute of Technology want to make computer companions like Baymax into a reality. That's why they're programming robots for the home, both as servants and companions, reports CBS News correspondent Mark Strassmann.
Simon is a robot at the Socially Intelligent Machines Lab at Georgia Tech. The focus is human-robot interaction. Aluminum skin covers Simon's electronics systems and emerging personality.
"We're interested in thinking about robots that are going to be in human environments and how those robots are going to interact with people and what that should be like," Georgia Tech Interactive Computing associate professor Andrea Thomaz said.
She runs the lab working on robots like Simon.
While Thomaz said she would love a robot helper like Rosie from "The Jetsons," they're not quite there yet.
"We're trying to build robots that are more and hopefully fun to interact with," Thomaz said.
For the lab's robots and humans, the getting-to-know-you experience is eye-opening.
Curi, another robot at the lab, used cameras to process and mimic the steps of a lesson. PhD student Baris Akgun taught Curi how to serve pasta.
Globally, robotics is ever-evolving. Some have been taught to dance, or slither like a snake. On the battlefield, robots can retrieve and disarm bombs.
But Georgia Tech's working on the latest generation of social robots, suitable for the home, which means making them less robotic.
"We're focusing on natural interactions," Thomaz said. "How do people teach each other? What are some of the different ways people learn? So we try to build that into a robot."
In other words, they're working on how to build relationships.
The robot's facial features make it seem more approachable, but students can also program a robot's personality. For instance, they can make it more passive and less aggressive.
"I don't think we get attached. But we do spend a lot of time thinking about how they should act and what their personalities should be," Thomaz said. "It's really rewarding when it works out."
Researchers hope within the next decade to develop a robot that's part servant, part companion. It would first learn the layout of your home and then you would train it to perform a series of tasks. But even better, its personality would be compatible because you programmed it.
Thanks for reading CBS NEWS.
Create your free account or log in
for more features.