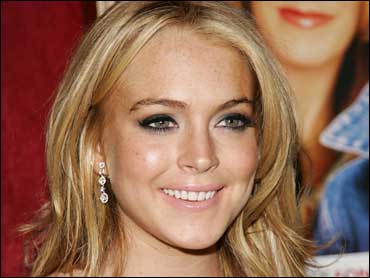 "Georgia Rule" Controversy Haunts Lohan
The controversy surrounding the shoot of the movie "Georgia Rule" continued to haunt Lindsay Lohan at the premiere of the film on Tuesday, even though nearly a year has passed since producer James G. Robinson sent a scathing letter reprimanding the actress for "heavy partying."
Last July, Robinson sent a letter to the starlet in which he called her "irresponsible and unprofessional." It was made public last year by The Smoking Gun Web site.
On Tuesday, Robinson walked the red carpet and said he was prompted to send the letter when Lohan missed work.
"She missed a day of work without telling anybody and you can have a whole crew and cast standing around — plus the cost of half a million dollars a day lost," Robinson told CBS News' Michele Jarchin. "The letter served its purpose and she's a great actress."
Robinson said he rewrote the letter six times before sending it. "I wrote a letter to her, that I rewrote six times, and I basically said 'Let's knock it off, get to work. I'm not going to put up with it.' And she was fine, she came to work everyday after that."
---

Photos: Lindsay Lohan

---
When reporters asked Lohan Tuesday about the controversy that surrounded the set last year, she responded, "There were no problems. It's a great movie, everyone should see it."
Lohan's co-star Felicity Huffman called the 20-year-old starlet and her co-star Jane Fonda "brilliant."
Fonda, who plays Lohan's grandmother in the movie, told David Letterman on Tuesday that she did have to chastise the young actress about her behavior on the set.
"Only a couple of times when she was working with me, she was late," she said. "I remember one time I went in the make-up trailer and got mad at her and I said, 'get on to the set, c'mon we're waiting for you.' Apparently she turned to her make-up person and said, 'Barbarella just yelled at me.'"
The movie, which hits theaters May 11, focuses on three generations of women who learn about the power of redemption, freedom in forgiveness and the bonds of motherhood.
Lohan appears on the "Late Show With David Letterman" on Wednesday.
Earlier this week, shots taken from a video of Lohan allegedly using cocaine were printed in Britain's News Of The World newspaper.
The newspaper reported that Lohan took part in a "marathon cocaine binge" in a bathroom at a Hollywood club 20 days after her stint in rehab. A friend of Lohan told the newspaper they released the video because she fears things will end tragically for the actress.
Thanks for reading CBS NEWS.
Create your free account or log in
for more features.