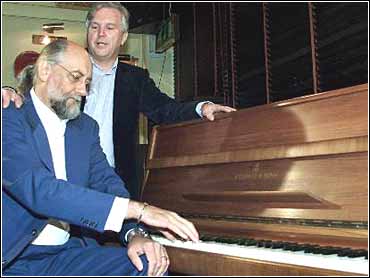 George Michael <I>Imagine</i>s
George Michael promised Friday that as soon as he records a song on John Lennon's piano, he'll hand the famous instrument back over to Liverpool's Beatles museum.
"It's not the type of thing that should be in storage somewhere or being protected, it should be seen by people," Michael told London's Capital Radio.
The pop singer paid $2.1 million on Tuesday to buy the piano Lennon used to compose Imagine. The wood-finished upright piano was the centerpiece of an auction of Beatles memorabilia held at London's Hard Rock Cafe.
"Having paid one-and-a-half million pounds for it, I'd really like to play something on it and stick it on my next record," Michael said.
"So as I'm recording right now I think I'll hold on to it for a couple of months and see if I can get it on to my new record and then it's going back to the museum in Liverpool where I think it rightly belongs."
But Michael downplayed suggestions that his composition would live up to the standard set by Lennon's Imagine.
"It'll probably be 'Chopsticks' in comparison," he told the radio station.
The wood-finished upright piano, a Steinway Model Z upright, was built in Hamburg in 1970 and purchased by Lennon later that year. Film footage shows him performing Imagine for Yoko Ono on the instrument at his home in southern England in 1971.
The piano was bought by a private British collector in 1992. It had been on loan to the Beatles Story Museum in Liverpool since February, where Michael has promised it will return.
© 2000 The Associated Press. All Rights Reserved. This material may not be published, broadcast, rewritten, or redistributed
Thanks for reading CBS NEWS.
Create your free account or log in
for more features.