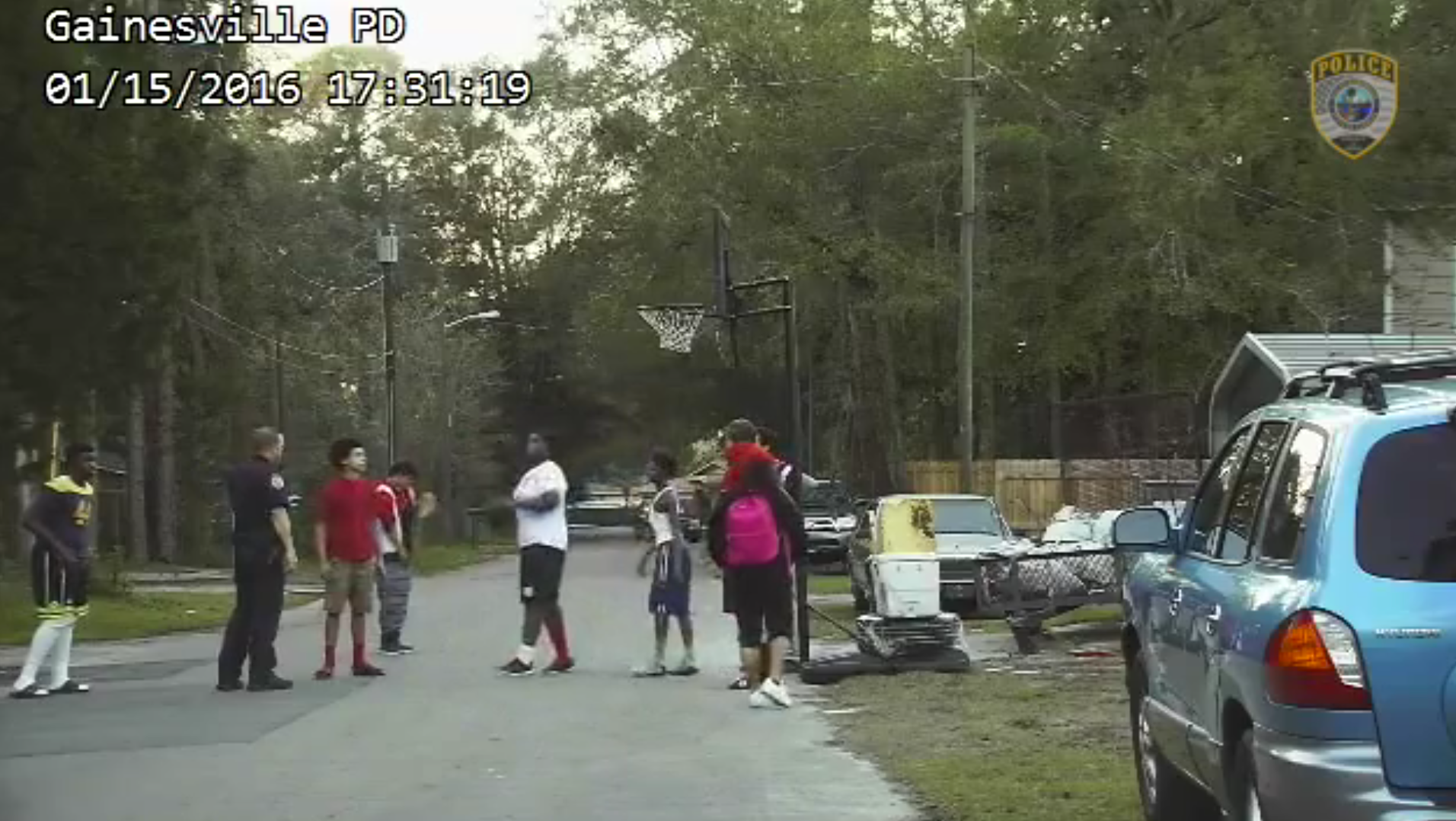 Gainesville cop's response to teens playing basketball goes viral
A police officer responding to a report of kids playing basketball "loudly" in the streets parked his patrol car and spotted a tall boy holding a basketball.
Gainesville Officer Bobby White walked up to the boy and asked him sternly, "Can you believe someone's calling to complain about kids playing basketball in the street -- can you believe that?"
Before the boy could respond, White cracked a smile: "Obviously, I ain't got no problem with it."
The young man tossed the officer the ball and he went for two points.
A few seconds later, another boy joined the game -- and then five more.
"Oh no, you've brought backup," said White, moments before attempting to dunk on the hoop.
"The takeaway here is -- these kids were out, not inside playing video games, getting exercise and having fun," Gainseville Police Department spokesman Ben Tobias told CBS News. "As a society, we've gotten away from letting kids be kids."
Tobias, who is also the department's social media manager, shared a dashcam video of the Florida officer's cool response.
The video has been viewed more than 5 million times and shared by 135,000 people since it was posted 24 hours ago.
The police department hopes Officer White's "style of policing" inspires other officers.
"Things like this could have been handled so differently," Tobias explained. "How [Officer White] handled it really put a human aspect to it."
Thousands of people left comments, praising the officer for his response.
"Great job officer! I'd much rather kids play basketball that committing crimes in the neighborhood!" one Facebook user commented.
"Good man. Good cop," another responded.
Officer White had six days off since this video was posted. Tonight, he's going to roll back out there, Tobias said.
While several applauded Officer White's basketball skills, he may have to call for backup next time.
"How many of them were there?" Tobias joked. "They may have won this round; next time, they can try putting on 30 pounds of gear and dunking."
Thanks for reading CBS NEWS.
Create your free account or log in
for more features.