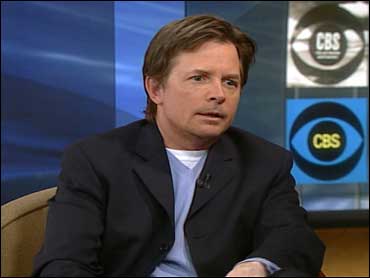 Fox: I Was Over-Medicated In Stem Cell Ad
Responding to criticism by conservative pundit Rush Limbaugh, actor Michael J. Fox defended his appearance in a political campaign ad, saying he wasn't acting or off his medication.
In fact, at the time he was over-medicated for his Parkinson's disease, Fox said Thursday in an exclusive interview with CBS Evening News anchor Katie Couric.
"The irony is that I was too medicated. I was dyskinesic," Fox told Couric. "Because the thing about … being symptomatic is that it's not comfortable. No one wants to be symptomatic; it's like being hit with a hammer."
His body visibly wracked by tremors, Fox appears in a political ad touting Missouri Democratic Senate candidate Claire McCaskill's stance in favor of embryonic stem cell research. That prompted Limbaugh to speculate that Fox was "either off his medication or acting."
Fox told Couric, "At this point now, if I didn't take medication I wouldn't be able to speak."
He said he appeared in the ad only to advance his cause, and that "disease is a non-partisan problem that requires a bipartisan solution."
"I don't really care about politics," Fox added. "We want to appeal to voters to elect the people that are going to give us a margin, so we can't be vetoed again."
---

Complete Transcript
Watch Fox's Political Ad
Stem Cell Crusader
Why Fox Is 'Grateful'
Couric & Co. Blog: My Interview With Michael J. Fox

---
Though Fox, a native of Canada who became an American citizen in 2000, has been politically active for Democratic causes, he said he has voted for and would vote for a Republican. "Arlen Specter is my guy," he said of the Republican senator from Pennsylvania. "I've campaigned for Arlen Specter. He's been a fantastic champion of stem cell research. I've spoken alongside Mike Castle, who's a Republican congressman. Absolutely."

"This is not about red states and blue states," added Fox, who has also lobbied Congress to lift President Bush's restrictions on funding for stem cell research. "This is not about Democrats and Republicans. This is about claiming our place as the scientific leader in scientific research and moving forward and helping our citizens. That's all it is. It's that simple."

On his Web site Tuesday, Limbaugh appeared to back away from his accusation.

"All I'm saying is I've never seen him the way he appears in this commercial for Claire McCaskill," says Limbaugh. "So I will bigly, hugely admit that I was wrong, and I will apologize to Michael J. Fox, if I am wrong in characterizing his behavior on this commercial as an act, especially since people are telling me they have seen him this way on other interviews and in other television appearances."

Fox told Couric that even though it's tough for him to sit for interviews as his symptoms worsen, he feel privileged to be able to do so.

"Honestly, I mean, I really feel this: That you get in your life very few chances to make a difference. And I really feel privileged to do this that I get a chance to do this. But having said that, it's not pretty. It's not pretty when it gets bad," Fox said. "I've learned to throw vanity out the window. I've had enough years of people thinking I was pretty and teenage girls hanging my picture on walls. I'm over that now."

In the Missouri ad, Fox says, "As you might know I care deeply about stem cell research. In Missouri you can elect Claire McCaskill, who shares my hope for cures."

McCaskill has made support for embryonic stem cell research a key part of her campaign to unseat Sen. Jim Talent. The Republican incumbent opposes the research as unethical, saying it destroys human embryos.

The ad debuted prominently Saturday night during Game 1 of the World Series between the St. Louis Cardinals and the Detroit Tigers and will continue airing statewide this week, a campaign spokeswoman said.

Debate over stem cell research looms large in Missouri, where voters are considering a ballot measure that would amend the state constitution to protect all federally allowed forms of the research, including embryonic stem cell research. The scientific study holds promise in the search to cure diseases like Parkinson's and Alzheimer's.

"Unfortunately, Sen. Jim Talent opposes expanding stem cell research," Fox says in the 30-second spot. "Sen. Talent even wanted to criminalize the science that gives us a chance for hope."

Talent's campaign called the ad a false attack.

"Sen. Talent supports medical research including stem cell research that doesn't involve cloning or destroying a human embryo," said Talent spokesman Rich Chrismer.

Earlier this year, Talent withdrew his support for a Senate bill that would ban all embryonic stem cell research and impose a million-dollar fine and jail sentence on violators. But he opposes the Missouri ballot initiative, claiming it would "make cloning human life at the earliest stage a constitutional right."

Supporters of the state referendum deny that assertion, noting the language of the proposed constitutional amendment explicitly bans human cloning.

McCaskill, running even with Talent in the latest polls, hopes to get a boost from aligning herself with support for the ballot measure, which recent polls show has the support of 58 percent of likely voters. Backers of the measure have raised nearly $29 million toward its passage, the costliest political campaign in Missouri history.

Fox's ad urges voters that "what you do in Missouri matters to millions of Americans. Americans like me." The ad ends with a picture of McCaskill and her voice approving the message.

Couric asked, could he have waited to film it until he was having a better day, with less dyskinesia?

"You don't know when that's going to be," Fox said. "My mother was visiting that day, was in the back room and she was saying throughout the filming of (the ad) — and she was talking to my friends back there — and she was saying, 'he's trying so hard to be still.' And so she was the one actually when the comments were made, she was the only who was really angry, and she said 'I can't even see straight.' I said, 'Mom, just relax, it's OK, don't worry about it.' But it's just not that simple. That's why we're doing this."
Thanks for reading CBS NEWS.
Create your free account or log in
for more features.