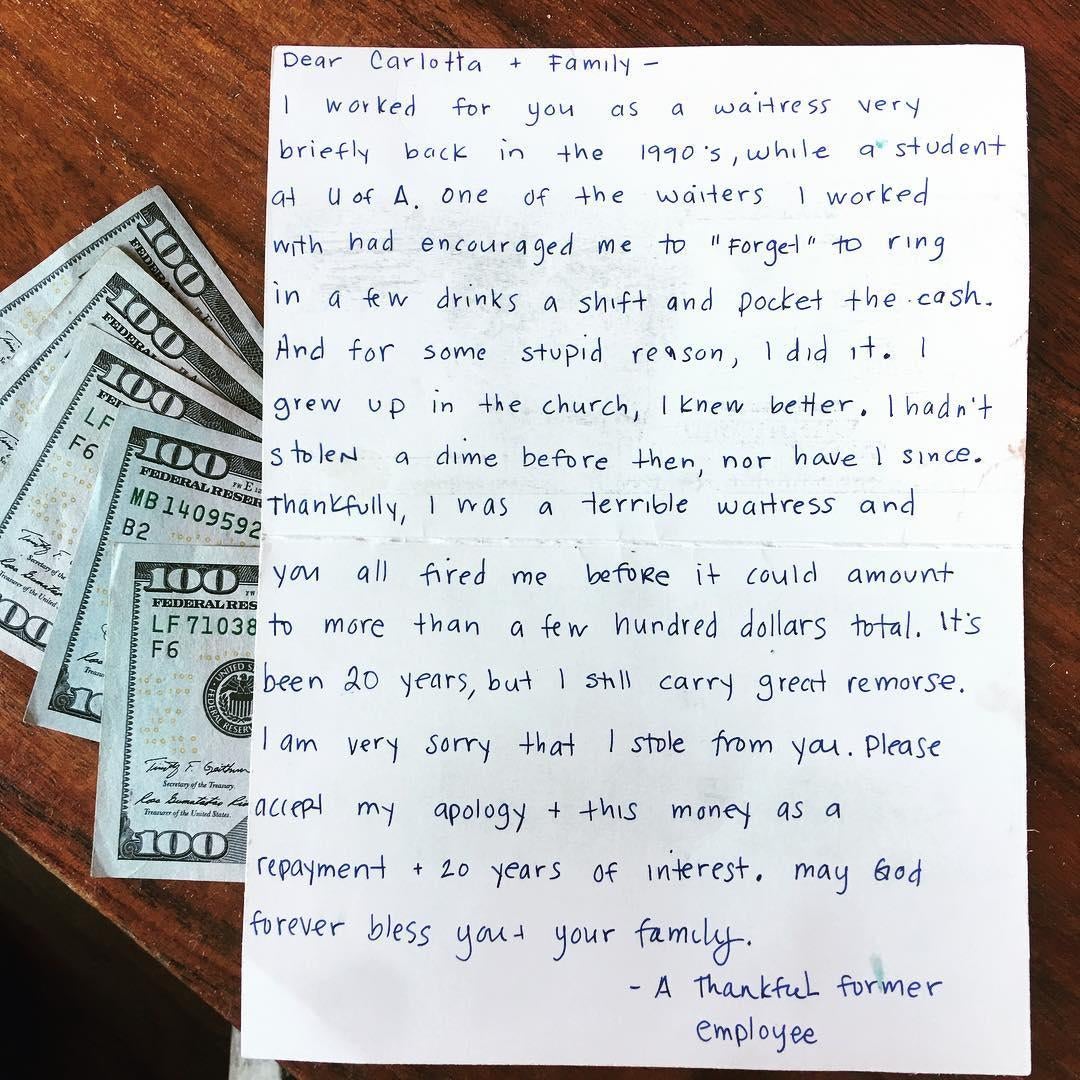 Former waitress sends $1,000 and apology to boss for stealing 20 years ago
A restaurant owner from Tucson, Arizona, was shocked to receive an envelope stuffed with $1,000 in cash last week. The letter that accompanied the money explained the reason behind it — but the sender is still anonymous.
Carlotta Flores, 72, who has been at the helm of El Charro Cafe for nearly 40 years, received a handwritten note from someone claiming to be a former employee. "I worked for you as a waitress very briefly back in the 1990s," the letter began. "One of the waiters I worked with had encouraged me to 'forget' to ring in a few drinks a shift and pocket the cash. And for some stupid reason, I did."
The anonymous sender explained that she grew up in the church and knew better than to steal. "Thankfully," she wrote, she was a bad waitress and was fired before her stealing could amount to more than a few hundred dollars. "It's been 20 years, but I still carry that remorse."
The waitressed asked that Flores accept her apology and her repayment, plus 20 years of interest.
Flores was shocked by the gesture and baffled about who could've sent ten $100 bills to her restaurant. What made the repayment even more special was that Flores was robbed just a day before receiving this mystery cash. "A purse snatcher pushed her down and stole her purse while she was buying groceries," her son, Ray Flores, told CBS News.
Ray says his mother was shaken up by the theft, but receiving the anonymous letter the very next day eased some of the pain. "She came up to me and said in Spanish, 'baby Jesus is still around.' She hands me an envelope and this money falls out," he said. "And I say 'Are you for real?' Her eyes welled up and she said, 'Can you believe it?'"
He took a photo of the note and some of the money and posted it on Facebook. "I thought, 'People should know about this, it's a really cool story' ... The next thing we know, we have a ton of people reaching out," he said. "We received an amazing, emotional response. It had kind of a grounding effect."
Ray says the family is well-known in their area and even nationally, having appeared on the Food Network, Travel Channel and History Channel to show off El Charro. The restaurant has been in Tucson since 1922, and the family is famous for inventing the chimichanga, he says. "When you have a family who has been in the community for a hundred years — how can you not share it?"
The letter lifted his mother's spirits, he says, and he wanted to do the same for others. "The timing is eerie, but cool ... it must've been mailed around the same day my mom was robbed."
"It definitely restores your faith in humanity," Carlotta wrote on Facebook. "If you can't pay it back, please pay it forward. Thank you to whomever you are for sending us this letter in a week I really needed to see the good in people. If you're reading this, hugs to you and wishing you the best."
Ray says he was most shocked by the former waitress' good deed because in the restaurant industry it's expected that some employees steal. "We catch people a lot ... [like] a bartender giving out free drinks to friends," he said. "It just is life in the restaurant business ... it's like stealing pens from your office."
Receiving money — plus interest — that unknowingly went missing 20 years ago was unheard of, he said. "I mean, who sends $1,000 in the mail? ... We know people worth millions who wouldn't have sent money."
Now that El Charro is $1,000 richer, the family is deciding what to do with the money. "We'll use it for the team, or future team or community in need," Ray says. "We had an employee who was tragically murdered in front of his son at a McDonald's drive-through in an act of road rage. We've thought about doing something in his name with the money."
He says he hopes whoever sent the mystery money and note sees the story and reaches out to reveal her identity. He says the envelope was postmarked Phoenix, but neither he nor his mother have any clue who the former waitress could be.
Thanks for reading CBS NEWS.
Create your free account or log in
for more features.