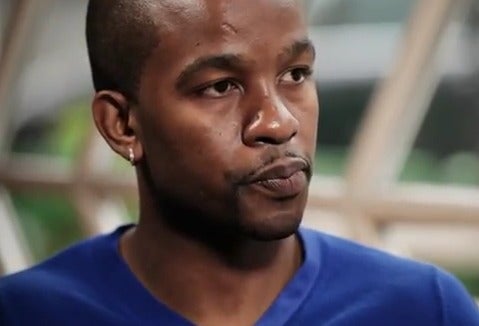 Former NFL player Wade Davis: I went to strip club to hide being gay
(CBS News) During his first training camp with the Tennessee Titans in 2000, defensive back Wade Davis was just one of the guys. He went through locker room hazing rituals. He played cards with star Jevon Kearse. He was invited to fellow DB Samari Rolle's wedding.
But Davis kept a secret in the locker room that he has only recently revealed in public - that he is a gay man. In an interview with OutSports.com and a videotaped sit-down with Amy K. Nelson of SB Nation (see interview below), Davis talked about what it was like being gay in the NFL.
"You just want to be one of the guys, and you don't want to lose that sense of family," Davis told OutSports.com. "Your biggest fear is that you'll lose that camaraderie and family. I think about how close I was with Jevon and Samari. It's not like they'd like me less, it's that they have to protect their own brand."
Davis, who also played for the Redskins and Seahawks and had a stint in NFL Europe before injuries derailed his career, said he kept his secret to protect his job. He vividly recalled a time when a Titans teammate warned him not to associate with another player who was perceived as "different" because it could jeopardize his chances of making the team. Davis said the comment "was like a lightning bolt that shot through my entire body" and it prompted him to go to great lengths to project a macho image.
"I can remember going out that night, going to a strip club, spending probably $1,500 just to make sure ... if they even had a glimmer of thought that I was gay, that I wasn't," Davis said. "I was willing to make it rain just like the rest of them were."
Davis, who first revealed he was gay to a coworker after his playing days, said his decision to come out was both "liberating" and "awful."
"(It was like) taking a scab off my entire body as aggressively and physically as I can," he said.
He said he decided to come out publicly because "there's an opportunity here to effect change in the world."
Davis now works at his "dream job" for a New York organization that serves lesbian, gay, bisexual and transgender youth and he also volunteers for President Obama as an advocate for the LGBT community.
No NFL player has ever come out during his career and only a handful have revealed they were gay after retiring from a sport where homosexuality is rarely discussed. However, several players - including Davis' former teammate Kearse - said they would have no problem with having a gay teammate.
"In the game of football, it's like a war out there," Kearse said last month. "Once you get out on the field, all that stuff is to the side. You're on my side. I played in the NFL for 11 years, I'm sure there were at least one or two guys along the line that were gay."
Thanks for reading CBS NEWS.
Create your free account or log in
for more features.