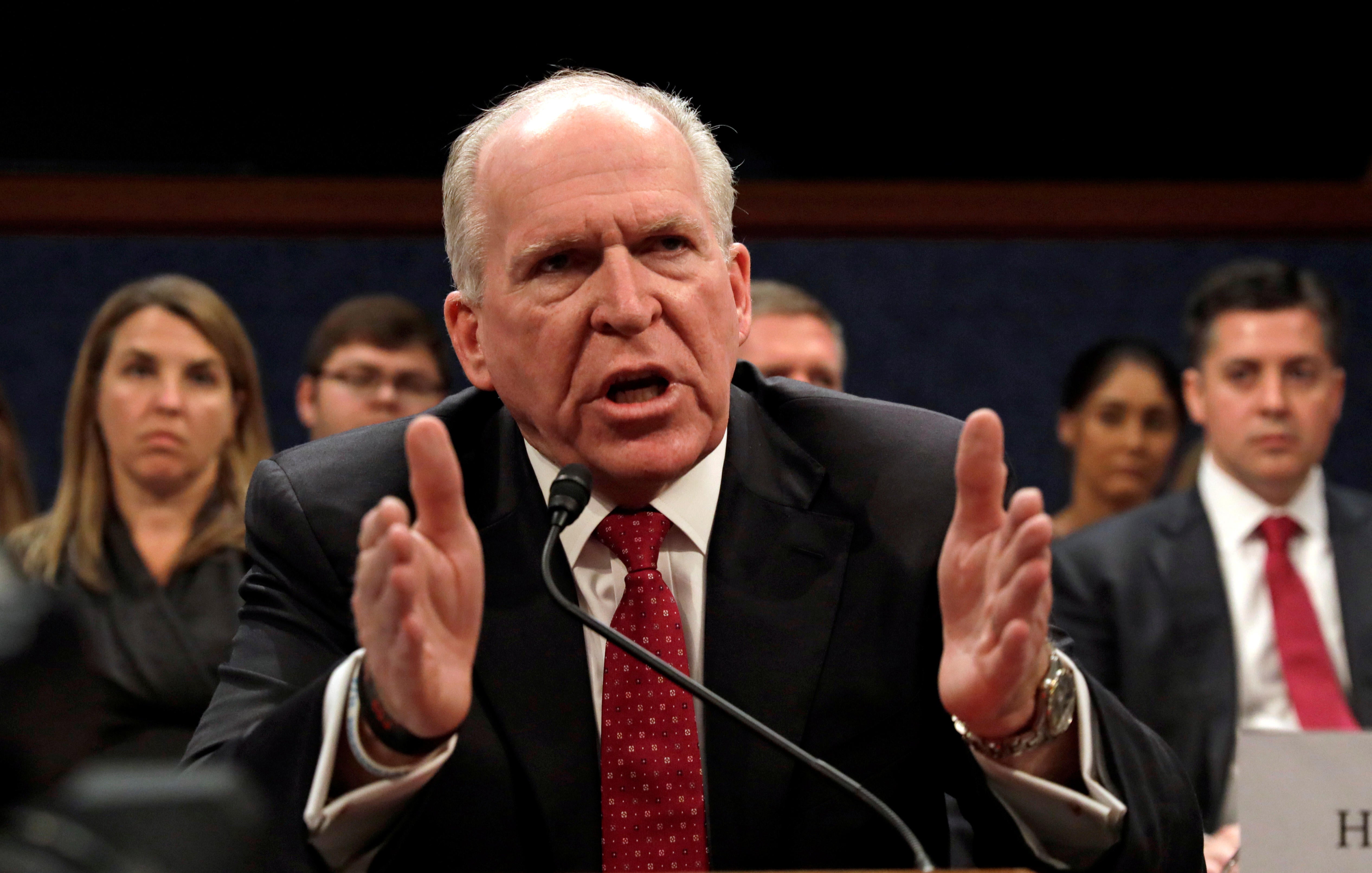 Former CIA chief says there were contacts between Russia and Trump aides
Former CIA Director John Brennan told the House Intelligence Committee Monday that Russia may have successfully tried to recruit U.S. persons to influence the 2016 U.S. election.
Brennan said he was aware of intelligence and information that revealed contacts between Russian officials and U.S. persons involved in the Trump campaign. He couldn't say, however, whether that the activities amounted to collusion.
Rep. Mike Conaway, R-Texas, chaired the hearing since the panel's chairman, Rep. Devin Nunes, R-California, recused himself from the Russia probe. Rep. Adam Schiff, D-California, is the committee's ranking member.
Brennan addressed questions in closed session afterward.This marks the committee's first open hearing the Intelligence Committee is holding since March when former FBI Director James Comey testified about Russia along with NSA Director Admiral Mike Rogers.
The White House has since commented after Brennan's testimony saying "This morning's hearings back up what we've been saying all along: that despite a year of investigation, there is still no evidence of any Russia-Trump campaign collusion, that the President never jeopardized intelligence sources or sharing, and that even Obama's CIA Director believes the leaks of classified information are 'appalling' and the culprits must be 'tracked down.'"
Follow below for live updates.
---
Brennan was asked what he would do if president requested that he stop investigation
The former CIA director said that he has never been asked that.
"I have never been asked that, and if I was, I certainly would not follow such a directive," he said.
Brennan says he's aware of intel that revealed contacts between Russian officials and U.S. persons involved in Trump campaign
Rep. Trey Gowdy, R-South Carolina, asked Brennan whether he saw evidence of collusion between the Trump campaign and Russia to interfere in the election. While Brennan said, "I don't know" whether there was collusion, he said he was "aware of information and intelligence that revealed contacts and interactions between Russian officials and U.S. persons involved in the Trump campaign that I was concerned about" because of known Russian efforts to suborn such individuals. He said it raised questions in his mind about whether Russia gained cooperation.
Brennan says Russia is watching Washington closely to exploit

The former CIA director warned that even though the election is over, Russia, and even President Vladimir Putin are watching Washington very closely in order to exploit the situation and further partisan animosity. He said they are trying to actively exploit it "to their benefit and our detriment."
Brennan says Trump might have violated two protocols in meeting with Russian officials
Schiff asked Brennan about the Oval Office meeting recently in which Trump reportedly shared classified intelligence with Russian Foreign Minister Sergey Lavrov and Russia's ambassador to the U.S., Sergey Kislyak. Brennan said that if the press reports are accurate, then it appears that the president violated two protocols. First, he said that intelligence is not shared with visiting foreign ministers or local ambassadors; it's shared through intelligence channels to ensure that it's handled correctly. Second, Brennan explained that before sharing classified information with foreign partners, it needs to go back to the originating agency to ensure that the language won't reveal sources or methods.
"Neither did it go in the proper channels nor did the originating agency have an opportunity to clear the language for it," Brennan said.
Brennan called the leaks "very, very damaging" and "appalling" and that the people responsibile for leaking the information "need to be tracked down."
Brennan says he was worried by contacts Russians had with Americans
Brennan was asked if he saw as CIA director intelligence that the Trump campaign colluded with Moscow.
"There was that the Russian intelligence services were actively involved in this effort," he said.
Brennan said that Russia has had a record of trying to get U.S. persons to act on their behalf "wittingly or unwittingly."
He said he was "worried" by a number of contacts Russians had with U.S. persons. By the time he left his post in January, he said he had "unresolved questions" in terms of Russians being successful in getting U.S. persons to work on their behalf.
Brennan responds to terror attack in Manchester
The former CIA director said that the U.S. has the "absolute best" counterterrorism community that does a "great job" of making sure the federal government is communciating with state and local officials and law enforcement. He said that he's seen a tremendous growth of capability and an enhanced architecture since 9/11 int erms of the ability to share counterterrorism information.
Brennan said he kept Congress informed about Russian meddling
The former CIA director said that he personally briefed congressional leaders between August 11 and November 6 last year.
Brennan spoke to FSB chief in early August and issued warning
He said that on August 4, 2016, he spoke to Alexander Bortnikov, who is the head of Russia's FSB. Brennan said that while the bulk of the call focused on Syria, he raised two additional issues with him -- continued harrassment of U.S. diplomats in Russia and reports about efforts to interfere in the U.S. election. Brennan said that he warned Bortnikov that if the campaign continued, it would backfire. He warned him that if Russia pursued it further, it would destroy any near-term prospects for cooperation between the U.S. and Russia and undermine engagements on issues on which they found common ground. Brennan said that Bortnikov denied that Russia tried to influence the election.
Brennan said Russian interference became "clear" to him last summer
The former CIA director said that it became "clear" to him last summer that Russia was engaged in an aggressive and wide-ranging effort to interfere in the 2016 election. He said that experts from key agencies had access to information so they could understand the full scope, nature and intentions of the hackers. Brennan said that experts provided updates through the fall.
Conaway says many stories about Russian interference are false or misleading
The panel's chairman, Conaway, said that stories about efforts by Russia to interfere in the election are false or misleading. He said he hopes Brennan provides insight about what he knew as CIA director.
Thanks for reading CBS NEWS.
Create your free account or log in
for more features.