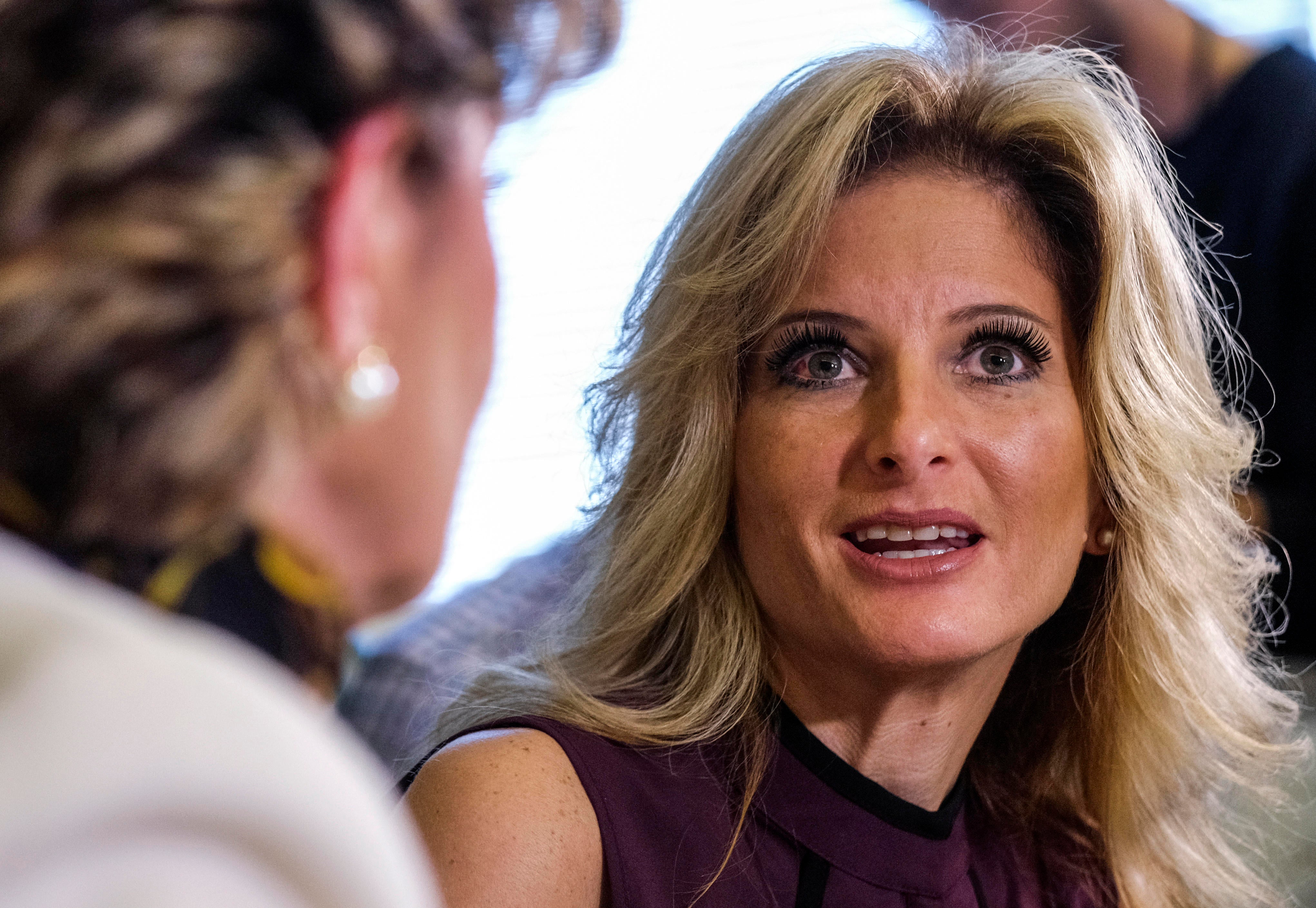 Former "Apprentice" accuses Donald Trump of sexual misconduct
Summer Zervos, a contestant from season five of NBC's "The Apprentice," became the latest of several women to accuse Donald Trump of sexual misconduct, saying that the GOP nominee kissed and groped her in 2007. By late Friday, the Trump campaign had found a cousin of Zervos who disputed her story.
In Los Angeles, accompanied by lawyer Gloria Allred, Zervos told reporters that after she had been on "The Apprentice" (she was the first contestant fired), she contacted Trump while she was in New York, hoping to meet with him about working for the Trump Organization. She was able to get an appointment with him at his office.
"When I arrived, he kissed me on the lips. I was surprised, but felt that perhaps that was just his form of greeting," Zervos said in a statement that she read, sometimes haltingly and and often with tears. Trump praised her intelligence and attractiveness and said "that he would love to have me work for him," according to Zervos. He promised to contact her a few days later, when he was in Los Angeles, then sent her off with another kiss on the lips. "This made me feel very nervous and embarrassed," Zervos said.
After that, Zervos agreed to meet Trump in Los Angeles, at the Beverly Hills Hotel. Trump, she said, greeted her with an "open-mouthed" kiss and pulled her towards him, then kissed her again and put his hand on her breast, as she attempted to push him away.
"Come on man, get real," she said she told him. Trump "thrusted his genitals" against her. He eventually stopped and their conversation turned to finances, she said. Their evening ended abruptly when he said he was tired, but he then asked her to meet him at his Palos Verdes golf course, Zervos said, and she wondered whether his advances had been "some kind of test," since it seemed he was still considering her for a job.
She was offered a job at the golf course by the course's general manager, but at half the salary she sought. Zervos said she called Trump and told him she thought she was "being penalized for not sleeping with him." Trump, she said, replied that he was golfing "and could not discuss this at that time."
She said she contacted him later and was told to send him a letter with the jobs in his organization she was suited for -- he later told her "he could not afford to hire me as he was laying off thousands of employees." While Zervos said she was disappointed, she said she harbored "no ill will."
When Trump was running for president, Zervos said customers at her Huntington Beach restaurant asked her about him, since they knew she had been a contestant. Her interaction with him in Beverly Hills, she said, "caused me a great deal of pain and anguish, and I felt the need to confront Mr. Trump and ask him to apologize to me for his behavior." She contacted his secretary in April to ask if she could reach him, but he never replied, she said.
Trump issued a statement late Friday afternoon saying he "vaguely remembered her" but denied Zervos' accusation.
"I never met her at a hotel or greeted her inappropriately a decade ago. That is not who I am as a person, and it is not how I've conducted my life," he said in the statement. "In fact, Ms. Zervos continued to contact me for help, emailing my office on April 14th of this year asking that I visit her restaurant in California."
Late Friday night, the Trump campaign released another statement, this time from someone said to be Zervos' cousin, John Barry, who said he was "completely shocked and bewildered by my cousin, Summer Zervos, and her press conference today."
He said she had had "nothing but glowing things to say about Mr. Trump," and added that for nearly a decade she would "talk about how much she looked up to Mr. Trump and viewed him as an inspiration." He also said that "Summer would also talk about how kind and caring Mr. Trump was on the show, and how he would even visit children in hospitals without telling the press."
Barry speculated that things changed after Zervos invited Trump to her restaurant in Huntington Beach, California during the primary "and he said no." He accused her of wishing she could be back on reality TV and said he imagined her actions are "nothing more than an attempt to regain the spotlight at Mr. Trump's expense."
The Trump campaign also released the email Zervos sent to Trump's secretary in April, a note she had told reporters about during her news conference. The email mentioned him in glowing terms -- and she said in the missive that her business is one in which "Mr. Trump's supporters can walk in, express their admiration for him and inquire about my experience."
"We hire a diverse crew and embrace anyone who is honest while working hard," the note read. "Mr. Trump is cut from the same cloth." She concluded, "I would greatly appreciate reconnecting at this time. He will know my intentions are genuine."
Several women have come forward to accuse Trump of sexual misconduct since a video emerged last week of Trump telling then-"Access Hollywood" host Billy Bush, "You know I'm automatically attracted to beautiful -- I just start kissing them."
"It's like a magnet. Just kiss. I don't even wait," Trump was heard saying. "And when you're a star they let you do it," he says. "You can do anything."
"Grab them by the p****," Trump says. "You can do anything."
Thanks for reading CBS NEWS.
Create your free account or log in
for more features.