For Boeing, It Takes a Village to Build a New Airplane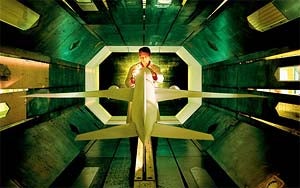 Preparing a model of the 787 Dreamliner for a wind-tunnel test. Boeing enlisted 100 of its suppliers to help design the plane.

Imagine for a moment that you're launching one of the most important products in your company's history. You plan to spend more than $8 billion to develop it, and it will take five years to design, test, and launch. In a universe of high-pressure projects, this one is about as intense as they come. Now imagine this: In order to meet aggressive deadlines, stay within your tight budget, and meet your strict quality-control requirements, your company has decided to let your suppliers design many of the product's most critical components.
Sound crazy? Not if you're Boeing, the leading U.S. manufacturer of commercial aircraft. In recent years, American aerospace know-how has migrated to international competitors; in 2003, Boeing lost its position as the global sales leader to Airbus, a European consortium. Yet instead of trying to compete with foreign expertise, Boeing decided to harness it by inviting 100 global suppliers to collaborate on the design, engineering, and manufacturing of the new 787 Dreamliner, the company's first all-new commercial airliner in 12 years.
A huge task, yes, but Boeing executives concluded that mass collaboration was the only way to create the kind of cheaper, more fuel-efficient jetliner that airlines want. The logic is simple: Boeing's key suppliers—including Mitsubishi, Kawasaki, Honeywell, and General Electric—develop plenty of products for other industries and international markets, and their collective expertise is invaluable. "It would be arrogant to think that all of the best ideas and best technologies exist within the walls of Boeing," Boeing spokeswoman Loretta Gunter says.
Traditionally, Boeing design teams created drawings and sent them off to suppliers, who then churned out parts and shipped them to Boeing's factory floor, where Boeing workers pieced them together. Boeing called the shots and only invited suppliers to participate in the development effort at the final stages. For the 787, however, the company turned that process on its head.
Engineers from all 100 companies spent countless hours in face-to-face meetings and systems tests during the earliest stages of the 787 design process. Using sophisticated database software, they shared plans online—chatting in real-time, accessing and revising each other's designs, even conducting real-time simulations to test for future problems and incompatibilities.
Still, Boeing managers took plenty of risk: They had to pick the right partners, find the right ideas, and create a collaborative environment to ensure that their partners met deadlines. In many cases suppliers were fierce competitors, yet Boeing managers worked hard to convince them that if too much proprietary information was held back, the financial consequences would be severe for everyone. "We compete, but for this project, we're all working towards the same goal: to build the best airplane," says Shawn Ryan, 787 program director at Rockwell Collins, an engineering firm that co-designed the flight deck.
The payoff was an impressive series of innovations, including a new wing made from lightweight composite material, which Boeing developed with Mitsubishi. Boeing also worked with Honeywell, Rockwell Collins, Hamilton Sundstrand, and Smiths Aerospace to design a new maintenance system that beams data about non-critical repairs to ground crews via satellite. Even the assembly process is revolutionary: key parts arrive prefabricated from suppliers and will fit together like giant Lego pieces.
Despite the complexity of the project, the Dreamliner remains on schedule and is on track to make its first flight in late summer 2007. Along the way, Boeing has shaved a year off the design process, and major assembly now takes place in about three days as opposed to two months. Meanwhile, the 787 has become the fastest-selling airplane program in history, with 473 orders—totaling $70.9 billion—since April 2004.
Anthony D. Williams, co-author of the book "Wikinomics: How Mass Collaboration Changes Everything," says Boeing's story points to a fundamental shift in the global marketplace: companies can no longer afford to rely solely on internal knowledge, skills, and capabilities to get big jobs done. "It's too expensive," Williams says. "They have to reach out to the world to find the best experts."
The Dreamliner forever changed how Boeing designs and builds new airplanes. "There's no way we'd go back to more traditional methods," Gunter says, providing further proof that crowdsourcing is already taking flight within corporate America.
Thanks for reading CBS NEWS.
Create your free account or log in
for more features.