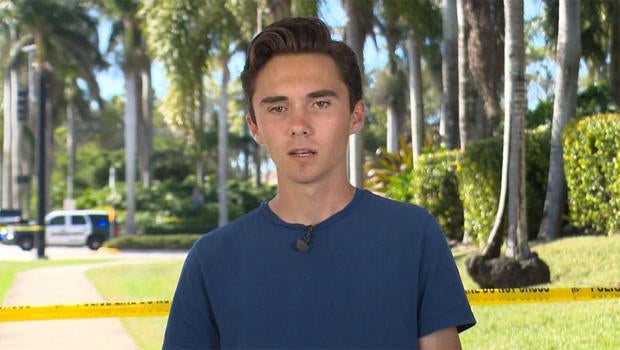 Fla. school shooting survivor David Hogg says: Speak out
What to say about last week's shooting at Marjory Stoneman Douglas High School in Parkland, Florida? We asked for the opinion of senior David Hogg, the head of the student TV station there:
I was in my environmental science class when the first gunshot echoed through the hallways. We never had an active shooter drill at my school, and though we did talk about what to do in this type of situation, nothing could have prepared us for this.
Politicians and, more importantly, the American public must take action if we're going to prevent the next shooting.
To elected officials I say this: Don't lie to us. Don't make any more false promises, because when you do, children die.
For the unfortunate individuals that were at my school, I ask that this be a time of togetherness, and something that is going to be always remembered, not only as a terrible incident, but as a turning point in American history, where students speak up and speak out when the politicians won't.
I understand the importance of interest groups, and how often times they're necessary to continue a political agenda. However, when that agenda involves putting the lives of children at risk, how can you justify that?
I support the Second Amendment. But for God's sake, how can we knowingly pass bills and laws that are in direct opposition to saving kids' lives? Sandy Hook … the Pulse nightclub shooting … the Las Vegas shootings, just to name a few.
What legislation was passed in response? The answer to that question is, little, if any.
This Presidents Day, I think it's important that we come together as a nation and see each other's viewpoints and respect each other as fellow Americans.
But, this tragic event must never be forgotten. Because once it is, there will be another one. And another one.
We need to stand up, go out and vote, talk to our legislators, and get educated. Be persistent. Because these interest groups and these politicians will not listen if we don't speak up.
So as American citizens, unite, and stand up in the face of division -- not any political agenda, but for the lives of millions of schoolchildren.

See also:
Thanks for reading CBS NEWS.
Create your free account or log in
for more features.