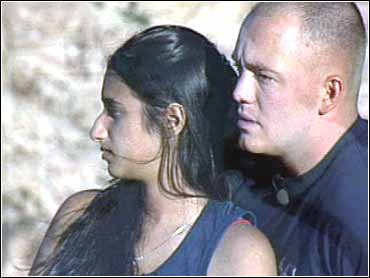 When Jason Johnson spirited Meriam al Khalifa out of her native Bahrain, the Marine and his beloved princess were finally together.
But as soon as they landed in Chicago, they were once again torn apart.
"I was just scared. I really didn't want to go back," she said.
U.S. immigration officials took al Khalifa into custody and charged her with entering the country illegally.
When she told officials she feared going back home, they granted her the right to stay but only temporarily.
Jean Sasson, who writes about the plight of women in the Middle East, said Meriam had good reason to be afraid.
"She's considered an unclean woman in their society, in the Islamic community," Sasson said. "She would either be locked away or possibly killed."
After three long days in jail, Meriam al Khalifa was released to Jason Johnson.
For al Khalifa, the Johnsons were a bit of a culture shock. For example, at her home, people don't talk while eating.
Days after meeting his family, Meriam al Khalifa married Jason Johnson.
This was no royal affair; it was strictly a Las Vegas style ceremony. Even after saying her vows, she could still be sent back to Bahrain and an uncertain future.
In her wildest dreams did she think she would ever get her family to accept Jason Johnson? "Never," she said.
She went to court. Her lawyer, Jan Bejar, asked the government to drop its charges of illegal entry.
"She does not believe that she can go back and be safe at this time," Bejar said. "All the woman did is try to leave a country that does not allow her to live with the person she wants to live with."



CBS

Meriam: maintains nothing will come between them


"If you love somebody and you care about them," said Jason Johnson, "that's something beautiful and something that should be kept."

Jason Johnson has paid a price for his devotion to his wife. He was court-martialed and demoted to private.

"I don't think this is anything that needs to be made a big international incident out of," he said.

At her hearing, U.S. immigration officials refused to drop their charges against her.

"She has a very definite fear of being persecuted in Bahrain," said her lawyer, who added that the sheika's only option is to ask for political asylum. Said Bejar: "She has broken certain rules that have embarrassed a very powerful royal family."

In Bahrain, Meriam's family told a different story, one of heartbroken parents who missed their daughter dearly.

The family asked their friend Qays Zu'bi tspeak for them. They say the matter is too private and painful for them to talk about publicly. "Meriam's family are loving, very warm family," he said.

"They were hurt to start with," the friend added. "They miss her. But they realize that she is a teen-ager."

Qays Zu'bi flatly dismissed any idea that Meriam al Khalifa's family would ever harm her.

When asked about the practice in some countries of what is called honor crimes, he said that does not happen in Bahrain.

The View From Bahrain

Many Bahrainis feel the publicity surrounding this drama has not accurately portrayed their county. They believe that their country is very modern; many women wear Western dress and are becoming more actively involved in the political system.

Bahrainis feel their country is tolerant of other religions. (Plus, there's a low crime rate; it's virtually drug-free and there's a high standard of living.) And family values count.

Some teens at the mall interviewed by 48 Hours would never think of disobeying their parents in serious matters. They thought Meriem behaved badly, though she shouldn't be published.


Less than one month after the hearing, the couple met with Qays Zu'bi.

He delivered a letter from al Khalifa's father forgiving her for eloping to the United States.

The letter did not mention her husband. But the father told the sheika if she wants to live in America, he now accepts it. And he assured his daughter she is always welcome home, without punishment or recrimination.

But Jason Johnson was skeptical. He didn't say her father would harm her; he added, "Her father cannot protect her all the time without keeping her locked in the house always under his eye and never allowing her to go outside."

Al Khalifa Johnson, touched by her family's letter, sent back presents, including a Britney Spears doll for her parents.

And she also sent her father a letter of apology.

Since her Las Vegas wedding, she has been living in military housing in Camp Pendleton, California.

With her husband working, she spends a lot of time alone. She's very happy but she misses her family, she said. Yet no matter how homesick she gets, she vows she will never leave her husband.

And no matter how much Meriam al Khalifa Johnson protests her royal status, in America, she is being treated like a rincess. "I'm a very simple person. And I want to have a simple life," she said.

She and her husband have posed for world famous photographer Patrick de Marchelier for a feature in the October issue of Harper's Bazaar.

And their next stop is Hollywood. The couple has secured a movie deal and is working on a book deal, said Jason Johnson.

Finally, after a great deal of legal wrangling, the U.S. allowed Meriam Johnson to become a U.S. citizen. The couple is confident that their story will have a happy ending. They plan to have babies. And they cannot imagine life without each other, they say.

Read how Meriam al Khalifa Johnson's case evolved.

© MMI, CBS Worldwide Inc. All Rights Reserved
Thanks for reading CBS NEWS.
Create your free account or log in
for more features.