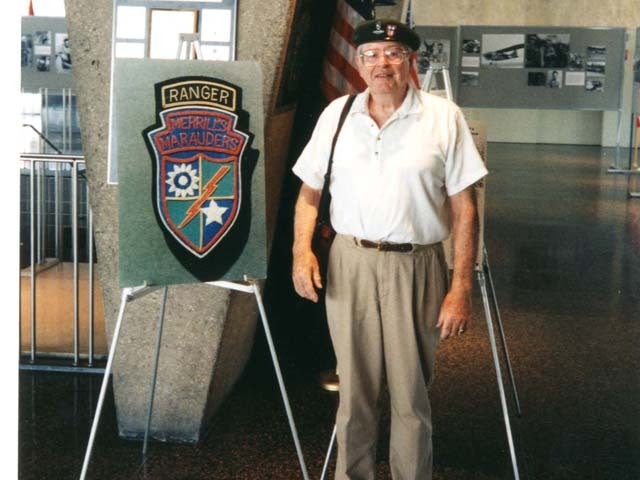 Fighting the Japanese in Burma, surviving malaria
Readers at CBSNews.com were asked to nominate their heroes for Veterans Day. If you know a hero, whether for conduct during a war or after, submit the detailshere.

---
Richard Bates found himself in his first battle as he got off the plane in Burma in 1944.
He was 18, from Cincinnati, and a replacement infantryman with the 5307th Composite Unit (Provisional), better known as Merrill's Marauders.
"When we landed in north Burma, we were under artillery fire from the Japanese," the retired high school principal said. "The first thing they said was, 'Get out of the plane and run to the edge of the airstrip.' So our first combat was the day we landed there."
Over the next months, he marched hundreds of miles through jungles, suffered from malaria and dysentery, lost more than 50 pounds and watched his socks and underwear rot away in the monsoon rains.
Later, after the bombing of Hiroshima, Japan, he returned home with nightmares - ones that returned many years later when he agreed to talk to high school students about World War II. Their questions sparked memories he had buried.
"Listening to a guy scream all night, and when you advance the next day, you find that he's right out there, and you may have been the guy that did him in," he recalled for an oral history project of The Wisconsin Veterans Museum Research Center in Madison, Wis. "And he's been shot in the groin, and he's bled to death and finally died of shock after screaming. Things like spending three days looking out there at that same corpse and watching it swell up and whatnot."
Bates, a technical sergeant in the Army, had been trained as a scout and later served as a non-commissioned intelligence officer. He and the 1,200 other men in his battalion took more than two-and-a-half months to surround the city of Myitkyina on the Irrawaddy River, where there was a Japanese supply base. They were living on K-rations, with few medical supplies and at first only their rifles to advance until mortars and machine guns arrived. They also were not very good because they had never fought together, he said.
"We had to worry about a lack of ammunition, and basically we just slept in the rain," he said. "We had no shelter from the rain."
The Merrill's Marauders earlier had captured an airstrip just outside the base. The plan was to destroy the base and cut off the supplies that were being transported west to India, but they were so weakened from casualties and disease that all they could do was hold on to the field, Bates said.
His and another battalion were rushed in as reinforcements, and he said they fought the way he imagined that the infantry fought in the First World War: advance a little, dig a hole, defend themselves and advance a little more. Their battles were mostly at night because that was when the Japanese tried to recover ground, but sometimes they called off an attack because they were running low on ammunition.
"Nobody wanted to have some Japanese come into your hole with a bayonet," he told the interviewer from The Wisconsin Veterans Center, Mark Van Ells, now a professor at Queensborough Community College in New York City. "I mean, we took bayonet training, but most of us figured that we never wanted to get involved in that sort of thing, to be honest."
By the time they succeeded in taking the city, his battalion was down to a little more than 300 men, he said. The majority of the Japanese died in battle.
The men suffered even more from disease than from injuries: Twice as many died from malaria or typhus or undetermined fevers, according to Bates. Medics would sometimes mark a dead man's toe "FUO," for "fever undetermined origin," he said. Bates finally landed in the hospital, unconscious from cerebral malaria and amoebic dysentery.
The men wore canvas leggings to keep the mud out of their shoes and the leeches off their legs when they went through rice paddies, he said. It was so wet that their underwear and socks disintegrated.
"The only way we could get cleaned up was to get some water out of a rice paddy and kind of soak our clothes in it and shake them out and put them back on to get the mud off," he said. "The fortunate thing for us is we were young."
After the Allies reopened a route to China, Bates was sent to Hunan province to train soldiers of the Kuomintang in the use of the American weapons.
"The poor Chinese soldiers," he said. "Chiang Kai-shek and his people were just drafting people who had no weapons training at all. And so that's what we were there for. And we were there until the war ended with the dropping of the atomic bomb."
Bates, 88, met his wife, Joyce, at a dance in Cincinnati after the war and later became a school teacher and then a principal in Baraboo, Wis. The couple has six children, one of whom, R. Alan Bates, a circuit court judge in Wisconsin, nominated his father for this story.
In 2004, Bates wrote a book about his war years: "Memories of Military Service: A Teenager in Burma."
"He has made me proud my whole life," R. Alan Bates said.
Thanks for reading CBS NEWS.
Create your free account or log in
for more features.