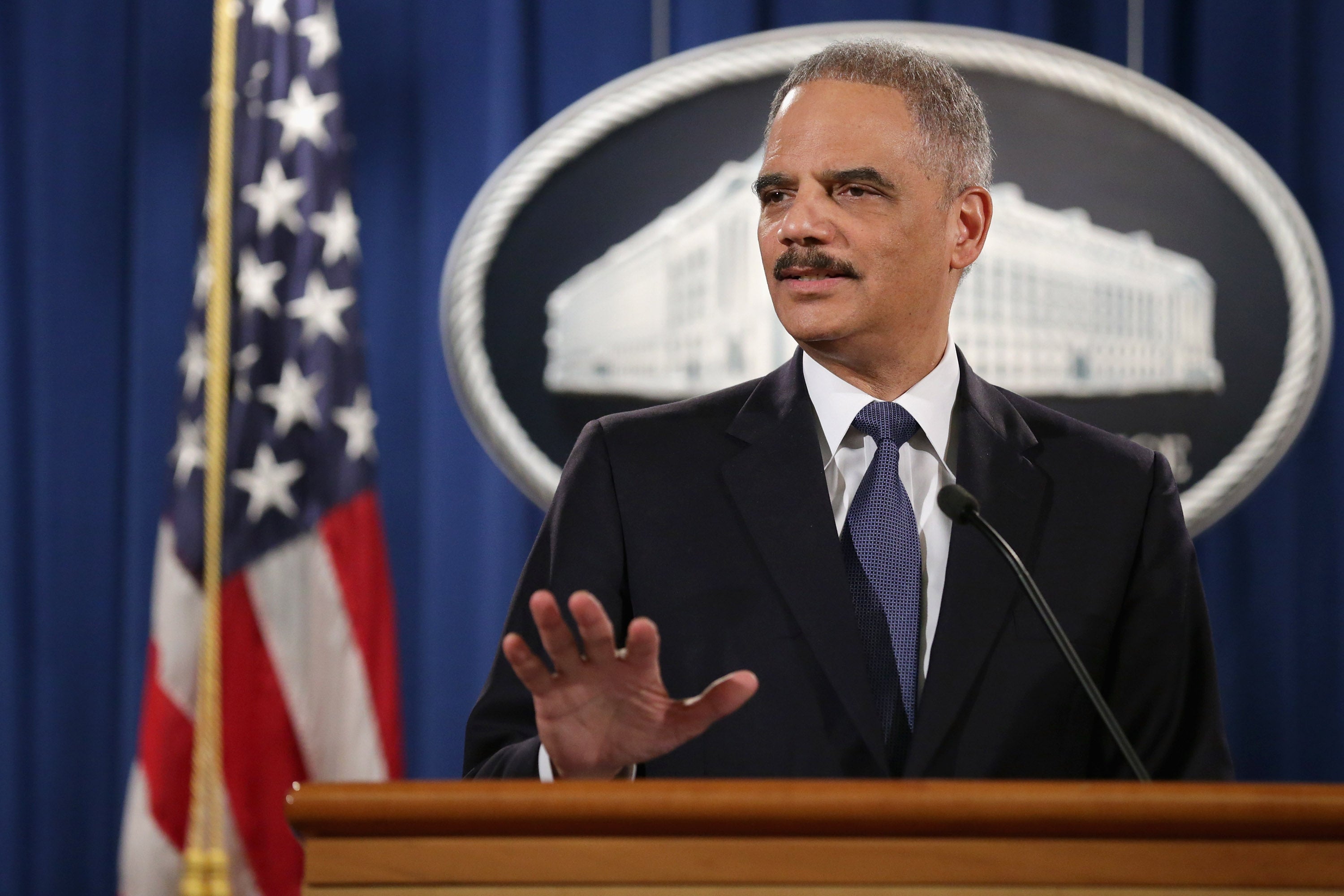 Eric Holder: "Implicit and explicit racial bias" in Ferguson policing
Attorney General Eric Holder said Wednesday that "implicit and explicit racial bias" in the Ferguson, Missouri police department created the atmosphere for the intense and angry reaction of the community after unarmed 18-year-old black teenager Michael Brown was shot to death over the summer.
The Justice Department (DOJ) announced earlier in the day that it would not prosecute Darren Wilson, the officer who shot Brown. He was similarly cleared by a grand jury in November. At the same time, however, the department released a scathing report that found evidence of disproportionate use of force toward blacks by the city's police department.
"This investigation found a community that was deeply polarized; a community where deep distrust and hostility often characterized interactions between police and area residents," Holder said. He described Ferguson as "a community where local authorities consistently approached law enforcement not as a means for protecting public safety, but as a way to generate revenue. A community where both policing and municipal court practices were found to disproportionately harm African American residents. A community where this harm frequently appears to stem, at least in part, from racial bias - both implicit and explicit."
The "highly toxic environment" created by years of problems explains why Ferguson was set off "like a powder keg" after Brown's death, Holder said.
The attorney general attributed the lack of trust in the community to "numerous constitutional violations by their law enforcement officials including First Amendment abuses, unreasonable searches and seizures, and excessive and dangerous use of force; exacerbated by severely disproportionate use of these tactics against African Americans; and driven by overriding pressure from the city to use law enforcement not as a public service, but as a tool for raising revenue."
Holder said the department interviewed and re-interviewed more than 300 residents as part of its investigation, and analyzed statistics about citations and arrests and work emails from the department.
He cited several examples, including a woman who had paid fines well in excess of the parking tickets that she owed and was still arrested for having unpaid tickets, and a man who lost his job after an officer searched him without cause and then arrested him after he objected. The Ferguson police department's use of Tasers, Holder said, was "not merely unconstitutional, but abusive and dangerous."
The DOJ report found that nearly 90 percent of incidents of use of force were directed against African Americans. They make up just 67 percent of the population, yet account for a little over 85 percent of all traffic stops. Police dogs, Holder said, appear to have only been used against black members of the community.
"Our review of the evidence found no alternative explanation for the disproportionate impact on African American residents other than implicit and explicit racial bias," he said, citing email remarks made by police, city and court officials that were racist or discriminatory by gender.
"[A]lthough some community perceptions of Michael Brown's tragic death may not have been accurate, the widespread conditions that these perceptions were based upon, and the climate that gave rise to them, were all too real," Holder said.
DOJ has issued recommendations to both the Ferguson Police Department and the Municipal Court that include using community policing; increased tracking, review and analysis of police stops, searches, ticketing and arrest practices; and better ways to respond to accusations of officer misconduct. The department also said the court system should modify its bond amounts and detention procedures, and end the use of arrest warrants as a way of collecting fines and fees owed to the city.
"It is time for Ferguson's leaders to take immediate, wholesale and structural corrective action. Let me be clear: the United States Department of Justice reserves all its rights and abilities to force compliance and implement basic change," Holder said.
Thanks for reading CBS NEWS.
Create your free account or log in
for more features.