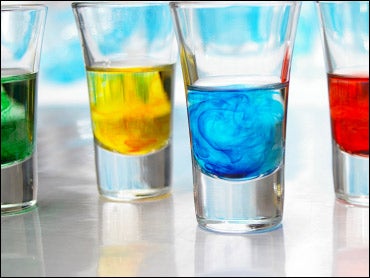 FDA Urged To Ban Some Food Dyes
A consumer advocacy group called on the Food and Drug Administration Tuesday to ban the use of eight artificial colorings in food because the additives may cause hyperactivity and behavior problems in some children.
Controlled studies conducted over three decades have shown that children's behavior can be worsened by some artificial dyes, says the Center for Science in the Public Interest. The group noted the British government is successfully pressuring food manufacturers to switch to safer colorings.
Over the years, the FDA has consistently disputed the center's assertion. The agency's Web site contains a 2004 brochure that asks the question: "Do additives cause childhood hyperactivity?"
"No. Although this hypothesis was popularized in the 1970's, well-controlled studies conducted since then have produced no evidence that food additives cause hyperactivity or learning disabilities in children," the agency said.
Julie Zawisza, an FDA spokeswoman, said Tuesday that color additives undergo safety reviews prior to approval for marketing and that samples of each artificial coloring are tested. She said the agency reviewed one of the studies that the center cites in its petition calling for a ban.
"(We) didn't find a reason to change our conclusions that the ingredients are safe for the general population," Zawisza said. "Also note that the European Food Safety Agency has a similar view."
Food manufacturers agree with the FDA's claim that food dyes are safe, telling CBS News: "There is no need for consumers to alter their purchasing and eating habits."
But Beth Tribble says her 9-year-old Michael experienced hyperactivity, impulsivity and restlessness for years - until the minute she removed the dyes from his diet, reports CBS News correspondent Nancy Cordes.
"There is no purpose for these dyes to be in our food," Tribble said.
---

Read Nancy Cordes' blog about food dyes.


---
Whole Foods and Trader Joe's claim their products have none - but in most supermarkets, dye-filled foods can be hard to spot, reports Cordes.

Dyes are used in countless foods and are sometimes used to simulate the color of fruits or vegetables. The additives are particularly prevalent in the cereals, candies, sodas, and snack foods pitched to kids.

"The purpose of these chemicals is often to mask the absence of real food, to increase the appeal of a low-nutrition product to children, or both," said the center's executive director, Michael F. Jacobson. "Who can tell the parents of kids with behavioral problems that this is truly worth the risk?"

The center's petition asks the FDA to require a warning label on foods with artificial dyes while it mulls the group's request to ban the dyes outright.

Robert Brackett, chief science officer for the Grocery Manufacturers Association, said the overwhelming majority of scientific evidence confirms the safety of certified food dyes.

"Based on these findings, there is no need for consumers to alter their purchasing and eating habits," Brackett said. "They and their children can safely enjoy food products containing these food colors."

The colorings the center seeks to ban are: Yellow 5, Red 40, Blue 1, Blue 2, Green 3, Orange B, Red 3, and Yellow 6.

Thanks for reading CBS NEWS.
Create your free account or log in
for more features.