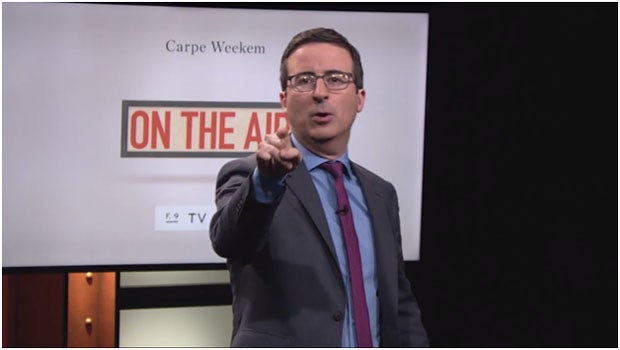 John Oliver's rant about net neutrality crashes FCC site
The Federal Communications Commission's Web site buckled under heavy traffic, after comedian John Oliver called for all the Internet's trolls to focus their "indiscriminate rage in a useful direction."
On his weekly show, "Last Week Tonight," Oliver may have been trying to get some laughs -- like any good comedian -- but his 13 minute skit about net neutrality hit on some key points that both net neutrality activists and major Internet companies have been fighting for.
"The Internet is a weirdly level playing field and startups can supplant established brands," Oliver said in the segment, praising it as a key to innovation.
The clip, made available on YouTube, was shared widely on Twitter and garnered over 900,000 views in its first two days. The Sunday night HBO program was watched by 1 million viewers during its first airing and 1.2 million including repeats, according to zap2it.
Net neutrality has been a hot button topic for Internet activists since the FCC regulations set in 2010 were thrown out by a federal appeals court in January. When a draft copy of revised FCC regulations was leaked which seemed to allow the establishment of an Internet "fast lane," FCC Chairman Tom Wheeler found himself in hot water. Amid cries from Internet activists, the FCC also received an open letter from over 100 tech companies, which called the proposed rules a "grave threat" to both innovation and free speech.
As protesters chanted outside, the five FCC commissioners voted 3 to 2 to release their proposed Internet rules to the public, allowing a 120 day period for people to comment.
"This may be the moment you've spent your whole life looking for," Oliver said on his show. "This is the moment you were made for, commenters." His fans rallied to the call and overwhelmed the FCC Web site, prompting the FCC to tweet that it was experiencing technical difficulties.
We've been experiencing technical difficulties with our comment system due to heavy traffic. We're working to resolve these issues quickly.

— The FCC (@FCC) June 2, 2014
We're still experiencing technical difficulties with our comment system. Thanks for your patience as we work to resolve the issues.

— The FCC (@FCC) June 2, 2014
However, that did not deter the commenters, as the show's Twitter account suggested yet another website they could go to.
Thanks for reading CBS NEWS.
Create your free account or log in
for more features.