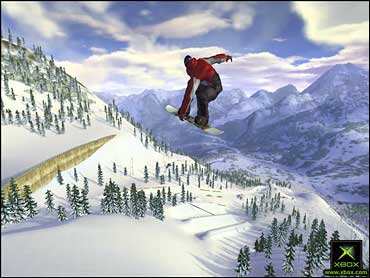 Favorite Video Games 2003
My kids and I have been sitting for several weeks amidst a massive pile of the latest video games, trying to determine which new entries would qualify for our list of the best games of 2003. My basic (and highly subjective) criteria for selecting games were the originality of the concept and the execution of the game, the joy I had in game play, and the quality of graphics. However, I relied on a more scientific and objective approach when studying the reaction of my key collaborator: game expert and lead evaluator, son Teddy, age 7. The more thoroughly immersed he was in the game, the better it was. Most of the games below turned us both into complete zombies, and with that image in mind, let me commend these to you as great selections for the holidays.
First, I must again mention that the whole family was completely enamored with the PlayStation Eye Toy, which we spoke about several weeks ago. This is a combination video camera and game pack, which allows gamers to see themselves interacting in dynamic video games. Instead of sitting like zombies on the couch, the Eye Toy game get players to actively engage in imaginative interactive play. It is hysterical watching the kids frantically "wash windows" or "play soccer" as their image interacts on screen with whatever the computer game platform throws at them. Sadly, the video camera doesn't provide the high quality image it should but, with about a dozen game-lets, what do you expect for $49 bucks?
In the spirit of family fun and interactivity, two wonderful "Karaoke" game packages are truly extraordinary. Also for Playstation2, Konami has just introduced Karaoke Revolution and it is one heck of a fun game. The game comes with a microphone that attaches to your controller. There are different modes of "play", but fundamentally, each "singer" faces the crowd and as you "step up to the mic" the crowd evaluates how well you perform. The 35 songs on the game disk are great karaoke selections and the game shows you dynamically not only the words you are murdering but how badly you keep a tune. The game is judging and scoring each musical phrase you sing and it is remarkably tough but fair. I found that for people who might be completely tone deaf (for instance, let us just hypothetically suggest someone like my wife, for example) they can actually dynamically see where they meandered off key and where their voice should be to get the audience from throwing stuff at you. I seriously believe that schools will soon use this game to help kids learn how to sing! I know your family will have a great time with this one.
The second amazing Karaoke game, Microsoft's X Box Music Mixer, is more ambitious than just another Karaoke experience. You can use the software for a variety of media playing, featuring visualizers for music, with visual effects; media players for both music and photos on the X Box; a media player for music you've uploaded onto your X Box device. But all these extras are trivial compared to the coolest part of the "Music Mixer," which is unique technology that Microsoft has incorporated into its Karaoke player. Put in your favorite CD, push the right button (heck, you really need to read the manual here, sorry), and the Xbox automatically strips out the vocals of, say, Bruce Springsteen, letting you attempt to sing "Thunder Road" with the E-Street Band. This is an astonishing, and frankly, largely humiliating experience as you discover that your perfect singing-in-the-shower-voice does not really translate so well when you are actually singing with an amazing back-up band. You have to try this to truly appreciate the technological triumph here, because stripping off the main vocals isn't the worlds easiest task. Nevertheless, Xbox Music Mixer does this quite well. There are also about a dozen tracks with words and Microsoft has done a good job finding music most people would enjoy embarrassing themselves to sing.
I've found that Electronic Arts (EA) offers the most consistently beautifully produced and conceived games and one of my favorites for this season is Harry Potter Quidditch World Cup (for Xbox ). For any of you trapped on a desert island for the last decade, Quidditch is a game played by the wizards and witches flying on broomsticks at Hogwarts School. The graphics here are exceptional and EA has done an astonishing job taking a completely fictional and fanciful game involving "catching the golden snitch" and nutty stuff with "beaters" and "chasers" and turning it into a compelling videogame that is actually interesting and fun to play. The characters actually look completely like the characters in the movie and you feel, after a while of playing, that somehow you have ended up bewitched inside one of JK Rowling's fabulous fantasies.
Before you run out and purchase a copy of Tokyo Xtreme Racer 3 for PlayStation 2, understand why I am even including this on my list of great games. I do not find the game particularly exceptional; in fact, there are several other driving games that we have found to be a lot more fun. What is extraordinary about this game is what it shows about how insane it must be to drive a real car in Japan. It seems that the joy of Tokyo Xtreme Racer primarily relies in the fantasy of wide open and empty highways. You can just see frustrated residents of Tokyo, after hours of painful bumper-to-bumper commutes, driving high-speed along hyper realistic looking highways just to expiate their fury at their horrendous commute. The game offers "200 miles of faithfully re-created roads, made to look and feel just like the real roads of Japan" and a variety of cars (not all Japanese makes) to choose from. I enjoyed playing this game simply because it is, I hope, the closest I'll ever get to driving in the slog of Tokyo traffic.
Project Gotham Racing 2(MICROSFT GAME STUDIOS) X Box
Now, this is a driving game that really puts the pedal to the metal. As opposed to the hyper-realism (frankly "depressing realism") of the Tokyo Xtreme Racer, this driving fantasy game puts you behind the wheel of more than 100 automobiles you're highly unlikely to ever own. And the scenarios are equally unusual: flying down familiar venues in Florence, Italy or Washington, DC, or Chicago. One of the coolest things about this racing game is how you can customize the music you listen to as you smash from one wall to the next. In addition to many music tracks on the game, Microsoft has released three accompanying cds with driving music with a hip-hop, alternative, or Latino sound. From Microsoft Game Studios for X Box.
I'm not much of a sports fanatic but two XSN has two interesting titles for Xbox that can do much to counter that apathy. Top Spin lets you play tennis with the pros, at least 16 of the world's top tennis stars. Their style and mannerisms are so faithfully captured that, if you are a lousy tennis and game player as I am, you'll have your players having intense emotional outbursts on the court. But, with a little practice, Top Spin becomes a tough, intense, battle of skills and wills on the courts. The courts are set in extraordinarily beautiful and familiar locales and it adds to the pleasure of playing aggressive tennis (while lying in the comfort of your couch.)

One of the most addictive sports games has to be Amped 2, for Xbox. I don't know how to snowboard for real yet, but I'm planning my future as a freestylin'-big-air-tricked-out aerialist using this visually stunning game. The experience of going downhill is so akin to my memories of skiing that it's just a pleasure gently making my way down the mountain. You'll love the spirited acrobatics of high-flying snow board tricks and it doesn't take much practice to become good enough to have a great time. I especially like this kind of downhill experience as wind-chill and frostbite aren't much of an issue and it's relatively hard to crash into a tree when you are sitting on your butt playing video games.
Speaking of high flying, I heartily recommend Crimson Skies: High Road to Revenge for Xbox. This is a fantasy flying game, set in what seems like a parallel universe. Microsoft Studios does a great job with the graphics and flight experience with this game and you do become intrigued with the somewhat stylized storyline. The game is set in an exotic island hideaway, sometime between world wars, where smugglers and air pirates vie for power. I couldn't really spend much time worrying about the back-story: I was busy flying for dear life through narrow canyons at astonishing speed shooting up everything in sight. The flying is so much fun and the setting is spectacular. You do get caught up in the drama of chasing after bad guys and fleeing to safety when your craft is damaged.
Extreme sports legend Tony Hawk lends his name and talent to an amazing and entertaining skateboarding adventure, Tony Hawk's Underground. The game is available on most gaming platforms and it deftly combines traditional extreme skateboard play with more unusual "off the board" interactions with people in the various scenarios. Your goal is to work your way up through the ranks to become a premiere skateboard 'artiste.' There are hostile gang members and bullies who terrorize other skateboarders so sometimes you have to get off your board and help them out. You begin in somewhat depressing circumstances: in raw, rough, industrial and working-class neighborhoods. It's fun playing with multiple players, tagging and chasing after each other, for example. I particularly enjoy surreptitiously hanging on to the back of police cars and being taken for a joyride around the neighborhood. There is even a way for you (if you are using the PlayStation version) to create and add a highly customized character of yourself into the game based upon digital photographs that you supply. For Xbox, PC, PlayStation2, Nintendo GameCube and more.
One of the coolest devices I have played the Tony Hawk's Underground game on is a new and remarkable device from Nokia called N-Gage. The N-Gage is a fascinating combination of a phone, an organizer, and yes, a seriously ultra-portable gaming platform. You'll need to open the unit to slide in individual game chips every time you want to play a different game and that can be somewhat annoying. But my kids had a great time using N-Gage's wireless Bluetooth capabilities to play with two of these devices each competing against each other for skateboarding dominance. There are a handful of cool games that you can use with the N-Gage phone: a unit clearly targeted at affluent 18 to 25 year olds.

In the more violent category, for "Teens: there are several games that I enjoyed. One of them Spyhunter 2 puts you in high-tech fantasy "counter intelligence" vehicles (whatever that means) as you race wildly through enemy encampments with hostile sorts shooting you at every turn. And there's a spy ship you also command as you complete a series of fairly rough shoot 'em up missions. I found the devices imaginative but the plot line kind of thin. Still, I enjoyed Spyhunter 2. (For Nintendo GameCube, PlayStation2 and Xbox.)
One of the most remarkable and somewhat controversial games is the free PC game America's Army . Some ingenious officers in the U.S. Army designed this game as a stunning recruitment tool, available for a free download and the game has caught on in a big way. I happily confess that I love playing this game and find its design remarkable. Several critics found the violence in the game disturbing even though the designers eliminated blood and gore frequently seen in other "Teen" titles. The reason some find this game more unsettling than most is that it is exceedingly realistic. The developers took pains to simulate real combat training and experiences that give participants a highly realistic sense of true combat. Weapons training is similar to the real training. Players must systematically work their way through the training regime largely in the same order they would if they truly were in America's Army. The sniper school and special weapons areas are exceedingly accurate in many respects.
Players who misbehave, for example, and "frag" fellow soldiers are tossed into the stockade. But one of the most remarkable aspects of America's Army is a fascinating medic training "course." Gamers, in order to advance, go through a rather intense and medically accurate series of classroom training seminars and must successfully complete tests to continue. I thought the entire enterprise of the US Army entering the game space fascinating and hundreds of thousands of gamers are playing this extraordinary "game."
Want to shed a little light on your gaming? Try Konami's Boktai: The Sun Is In Your Hand. It's a solar-powered game cartridge for your Game Boy Advance, which requires sunlight for the best possible play on your part. We like the fact that the game is built around a vampire theme… very funny, when you consider that the more sunlight you let hit the game, the more powerful you become and the less powerful your enemies become. A nice touch.
All in all, there's plenty of good choices for your holiday gift list. As for my family, please consult the above list and buy me and my children some fun games that are NOT listed here. We hate to double up, you know.
By Daniel Dubno
Thanks for reading CBS NEWS.
Create your free account or log in
for more features.