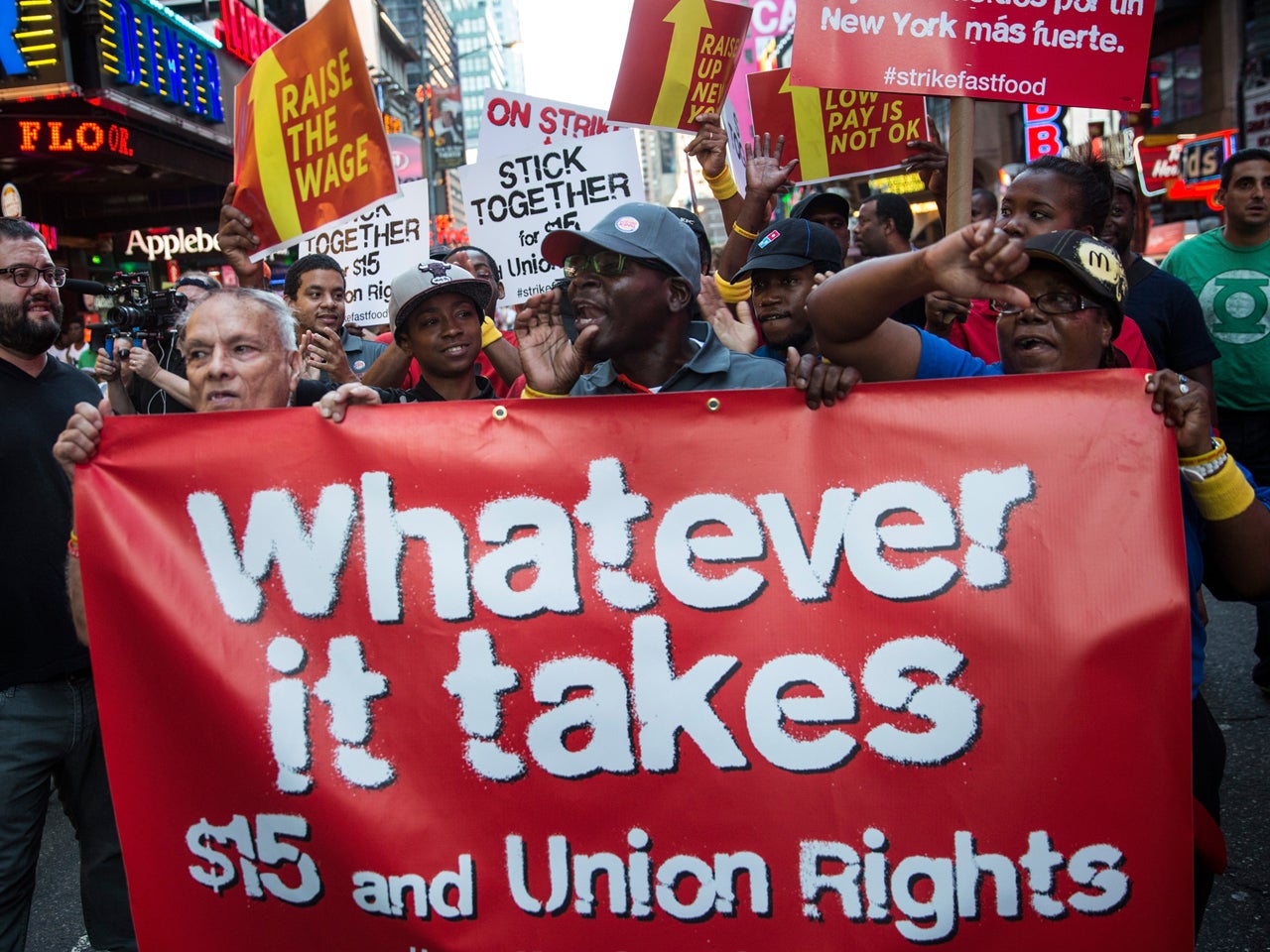 Fast-food workers strike across country, arrests made
Fast-food workers who say they aren't lovin' their wages are striking today in 150 cities to gain support for earning $15 an hour.
The workers, organized under the "Fight for 15" banner, said they are taking a page from civil-rights leaders such as Martin Luther King, Jr. and Rosa Parks, tapping into peaceful civil disobedience tactics to heighten the protest's impact. Home-health aides also joined the demonstrations, indicating the push for higher wages is spreading to other low-wage occupations.
At a McDonald's in Manhattan's Times Square, protestors briefly blocked a street. Several blocks away, more than 100 workers and labor activists gathered in front of a McDonald's near Central Park. As police sought to contain that demonstration, arresting three protestors who tried to disrupt traffic, protestors waved signs that said "McDonald's Won't Listen" and "On Strike to Lift My Family Up."
"We're not indentured servants... what they're giving us isn't a living wage," said Dijon Thornton, 23, a cashier at a Wendy's restaurant in the Harlem neighborhood of Manhattan. "We deserve $15 an hour and a union, and I just wanted to bring awareness to that."
"We're out here today because we're experiencing things such as wage theft -- them telling us to clock out early, all of our hours not showing up in our paycheck," he added.
Inside the McDonald's that Thornton and others were picketing, business proceeded largely as usual, although security seemed tighter than normal. A store manager declined to answer questions, saying, "I can't talk to you."
While some may be sympathetic to their pleas, the protest also drew responses from police in many cities, with arrests reported in Detroit, Chicago and New York. As of mid-afternoon, 436 people had been arrested, according to Berlin Rosen, a public relations firm that worked with labor groups to stage the protests.
Protesters blocked a street in Chicago, forcing police to reroute traffic, according to a CBS News report. After one car leaving a McDonald's (MCD) drive-through wasn't allowed to pass, police arrested at least four demonstrators.
Protest organizers also told CBS MoneyWatch 21 workers were arrested in New York City and "dozens" were arrested in Detroit.
Today's strikes intensify a two-year-old movement that's been picking up strength, with fast-food workers arguing that their low pay makes it difficult to cover even basic necessities.
"I need to help my mother. We can't afford the rent," said Marlon Rodrigues, 18, who earns $8 an hour working at a McDonald's in Manhattan. His mother also works for the chain at another local franchise.
Ken Blackman, a Popeye's cook, told CBS MoneyWatch before the protests that he is "barely getting by." He said the most money he'd ever taken home in his paycheck was $260. "If we work hard, we shouldn't have to struggle. There are millions of us working hard who are struggling."
Blackman, 23, said he makes $7.25 an hour, pay that matches the federal minimum wage. But that barely allows him to cover his basic expenses, such as food and housing, and leaves little left over for anything else. He planned to strike in Milwaukee, where he works, today.
"We've got kids we have to take care of, and it's really depressing when you can't buy the proper shoes you need for your kids," he noted. His son is 8 and just started third grade, he added.
The strikes come as Americans increasingly deal with the impact of the country's widening income gap. Nowhere is that more apparent than in the fast-food industry, where chief executives take home $1,000 for every $1 earned by their average workers, according to a recent study from public policy group Demos. While the average fast-food restaurant CEO has seen his pay more than quadruple since 2000, the average restaurant worker has eked out wage gains of only 0.3 percent.
The protests are making a difference, notes Kendall Fells, the organizing director of Fast Food Forward.
"Back when this campaign first started, people thought there's no way you'll ever get that," Fells said. "Fast forward two years later, to see $15 in Seattle, it's not crazy anymore," he added, referring to Seattle's new $15 minimum wage.
In an emailed statement, McDonald's said, "We respect everyone's rights to peacefully protest. The topic of minimum wage goes well beyond McDonald's -- it affects our country's entire workforce."
It added, "We believe that any minimum wage increase should be implemented over time so that the impact on owners of small and medium-sized businesses -- like the ones who own and operate the majority of our restaurants -- is manageable."
- Alain Sherter contributed to this report
Thanks for reading CBS NEWS.
Create your free account or log in
for more features.