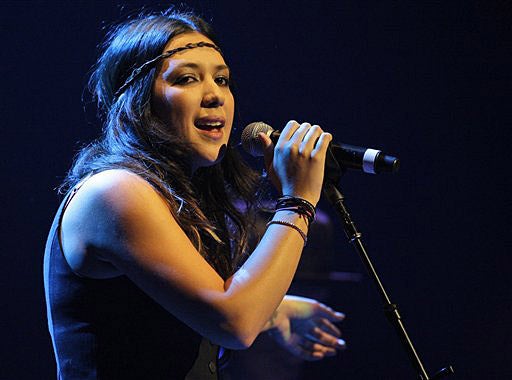 Fans, Family Remember Selena
Although it's been seven and a half years since Selena, one of Latin music's most popular performers, was murdered, her music continues to draw fans. And now, a new set of CDs combines her greatest hits with some previously unreleased songs.
The 23-year-old Texas native had just recorded her first English language album and was poised to become a crossover success when her death turned her into a legend. Her Spanish language Tejano music had already earned her a Grammy and millions of fans.
Now, her family and her label, EMI Latin, is releasing a nine-CD collection, entitled "Selena Remembered: 20 Years Of Music," as well as a brand new greatest-hits album titled "Ones."
"Selena Remembers" are re-releases of her original albums. Each album has been remastered and includes spoken liner notes from family and friends, extra cuts, photos and videos, said Selena's father Abraham Quintanilla on The Early Show.
"Ones" has 19 hits and a new Selena medley titled, "Con Tanto Amor." For this, Selena's vocals were lifted from three tracks, and a beautiful ballad background was placed behind them. "Ones" also includes a separate DVD of 13 of Selena's music videos.
Selena's husband, Chris Perez, said the Latin pop star was one of those artists whose personality came across on video, so the collection offers potential fans an opportunity to get to know the type of person she was.
"This is the real person that is being shown to you on the video," he said. "That's what I get...when I see it. And the memories for me have become really sweet. Being able to watch these things. It took me awhile to, you know, be strong enough to watch them and to feel them from a different perspective. And these days I can do that. And I think it's a good thing."
Selena's fan base is still pretty strong. Her sister Suzette Quintanilla noted even kids who were not even born when she passed away, are into her music.
"We have a museum in Corpus Christi and you see all these different people of different nationalities walking in and it's just incredible how many people she's touched and she's still touching. And you know, a lot of it is, a lot of the younger like 4- or 5-year-olds come up and they say...'I love Selena.' You're like, wow, because they weren't even here when she passed away. So it's pretty incredible now her legacy is continuing," she said.
Her father said he believed Selena was poised to be a big star from day one. "Look at Billboard magazine. She's still competing against the top artists."
Selena found crossover stardom in death with "Dreaming of You," a collection of hits released four months after her shooting. It debuted at No. 1 on Billboard's pop album chart, making her the first Latina to accomplish that feat.
The following are her awards:

1987 - Tejano Music Awards for best female vocalist and performer of the year
1993 - Grammy Award for best Mexican -American album, for "Selena Live"
1995 - Grammy nomination for "Amor Prohibido" (Forbidden Love)
1995 - Tejano Music Awards for song of the year ("Bidi Bidi Bom Bom"), best female entertainer, best female vocalist, album of the year ("Amor Prohibido"), Tejano crossover song, and record of the year. Sold over 3 million albums before her death.
Thanks for reading CBS NEWS.
Create your free account or log in
for more features.