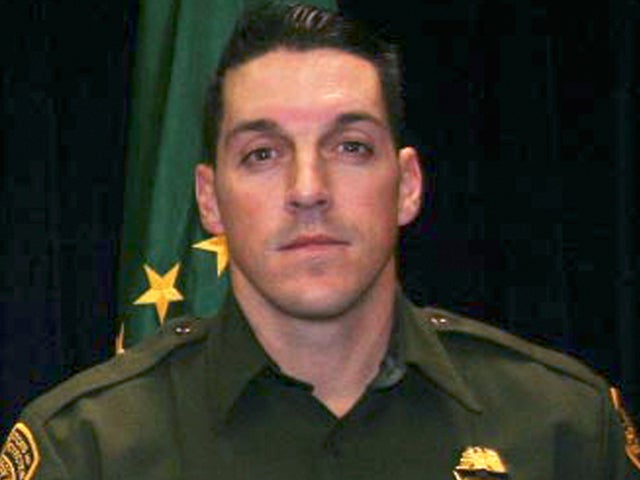 Family of slain fed wants Fast and Furious firings
(CBS News) The family of murdered Border Patrol agent Brian Terry says he might still be alive if only he'd been told that the Bureau of Alcohol, Tobacco, Firearms and Explosives (ATF) was allowing "hundreds of high-powered assault weapons to flow to Mexican Drug Trafficking Organizations" in Operation Fast and Furious.

Terry was part of an elite Border Patrol team patrolling the Arizona desert near the U.S.-Mexico border on Dec. 14, 2010, when he was gunned down by illegal immigrants. Two rifles from Fast and Furious were found at the murder scene.

On Tuesday, the Terry family gave its first detailed response to a blistering Inspector General's (IG) report on the government's handling of the scandal. The report faults at least 18 officials from ATF in Phoenix all the way up to Justice Department headquarters for serious mismanagement and judgment failures.

The IG report said there was no evidence anyone told Attorney General Eric Holder about the massive cross-border "gunwalking" operation that had gone on under his watch for more than a year. ATF didn't share case information with Terry's Border Patrol team, which faced fallout from the release of thousands of weapons into drug cartel hands.

According to Terry's family, in a written statement obtained by CBS News: "If Brian and his team had known about this information, they would have been on a far more defensive posture and would have taken appropriate measures to protect themselves from harm..."

Special Section: Fast and Furious
Report faults 18 officials for Fast and Furious fiasco
Second arrest in "Fast and Furious" killing

The Terry family's statement will be released later Tuesday. In it, they blame multiple government officials named in the IG report as having failed to take action to stop the operation, and say they should be fired. "We call upon [Attorney General Holder] to hold those individuals accountable... These officials failed in their primary mission and it resulted in the death of Brian Terry."

Two Justice Department officials stepped down as the IG report was prepared for release last Thursday. They are former ATF Director Kenneth Melson and Jason Weinstein, number two in the Justice Department's Criminal Division.

(Watch a report at left on the IG report)

Many officials faulted by the IG have issued statements or told CBS News that they are not guilty of any misconduct and are being scapegoated.

Justice Department and internal ATF investigators are now reviewing the IG report and will recommend disciplinary action in the near future.

Terry's family is also asking Holder to investigate whether Arizona U.S. Attorney Dennis Burke, who has since resigned, lied to them and "conspired" to "avoid responsibility for the role that Operation Fast and Furious played in Brian Terry's murder."

The Terry family says Burke once traveled to Michigan, where they live, and personally told them that the weapons found at Terry's murder scene were not related to Fast and Furious. In fact, at least two of the weapons used in the shootout were connected to the case.

The Terry family also wants Homeland Security Secretary Janet Napolitano "to conduct a full internal investigation within her department and ICE (Immigration and Customs Enforcement) to determine why information pertaining to Operation Fast and Furious was not passed up the chain of command to her office."

Napolitano had at least one agent assigned to Fast and Furious full time, but has testified that she was kept in the dark about the gunwalking. The Terry family also asks President Obama and Holder to revoke their claim of executive privilege on approximately 80,000 pages of subpoenaed documents.

The Justice Department did not immediately respond to a request for comment on the Terry family's statement.
Thanks for reading CBS NEWS.
Create your free account or log in
for more features.